Dash (DASH) has been one of the most popular privacy coins, with its trading volume being at $238.4 million in the last 24 hours. The coin sits at the 15th spot on the list of largest cryptocurrencies by market cap, with its own market cap being just above $722.3 million. Meanwhile, the coin's price is at $83.26, after seeing a drop of 0.61% in the last 24 hours.
Dash spiraling down
This price is far below the coin's all-time high and is much closer to its all-time low. In fact, Dash has been on a constant drop ever since December 20th, 2017, when it hit $1,542 per coin. The coin's value continued to degrade as the crypto winter went on, breaking one support level after another.
The largest surge Dash has experienced came in April 2018, when the coin skyrocketed from $300 to $532. However, immediately after reaching this level, the coin started falling once more. While major support at $480 temporarily stopped it, it did not hold it for long, and DASH broke several more supports before finally slowing down its drop at $240.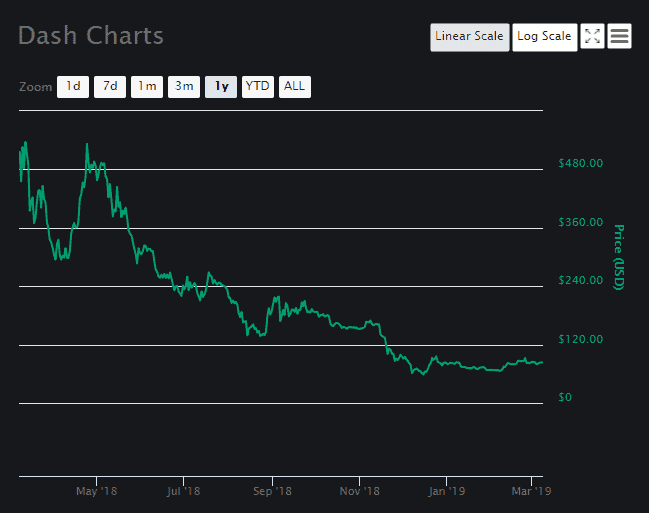 It spent several months at this level during the summer of 2018, struggling not to spiral down from June until early August. However, the support was finally broken on August 1st, and the coin's price was cut in half by the end of the month.
The drop was, once again, stopped by major support at $120, and for several weeks, it seemed like Dash had found its bottom, making several attempts to grow back up and once again reach the support-turned-resistance at $240. However, after a few failed attempts to even reach this level, its price continued to drop, particularly after the second market crash in mid-November, after BCH hard fork and hash wars that followed.
This was when Dash finally broke the $120 support as well. Dash coin price was cut in half once again, as it reached the next support level at $60, which is the lowest point Dash had seen ever since its early days. At this point, pretty much everyone who knew how to buy crypto, and who believed in HODLing, had a chance to buy Dash coin at an extremely low price, and the situation has not improved much since then.
Before the year ended, Dash experienced a surge which started on December 15th and ended on December 24th. The surge allowed the coin to breach a resistance level at $80, as well as to make an attempt at breaching the $100 mark. It failed, although it did come very close to it. After reaching the price of $98, Dash had a correction which brought it to the support at $80, which is where the coin has been when 2018 ended.
Dash struggles in 2019
Dash remained just above this support until January 10th of this year, when it managed to break it and sink even further down. It never came back to $60 support, although it was pretty close to this price throughout the second half of January and first half of February.
However, just like many other coins, Dash had a series of smaller surges throughout February, starting on Feb. 8th. They allowed it to start growing again and reach the $80 resistance. It even managed to break it and make another attempt at the $100 resistance level, although it never went past $92.5. After the bulls withdrew on February 24th, dash returned to its $80 support, experiencing only minor fluctuations.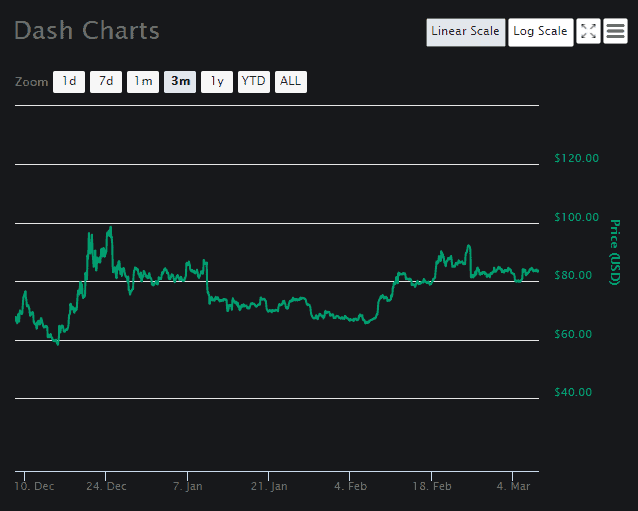 This is where the coin is right now, with a price of $83.26, and barely affected by the bull run that took over the market in the last several days, mostly prevented from growing by a smaller resistance at $84.
It appears that Dash is currently looking for stability, although the bearish market did not allow it to achieve it. Most of the time, the coin participated in bull runs, although its growth was smaller than what most others had experienced. If the bears have truly as weak as many would like to believe, it is likely that Dash will stop with its drops, and either remain where it is or grow back up, although only slightly.