Last Updated on
After a week of a price ranging between $3,850 and $3,950, bitcoin (BTC)  broke through $4,000 on strong volume, keeping bitcoin trading the most popular cryptocurrency to invest on.
This is the first time the psychologically important barrier has been breached since 24 February.
The top digital asset briefly touched $4,166 yesterday (16 March) on Bitfinex (see BTC chart below).
On Friday BTCUSD trading volume climbed to an impressive $11 billion, nudging close to a 12-month high, according to coinmarketcap.
However, volumes have since retreated to $8 billion, with the leading crypto currently priced at $4,077 on Bitfinex, where it tends to trade at a slight premium to prices on other venues.
The fundamentals hit a significant milestone this week also.
As reported by Inside Bitcoins, second-layer payment solution Lightning Network reaching a new capacity of 1,058 BTC, or $4.24 million, a year after its launch on 15 March.
The network capacity has grown 54% in the past month.
(All price charts show 100-day Moving Average as red line and 50MA in purple)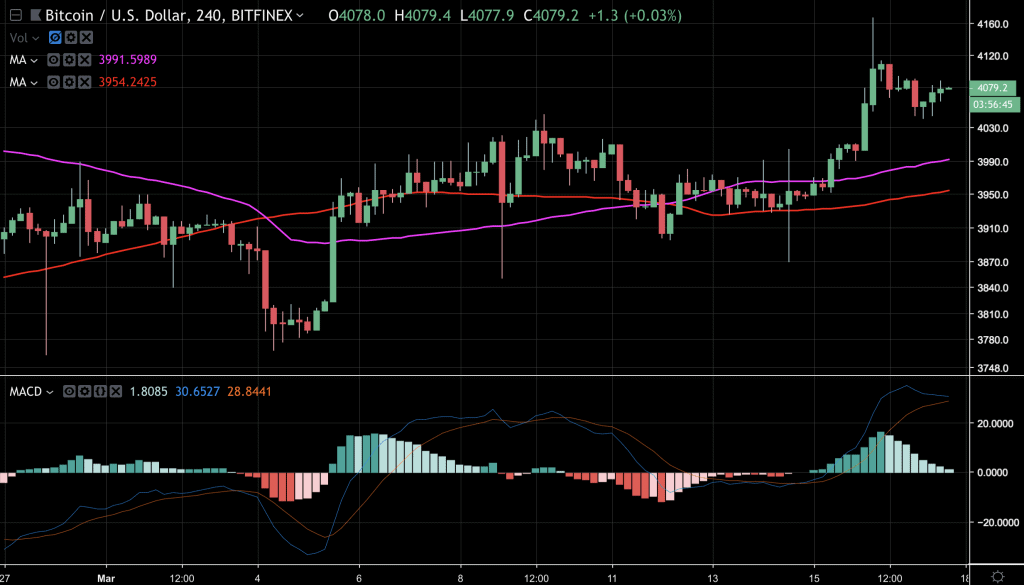 Crypto spring is coming says SEC adviser
"Spring is going to come" was the buoyant message from the US Securities and Exchange Commission's (SEC's) Valerie Szczepanik, an associate director in the division of corporate finance and the senior adviser for digital assets.
She was speaking at SXSW, linking the recovery in the market to the extent to which regulation moves forward in an intelligent way after reaching the fullest understanding of the industry so as not to create rules that would force it down any particular path in a "precipitous way".
"I do think if we hope to smell the crypto spring in the air, it will take people walking with the regulators," she emphasised.
The SEC is going out on to the road with its FinHub initiative to canvas the views of industry participants.
"We'd much rather have people come and ask us before they do something rather than coming and asking for forgiveness," she said at the end of the Q&A.
These and previous comments from "Crypto Mom" Hester Peirce, one of the SEC's commissioners, emphasising a preferred approach of encouraging innovation in the sector while protecting investors, have helped the market to put a positive spin on the Us financial regulators interactions with the space of late.
And the SEC was in play elsewhere, possibly impacting the Ethereum price after soothing words from its chairman on the second-largest cryptoasset.
Ethereum (ETH) not a security
One of the factors that may have been throwing shade Ethereum's way, namely the prospect of it being deemed a security with all the regulation that could entail, appears to have been neutralised this week.
US SEC chairman Jay Clayton said he concurred with the findings of colleague William Hinman, the SEC's director of corporation finance, who has previously determined that Ethereum is not a security.
His words imply that certain cryptoasset may not be a very good fit for the so-called Howey Test definition.
Security rules as currently formulated may lack the flexibility to take account of the full lifecycle of a digital asset as it shifts from fundraising tool to an ecosystem utility
"A digital asset may be offered and sold initially as a security because it meets the definition of an investment contract, but that designation may change over time if the digital asset later is offered and sold in such a way that it will no longer meet that definition," writes Clayton.
He continued: "I agree with Director Hinman's explanation of how a digital asset transaction may no longer represent an investment contract if, for example, purchasers would no longer reasonably expect a person or group to carry out the essential managerial or entrepreneurial efforts. Under those circumstances, the digital asset may not represent an investment contract under the Howey framework."
Clayton made his comments in a letter to Republican US congressman Ted Budd dated 7 March. The letter was in response to a request for clarification from industry group Coin Center and the Congressman.
The first reports of the communication appeared on 12 March.
On the 4-hour chart the ETHUSD pair rose $3 on the news to $133.
Since then the price has mounted successful challenges of resistance at $134 and $136 .
Trading as high as $147 on Coinbase yesterday (16 March), the ETH price has since fallen back but resistance at $136 has now become support.
The low touched on the 4 March at $122 has seen steady bullish momentum take hold over the past week in an ascending triangle.
At the time of writing the ETHUSD price is printing $138.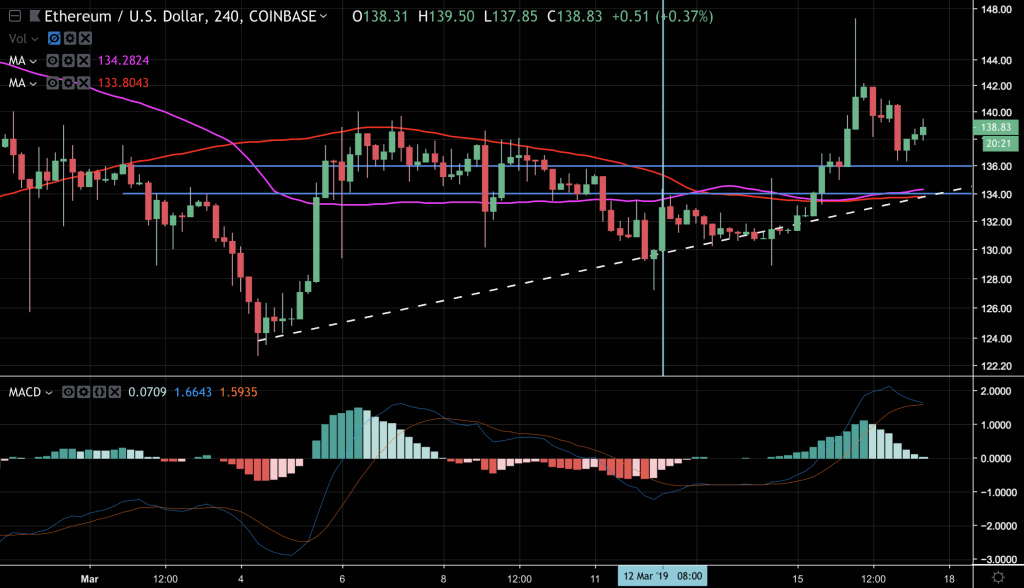 Ripple (XRP) not a security? So says CTO
Staying with the securities debate, Ripple chief technical officer David Schwartz weighed in this week, insisting its XRP token should also not be viewed as a security.
"We're pretty comfortable that XRP is not a security, but ultimately it's going to be the SEC, and perhaps the courts, that make that decision."
He is also of the opinion, as you would expect, that the SEC's Howey test to determine what is and isn't a security doesn't really fit for digital assets.
He claimed the fact that the inventors of the XRP ledger "gifted" tokens to the Ripple company somehow means it is not a security, despite the fact that two of the inventors were also founders of the company – Chris Larsen  and Jed McCaleb.
McCaleb left Ripple to set up Stellar Lumens (XLM).
The XRP price has made little progress this past week, with the price improving only marginally, from $0.313, topping $0.322 on 16 March to trade at $0.317 today. The popular cryptocurrency can only be traded on a limited number of trading platforms, for instance, most auto trading robots like Bitcoin Profit and Bitcoin Revolution.
However, the settlement and liquidity token has been steadily losing ground against bitcoin since 13 March as its relative underperformance continues.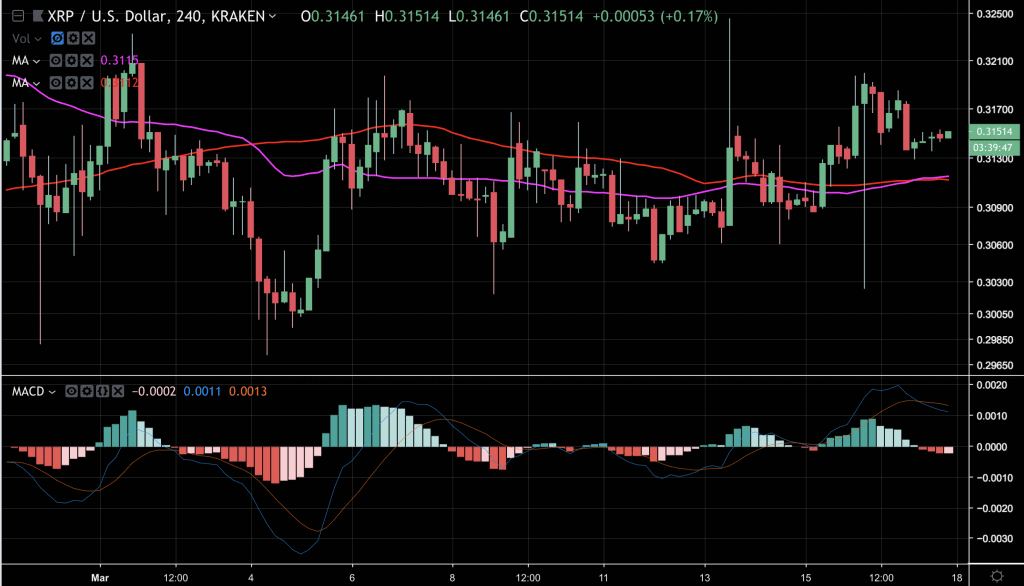 Brad Garlinghouse's attack on JPM Coin, the stablecoin being developed by JP Morgan Chase, the US's largest bank, hasn't helped the XRP price.
"I really don't understand. If you're just moving within the JPM ledger, and it has to be dollar-to-dollar, one-to-one backing, I don't understand what problem that solves," insists the Ripple boss.
Nevertheless, the crypto market can't help thinking that JPM Coin is still a threat to Ripple's attempts to lure banks to adopt its technology.
Tether (USDT) reserves include "cash equivalents"
The controversy surrounding the original and most widely used stablecoin, Tether (USDT) rumbles on regarding whether it is backed 1:1 by the dollar.
News emanating from a surprising quarter – Tether – says that it is not backed 1:1 by the dollar, contrary to its previous claims.
Instead, Tether reveals that the crypto stablecoin is "always 100% backed by our reserves" but goes on to reveal that those reserves are not in fact composed 100% of fiat but includes "cash equivalents".
The doubts about the collateral backing of USDT were somewhat assuaged after a Bloomberg investigation in December last year found, at least for the period it had seen bank statements for, that the company did hold the necessary reserves to back issuance.
Despite this, Tether has never submitted the reserves to a full audit and this week's revelation has raised further questions about the nature of its "cash equivalents".
Invesco launches blockchain ETF
Giant fund manager Invesco launched a blockchain exchange traded fund this week.
The Invesco Elwood Global Blockchain ETF invests in 48 companies, as selected by crypto investment firm Elwood Asset Management using its in-house scoring system.
Elwood chief executive Bin Ren said: "We are beginning to see the technology used by financial services companies in particular, but we expect greater application of blockchain technology across a range of industries
Chris Mellor, Invesco's head of ETF equity product management, told the Financial Times the potential of decentralised ledger technology to boost earnings was not priced in by the market.
He provided the example of miner conglomerate Rio Tinto Zinc whose hydroelectricity plants could provide cheap energy for cryptocurrency mining.
Top 10 holdings include GMO Internet, Taiwan Semiconductor, IG Group, CME Group, Riot Blockchain and Overstock.com.
Among the smaller holdings are Apple, Microsoft, Norsk Hydro and Hive Blockchain Technologies.
The ETF charges a fee of 0.65% and began trading on the London Stock Exchange on Monday 11 March. The fund currently has $20 million in assets under management.
Crypto mining industry's number two Canaan in funding round
As the crypto winter rolls on received wisdom has it that the large mining companies are suffering as they haemorrhage cash.
But that doesn't seem to have stopped investors channelling more funds the way of Canaan in a surprise funding round completed this week.
The firm is reported to have received a cash infusion of "several hundred million US dollars" according to the Asian financial press, for a valuation of around $1 billion.
Canaan, the industry's second-largest mining firm and the maker of the Avalon miner, failed in attempts last year to come to market with an initial public offering on the Hong Kong Stock Exchange (HKEx).
Bitmain and smaller rival Ebang are listing on the HKEx, with both filing papers last year showing substantial losses on their business operations.
In the first, second and third quarters of 2018 Bitmain lost $500 million. Those losses have presumably deepened since then as the bitcoin price fell further, although difficulty adjustment may have staunched some of the bleeding.
A number of companies are suing Bitmain for non-payment for services and goods, according to a tweet at the beginning of the week from Blockstream's Samson Mow.
"Bitmain already facing multiple lawsuits and more being filed. Their assembly, component, production, and repair companies are unpaid and losing patience. Seems Bitmain is deep in debt and trying to raise new capital from unwitting investors to keep going"
IBM catches a Shuttle in crypto custody move
The crypto custody space is getting more crowded, this time with an offering from investment firm Shuttle Holdings using IBM server technology, IBM LinuxOne.
IBM LinuxONE comes with built-in cloud and encryption technology.
New York investment firm Shuttle is launching its Digital Asset Custody Service (DCAS) initially as "a limited service" this month. Brad Chun, Shuttle's chief investment officer added that "there is a wait list to get into our beta"
IBM has been working in partnership with Stellar Foundation to develop cross-border solutions and has also built its own private blockchain platform, Hyperledger Fabric.
Stellar's XLM hits Coinbase Pro, IBM blockchain announcement coming Tuesday
Jesse Judd, IBM's vice president of blockchain and digital currencies, is set to make a major announcement on 19 March concerning its XLM-powered cross-border payment network IBM Blockchain World Wire.
Coinbase Pro listed Stellar's XLM token this week, which may well be a signal it expects greater interest in the token post the IBM big-reveal on Tuesday.
Facebook Coin could be a nice little earner, Qtum comes to Apple Pay and Samsung Pay
A report from a Barclays analyst predicts that Facebook could make as much as $19 billion from its upcoming payments system which, according to reports, will be powered by a Facebook-engineered stablecoin.
Staying with payments, Singapore-based blockchain platform Qtum (QTUM), 30th-placed coin by market cap, announced this week that users of the token can now spend it via point-of-sale devices that support Apple Pay and Samsung Pay.
This major adoption news comes as a result of a deal between Qtum and UK-based fintech Zeus.
The new service is up and running in the UK already and is in soft-launch on continental Europe.
On the back of the announcement the Qtum priced surged from $2.15 to as high as $4.08 for a gain of 89%.
Qtum is currently trading at $2.58 on Bittrex.
Founded by Patrick Dai, Qtum's innovative approach enables smart contracts to execute on mobile. Its proof-of-stake fork of Ethereum runs dapps that use the bitcoin unspent transaction outputs  (UTXO) model for account balances. Qtum's UTXO choice means the platform can make use of the simple payment verification system, which allows it to support light clients such as on mobile and IoT devices.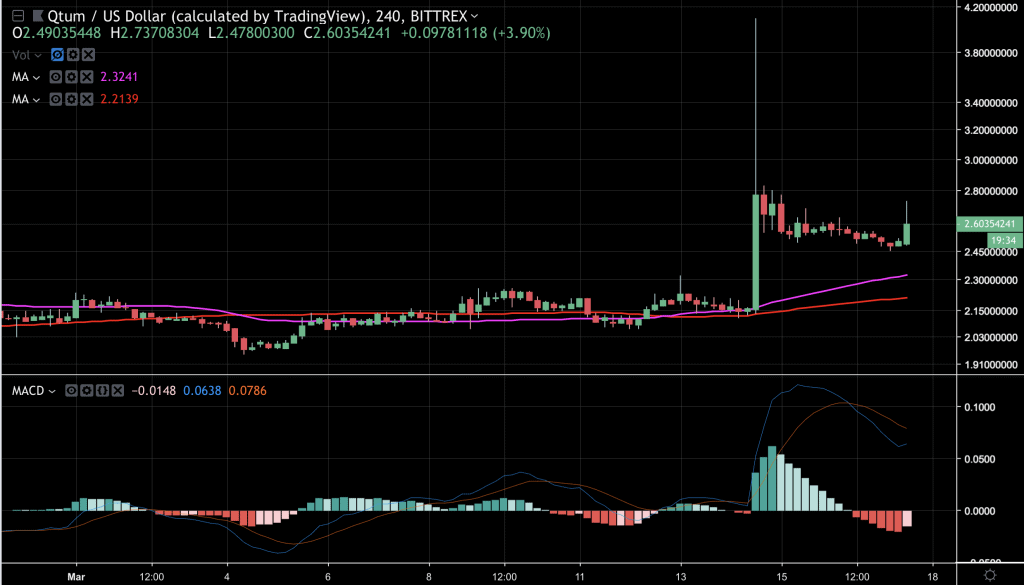 Binance(BNB) up 11% this week
Binance Coin (BNB) continues to go from strength to strength, advancing 11% in the past seven days from  $14.25 to $15.85. The BNB token can be used by exchange customers to pay fees.
Binance, the world's largest crypto exchange, is building out its own blockchain and has recently launched a platform for token sales called Binance Launchpad. Now as Inside Bitcoins reports there are concerns about whether BNB is really just a utility coin for fees or a security. How much further can the rally go?