Last Updated on
NEW YORK (InsideBitcoins) — MasterCard was recently asked to respond to an inquiry on digital currencies by the Australian Senate Economics Reference Committee. In their response, the card payments giant showed a complete lack of understanding when it comes to bitcoin and other digital currencies.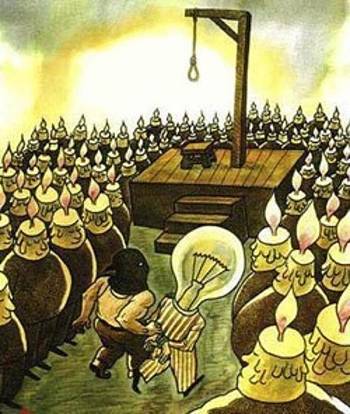 Then again, some would argue that the letter to the Australian Senate was simply misinformation provided by a company attempting to protect its future profits. After all, asking MasterCard to provide guidance on digital currencies is a bit like asking candle manufacturers how light bulbs should be regulated in the late 19th century.
Whether the characterizations of bitcoin made by MasterCard were written in good faith or not, it seems clear that Professor Bitcorn may have some competition as the least informed authority on bitcoin.
MasterCard is a taxi driver complaining about Uber
Throughout the letter from MasterCard to the Australian Senate, a number of complaints are made in regards to the lack of regulation surrounding bitcoin. One can't help but think about taxi drivers who are upset about ridesharing companies, such as Uber and Lyft, when reading through MasterCard's tirade against digital currencies. MasterCard seems to believe that bitcoin should be regulated in a manner similar to any other payments company, ignoring the fact that the bitcoin protocol is nothing but computer code:
"It is our view that all participants in the payments system that provide similar services to consumers should be regulated in the same way to achieve a level playing field for all. Moreover, any regulations should be technology neutral to ensure that they can and do apply to all new providers of payment services to consumers, especially with advancements in technology."
You could almost argue that MasterCard's stance on regulation actually makes sense. They're simply trying to state that all payments innovations should be subject to the same laws and regulations to create a level playing field for all participants. Of course, you'd have to completely ignore the fact that applying these regulations to the bitcoin protocol is practically impossible to take this aspect of MasterCard's letter seriously.
MasterCard does not believe in financial privacy
Later in the letter, MasterCard begins to show its true colors. In one portion of the submission to the Australian Senate, the payments company actually makes the argument for every transaction in the world to be tracked and placed into a centralized database.
"Any regulation adopted in Australia should address the anonymity that digital currency provides to each party in a transaction."
MasterCard believes that there should be no privacy or anonymity in online payments, and it's actually quite shocking to see these sort of Orwellian suggestions being made to the Australian Government in plain text. Here's exactly what MasterCard had to say on the topics of money laundering and anonymity related to bitcoin:
"Any regulation adopted in Australia should address the anonymity that digital currency provides to each party in a transaction. Contrary to transactions made with a MasterCard product, the anonymity of digital currency transactions enables any party to facilitate the purchase of illegal goods or services; to launder money or finance terrorism; and to pursue other activity that introduces consumer and social harm without detection by regulatory or police authority."
If that wasn't clear enough, MasterCard went on to claim that administrators should have full reign over which bitcoin transactions are allowed to take place in their list of proposed digital currency regulations:
"A requirement that all transactions go through regulated and transparent administrators subject to supervision by Australia authorities (rather than just the current block chain process)."
MasterCard completely misses the point of bitcoin
If you only read these sorts of complaints from bitcoin critics for the humor involved with their arguments, then the final consideration pointed out by MasterCard will likely be your favorite. In their letter, MasterCard says that bitcoin and other digital currencies have a "lack of a trusted third party." In other words, MasterCard is arguing that the main reason bitcoin was created in the first place is a problem with the technology. There have been plenty of statements from bitcoin critics that have missed the mark over the years, but it would seem this one takes the cake.
Although it was undoubtedly not their intention, it seems MasterCard has been able to lay out the reasons that bitcoin is so valuable to many different individuals around the world: It provides better privacy than other digital payment options, the current lack of regulation makes it a cheaper payment option for both merchants and consumers, and there is no need for a trusted third party.
You can follow @kyletorpey on Twitter.