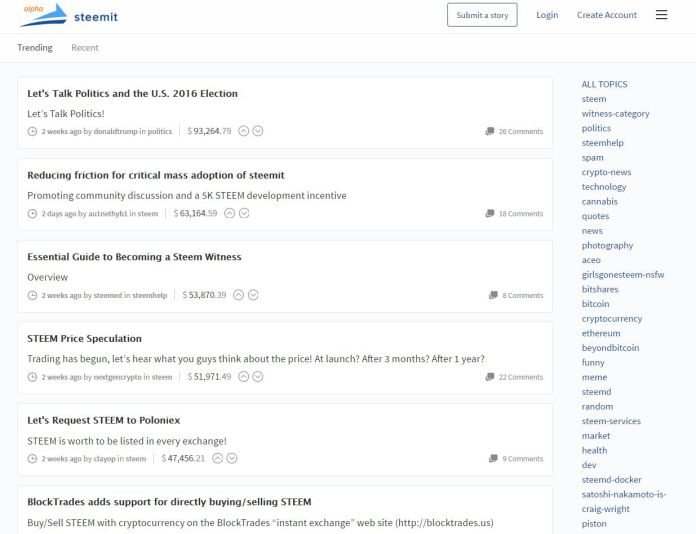 This
story
was shared from
this site
Share with:
Steemit, the social media platform where everyone gets paid to post online, has just rolled out it's BETA. Led by CEO Ned Scott, formerly in private equity, and CTO Dan Larimer, the creator of Bitshares – Steemit today released a publicly available beta version of a social media content aggregator designed to reward content creators and curators with cryptocurrency.
CEO and Co-Founder Ned Scott said the reason he created this system was to build a community, incentivize them to contribute, and improve the quality of original content.  
"Our vision is to not only build an empowered community but give content creators an avenue to make money online without needing to advertise," said Scott.
"Steemit's technology rewards users for posting, and the better it performs, the more that person earns. The system also rewards people for voting, and the more popular the content becomes, the more that person earns."
Steemit, which is powered by Blockchain technology, uses forms of a new currency called Steem to reward users that upload articles, images, commentary and blogs, while rewarding users for sourcing and upvoting popular content. The earlier a person up-votes a post that becomes popular, the more they are rewarded. Users are paid half in "Steem Power," a vesting currency that supercharges voting power, and half with Steem Dollars, which can be exchanged for USD.
Steemit's peer-to-peer social economy, is open to anyone around the world. Users can earn Steem, use it as voting power, and exchange it for USD. The technology behind Steemit is open source and available to be viewed and expanded upon by others. 
CTO Dan Larimer said:
"Steemit is a brand new way to recognize contributors online, especially those who join our community early and stay long term. New users will be given
---