NEW YORK (InsideBitcoins) — Coinbase, the San Francisco-based wallet and bitcoin exchange has launched a multisig option to its "Vault" storage service, allowing users to control their own private keys. The move is a nod to a major movement in the cryptocurrency industry to strengthen fraud controls and reduce consumer exposure to centralized cybercrime attacks.
[Also read: "It's Important to Know the Difference Between Bitcoin Banks and Wallets"]
"In the wake of MtGox and numerous other hacking incidents, bitcoin users are rightfully cautious about anyone claiming to store their bitcoin securely," the company said in a blog post today. "At Coinbase, we made a decision early on that for bitcoin to reach mainstream adoption, we would need to provide great security as a service to our customers (instead of asking them to understand technical concepts like encryption and private key storage).  While we still feel this is a useful service to many consumers, we underestimated the demand for user controlled security in the bitcoin ecosystem, and today we hope to make a big step toward supporting both systems."
When choosing a storage option, users can opt to "manage security myself," removing any ability for Coinbase to move bitcoin assets.
"[This option] gives the customer complete control of their own private keys. Coinbase has no ability to move funds (which means you are safe from Coinbase being hacked, going bankrupt, or anyone seizing your bitcoin).  It also means that you as a customer have much greater responsibility in storing your backup key securely.  If you lose this backup and forget your multisig password, Coinbase cannot help you recover your bitcoin.  For this reason, we only recommend this feature for advanced users," the company said.
With a multisig security protocol, two of three private keys are required in order to send bitcoin from an account. Users can also create group vaults that require 2 of 3 or 3 of 5 keys, with multiple key-holders.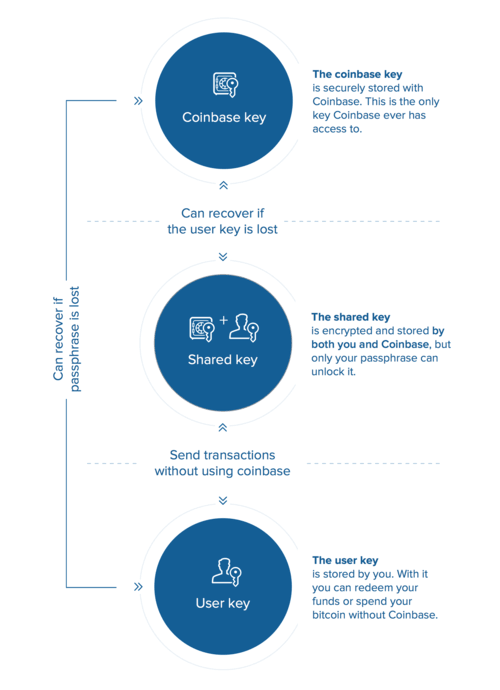 The option is available at no additional cost. Coinbase says that by combining the Vault service with its standard wallet product consumers can gain a combination of security and convenience.
"Think of the wallet like a regular wallet in your pocket; you might store $100 there because it is more convenient, but you wouldn't carry your entire life savings in your wallet," Coinbase says. "For example, in the hosted wallet sending money is much faster, you can use our two-click checkout with merchants, subscription or debit payments options are available, you can interact with the wallet through our API, and even create things like off blockchain micro-transactions."
---