It's becoming impossible to go through a week where price predictions on Bitcoin and where it could go within a certain time frame is not made. Some seem conservative and believable, while others are outright outrageous. 
Yesterday, Joe Kernen, a host on CNBC's Squawk Box, made a prediction of his own. Citing the upcoming Bitcoin halving, the host made the case that the world's most popular digital asset could see increases of about 50 percent in less than a year and reach the $55,000 price peg by next May. 
Will bitcoin reach $55k by May 2020? @JoeSquawk discusses #btc with @StocktonKatie pic.twitter.com/r1b5rNhX1s

— Squawk Box (@SquawkCNBC) July 29, 2019
Now, for those who might not know what the halving represents, it is an event where the rewards given for mining a block of Bitcoin are reduced. There have been two Bitcoin halvings so far, and as things stand, the next halving is expected to be in 2020. Like others before it, this halving will bring a 50 percent reduction in mining rewards, going from 12.5 BTC to 6.25 BTC this time. 
Many have seen the halving as a normal occurrence, but Bitcoin investors and analysts have noticed a consistent trend; the Bitcoin trading price goes significantly upwards after a halving. Examining some of the historical market reactions to a halving, many have become awake to the fact that this event precedes an uptick in the Bitcoin price. For instance, the last having occurred on July 9, 2016, at block 420,000. Within July 2016 and 2017, Bitcoin saw an 842 percent price surge, moving from $268 to $2,525.
It's also worth noting that this period was when the crypto boom began; a boom which saw Bitcoin reach an all-time high of almost $20,000. 
So, Kernen's argument has some merit, especially as it is based on the dynamics of demand and supply on the Bitcoin protocol. Cutting the number of Bitcoins gotten per block means that it will be much more expensive to mine the asset, and more people will be looking to buy cryptocurrency instead. Ceteris paribus, this scarcity should be strong enough to bolster the asset's price. 
However, the $55,000 price peg seems to be Joe pushing his luck a little bit there. Bitcoin is currently holding over the $9,500 point (per CoinMarketCap), and given that the halving isn't expected until 2020 itself, it's a bit difficult to see how this $55,000 point could be reached by May, but its Bitcoin we're talking about here and impossible is merely a word.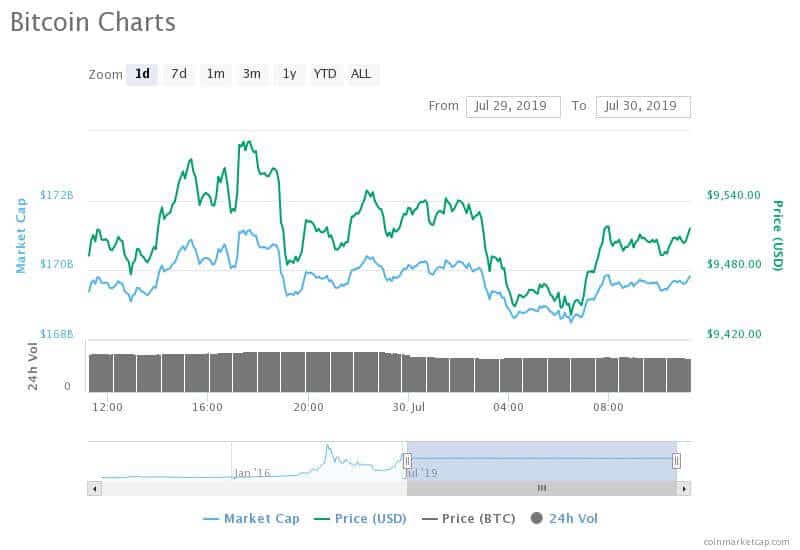 A more moderate prediction was given by Mike Novogratz, the co-founder chief executive of crypto merchant bank Galaxy Digital. Novogratz spoke with Bloomberg late last week, and he gave his prediction that Bitcoin could reach $20,000 before the year ends. Novogratz recalled that Bitcoin was able to rally from $4,000 to $13,000 back in June. Thus, he sees the asset holding a consolidation point between $10,000 and $14,000. 
He also attributed this price surge to an increase in institutional Bitcoin interest, saying that the entrance of companies like Facebook (with Libra) into the cryptocurrency market should give more big firms and institutional investors some more confidence in entering the market.