Tech giant Cisco is expecting blockchain market to balloon to a $10 billion valuation in the next three years. The findings were published by ConsenSys, an Enterprise Ethereum company.
Moving into a decentralized world
Enterprise Ethereum Alliance (EEA) member and tech behemoth Cisco published a new report titled "Blockchain by Cisco" which takes a deep look into the state of blockchain in enterprise and talks about the pain points solved by decentralized networks. It also details the industries that are primed for blockchain revolution, the leading consortiums and organizations leading the change and the security concerns that challenge the enterprise application of blockchain.
The report suggests that 83% of executives believe that trust is the cornerstone of a digital economy. It suggests that blockchains will store about 10% of the world's total GDP by the year 2027, showing that the enterprise executives are very excited to bring blockchain into the foray. Internet of Things, supply chain and smart cities are three sectors most primed for enterprise blockchain use, per the report. The rise of decentralized networks is also creating new opportunities for system integrators, cloud service providers and industry specialists.

Source: Consensys
Blockchain solves problems for enterprises
The three biggest pain points for enterprises- transparency, complexity, and security are adequately solved by blockchain. Blockchain can solve the transparency problem by bringing the global supply chain to blockchain and reduce counterfeit goods. US-based semiconductor companies lose an esteemed $7.5 billion every year because of counterfeit products. Blockchains can help in identifying a product's provenance, location and even define ownership.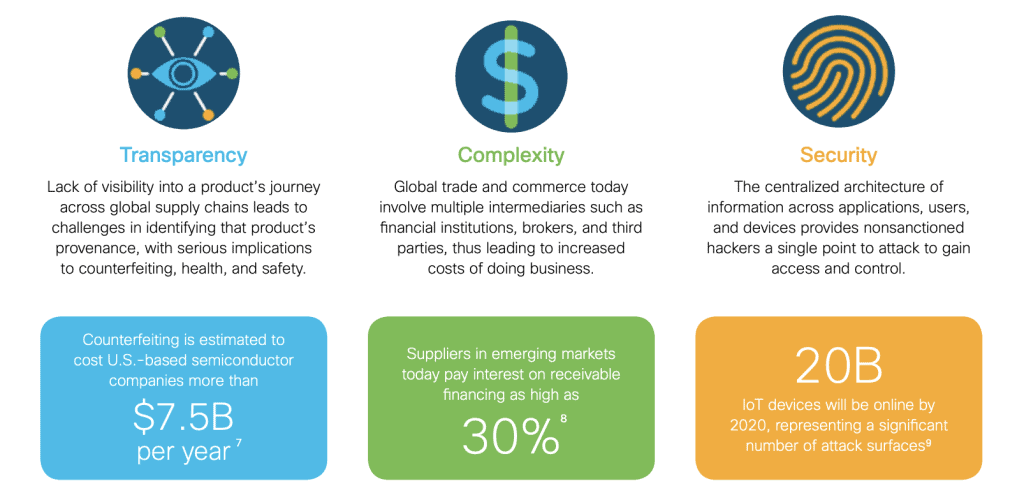 Source: Consensys
It could also be used to reduce complexity in global trade, by removing several intermediaries and leading to lower cost of doing business. Today, suppliers in emerging markets pay as high as 30% in interests on receivables financing. With blockchains, third parties like banks, brokers and financial institutions can be removed with ease.
Finally, blockchain helps in improving security. A centralized architecture poses problems for enterprises which become easy targets for hackers. An estimated 20 billion IoT devices will come online by 2020, creating more points of attack for hackers in a centralized unfractured. Blockchains follow a decentralized architecture, removing a single point of failure from the network.

Source: Consensys
However, success can be achieved in the sector if interoperability of varying blockchains becomes a possibility. It will help in maturing the blockchain ecosystem. The network will also have to keep an eye on 51% attacks, Distributed Denial-of-Service (DDoS) attacks, Replay Attacks and possible interference with smart contracts.