NEW YORK (InsideBitcoins) — Bitcoin advocate, early adopter and founding board member of the Bitcoin Foundation, Charlie Shrem was sentenced today as the result of a plea deal struck in September. The former bitcoin entrepreneur was sentenced to two years in prison plus three years of supervised release by U.S. District Judge Jed S. Rakoff.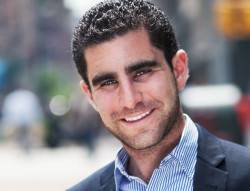 Shrem, 25 of Manhattan, was arrested in January — along with associate Robert Faiella – accused of selling over $1 million in bitcoins in a money laundering scheme involving users of "Silk Road," the Dark Web black market that was ultimately shut down.
[Read Also: Former Bitcoin Entrepreneur Shrem: "I Knew What I Did Here Was Wrong"]
Shrem pleaded guilty to charges of aiding and abetting the operation of an unlicensed money transmitting business, while Faiella pleaded guilty to operating an unlicensed money transfer business.
In entering his plea in September, Shrem told the court that for 11 months in 2012, his company, BitInstant, knowingly helped a man, known to him as BTCKing (Faiella), to process Bitcoin that was then used to buy and sell drugs on Silk Road.
Shrem and Faiella agreed to forfeit $950,000 each to the U.S. government as a part of their plea bargains.
In a tweet, Shrem announced the sentence and his requirement to self surrender in 90 days. "Considering I was facing 30 years, justice has been served," he said. "On a good note, Judge Rakoff called me a brilliant visionary and that he admires my brainpower."
I've been sentenced to 2 years, to self surrender in 90 days. Considering I was facing 30 years, justice has been served. #Bitcoin

— Charlie Shrem (@CharlieShrem) December 19, 2014
Manhattan U.S. Attorney Preet Bharara said: "Charlie Shrem knowingly facilitated the purchase and use of Bitcoins by others to buy illegal drugs on the Silk Road site. He willfully abdicated his duties as compliance officer of BitInstant, putting illegal profit ahead of legal and ethical responsibility. Now Shrem has been made to answer for his crimes."
"There's no question that Mr. Shrem, over a period of many months, was knowingly, willfully, and to some extent excitedly, even passionately involved in activity that he knew was a serious violation of the law and that was promoting the evil business of trafficking in drugs," Judge Rakoff said in imposing the sentence.
[Read Also: Origins of FBI Investigation into Silk Road 2.0 Unclear]
A statement issued by the U.S. Attorney's Office for the Southern District of New York compiled the allegations contained in the complaint, the indictment, superseding information and statements made in other documents filed in Manhattan federal court and related court proceedings and issued the following timeline of the events surrounding Shrem's and Faiella's arrest:
"From about December 2011 to October 2013, Shrem's co-defendant, Robert M. Faiella, ran an underground Bitcoin exchange on the Silk Road website, a website that served as a sprawling and anonymous black market bazaar where illegal drugs of virtually every variety were bought and sold regularly by the site's users. Operating under the username "BTCKing," Faiella sold Bitcoins – the only form of payment accepted on Silk Road – to users seeking to buy illegal drugs on the site. Upon receiving orders for Bitcoins from Silk Road users, he filled the orders through BitInstant, a company based in New York, New York. BitInstant was designed to enable customers to exchange cash for Bitcoins anonymously, that is, without providing any personal identifying information, and charged a fee for its service. Faiella obtained Bitcoins with BitInstant's assistance, and then sold the Bitcoins to Silk Road users at a markup.
"Shrem was the Chief Executive Officer of BitInstant, and from about August 2011 until about July 2013, when BitInstant ceased operating, he was also its Compliance Officer, in charge of ensuring BitInstant's compliance with federal and other anti-money laundering ("AML") laws. Shrem was also the Vice Chairman of the Bitcoin Foundation, a foundation dedicated to promoting the Bitcoin virtual currency system.
"Shrem, who allegedly bought drugs on Silk Road himself, was fully aware that Silk Road was a drug-trafficking website, and through his communications with Faiella, Shrem also knew that Faiella was operating a Bitcoin exchange service for Silk Road users. Nevertheless, Shrem knowingly facilitated Faiella's business with BitInstant in order to maintain Faiella's business as a lucrative source of revenue. Shrem knowingly allowed Faiella to use BitInstant's services to buy Bitcoins for his Silk Road customers; personally processed Faiella's orders; gave Faiella discounts on his high-volume transactions; failed to file a single suspicious activity report with the United States Treasury Department about Faiella's illicit activity, as he was otherwise required to do in his role as BitInstant's Compliance Officer; and deliberately helped Faiella circumvent BitInstant's AML restrictions, even though it was Shrem's job to enforce them and even though BitInstant had registered with the Treasury Department as a money services business.
"Working together, Shrem and Faiella exchanged nearly $1 million in cash for Bitcoins for the benefit of Silk Road users, so that the users could, in turn, make illegal purchases on Silk Road."