NEW YORK (InsideBitcoins) – ChangeTip, the social media tipping platform, has expanded their service. Now "tippers" can send bitcoins on any site using a single URL. The One Time Tip link allows users to specify an amount, copy the provided URL and paste it wherever they please.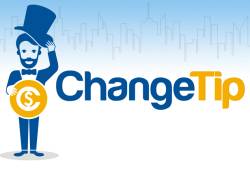 "The One Time Tip link enables people to send bitcoin in an e-mail or over chat messages like Skype," ChangeTip says. "It's really never been easier to send someone bitcoin. Simply type in the amount you wish to send, copy the link and send it to the intended recipient. Done."
Using the new feature
Other possibilities for the new feature include texting someone "a beer," or holding a contest for fans or followers, giving them a link if they win.
Another idea could be leaving URLs in virtual geocaches — a social network for scavenger hunts. While users printed paper wallets before, which are more secure due to the handling of private keys, they could just as easily print out a slip of paper with the One Time Tip link.
One warning though: Once the link is clicked, the bitcoin is sent. If people are looking to use ChangeTip's new feature, they have to make sure to send it over a private medium. Displaying a URL out in the open allows for anyone to collect the irreversible payment.
According to ChangeTip, Martin Holland, the editor and owner of the Our Everyday Earth blog, used the scavenger hunt idea to encourage readers to find a link embedded in the site's content. The blog also recently eliminated pay-per-click advertisements, opting for ChangeTip buttons instead.
"I have recently become obsessed with cryptocurrency and all things Bitcoin, Dogecoin and Blockchain technology in general," Holland said in a blog post. "We've completely removed any annoying pay-per-click advertising and replaced them with a simple tipping system provided by ChangeTip. Avid readers may notice that there is now a 'Tips are welcome' button in our sidebar."
Bitcoin now an option on Facebook
One of the drawbacks of Facebook is that they've yet to allow ChangeTip integration. While a support representative told Inside Bitcoins that it won't be long before ChangeTip comes to Facebook, now the One Time Tip link feature allows users to send a private message to those they want to tip.
Meanwhile, other applications such as the Multicoin Tipping App, developed by Alejandro Caballero, allow for Facebook tipping with 44 different cryptocurrencies, including bitcoin, litecoin and dogecoin, but only in groups. Facebook has still yet to allow tipping in standard news feeds.
The same representative from ChangeTip also said that Slack integration isn't far off either, but users can also follow the same process for tipping on that platform now as well.
"One of the best parts of our community is seeing how people use our products – often times in ways we hadn't even imagined," ChangeTip said.