Cardano (ADA) is well known for being one of the coins with most stability in the past months. While the coin has been gradually going down ever since the market crash in January 2018, it managed to avoid any large changes in price in the last four months.
At the time of writing, ADA's price is at $0.042946, and it is exactly because of its stability that many believe that this is the perfect time to buy Cardano, before the next rally hits.
Cardano (ADA) performance in 2019
As mentioned, Cardano was among the most stable non-stablecoins for months now, as it can be seen on its one-year chart.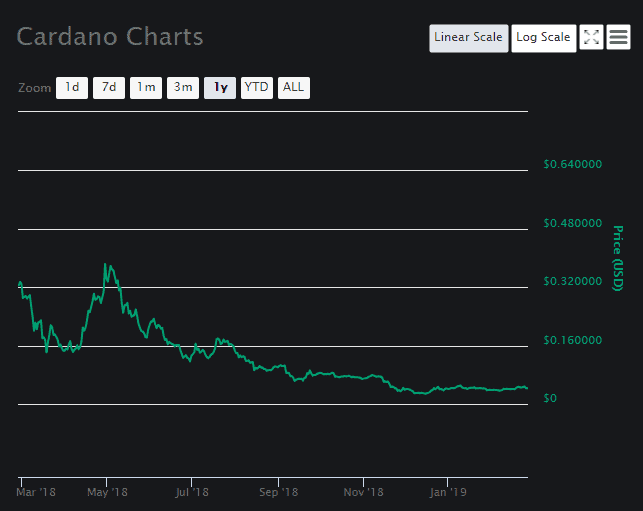 However, there is a bit more activity when we take a look at its behavior in the past three months. ADA was actually slowly dropping until December 16th, when it surged with the rest of the coins. On this occasion, the coin attempted to breach a major barrier at $0.048, and it even succeeded for a brief amount of time.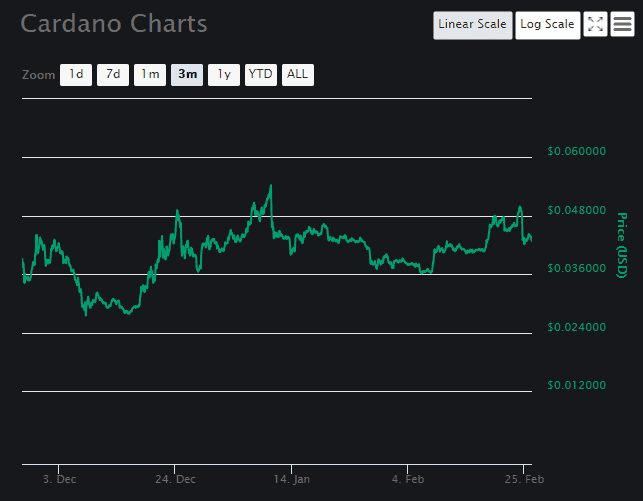 After that, it dropped back down, although a support level at $0.036 kept its price from going below this point. ADA then made another attempt to surge and go beyond the major resistance in mid-January, managing to breach the price of $0.048 twice in a span of few days, before being dragged back down once more.
In the past 30 days, it is easy to see Cardano's struggle to grow. After dropping below its support at $0.040, this price started acting as a resistance, which the coin finally managed to breach on February 8th. While the market tried to bring it back down, this level also took a role of support, preventing the further drop. Cardano surged once more on February 18th, going further up, and breaching the resistance level at $0.044. After a few failed attempts to breach the next resistance at $0.048, the coin finally managed to do this as well on February 23rd, as part of the recent bull run.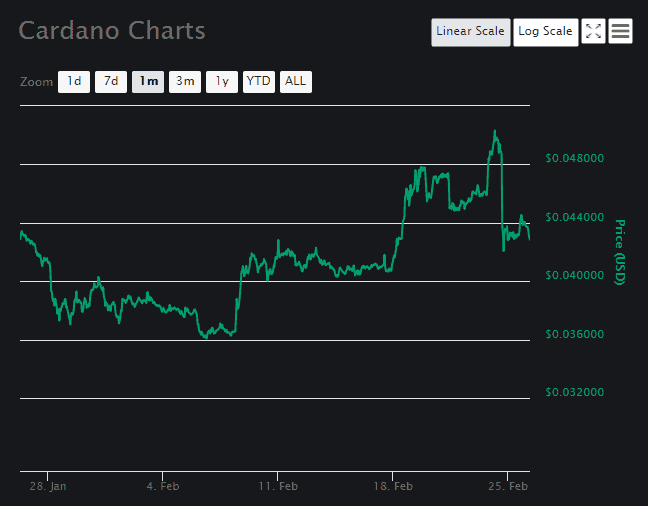 However, as soon as the bull run suddenly let go, the bears took over once again, and nearly every coin on the market experienced a drop, including Cardano itself. The coin dropped from $0.50 back to $0.042 in less than 24 hours, and since then, it has been struggling with once again breaching the $0.044, which is currently its first big resistance.
What to expect from Cardano in the future?
While it is unknown which route will Cardano take in the future, it is possible that the coin will go back to growing and breaching one resistance after another as soon as the bear market lets go. Cardano has been incredibly stable ever since November, and its current lows are still higher than the coin's price back in December 2018.
ADA has shown both, the wish and the ability to grow, and the only thing preventing it is the bear market that took down pretty much every other coin as well. Even so, its supports are usually managing to hold quite nicely, although the same can be said for its resistances.
For now, Cardano sits at the 12th spot on the list of largest coins, with a market cap of $1.1 billion. It is also the last coin with a market cap of over $1 billion. However, under the right conditions in regards to the market, ADA could easily see a surge when the bearish grip starts to loosen, and it might even climb the ladder a bit. As always, it is hard to say anything with certainty when it comes to crypto, but the coin certainly has the potential, even though it usually tends to advance quite slowly.