NEW YORK (InsideBitcoins) — U.S.  retailers are looking to offer customers a secure and consistent payment experience across all touchpoints: in-store, via mobile and online. The payment solution most expected to meet that need is PayPal or ApplePay – but bitcoin is on their radar as well.
For the first time in 16 years, nearly two thirds (63%) of respondents said that payment security is among their top three priorities in 2015, according to a survey of retailers conducted by Boston Retail Partners (BRP). With high profile retail hacks in the news in the past year, the industry is seeking to regain the trust of customers by improving payment security and protecting personal data.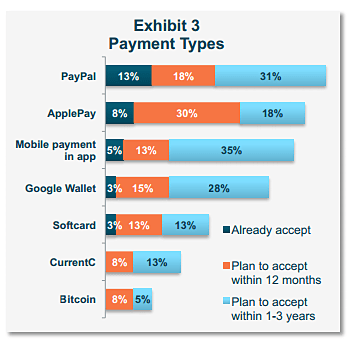 The BRP survey shows that 13% of retailers currently accept PayPal — more than any other alternative payment type — with more than 50% planning to accept it within three years. But ApplePay is making a strong move. While only 8% of the retailers surveyed accept Apple Pay for payment, another 48% plan to accept it within three years.
Of the seven choices provided in the survey, bitcoin ranked last with no retailers surveyed currently accepting the digital currency — but 8% said they were planning to process bitcoin payments within 12 months. An additional 5% plan to accept bitcoin within 1-3 years.
Extrapolating an 8% adoption rate across American retailers in the coming year would mean a sizable impact on the small bitcoin infrastructure. U.S. retail sales totaled $4.5 trillion in 2014.
"Statistics show that most retailers have been breached at some point or another; the issue now is whether sensitive customer or company data was accessed in the breach," the report says. "The industry seems to have moved from thinking that 'it better never happen and if it does someone will be fired,' to 'it's going to happen so how can we make sure that we mitigate the damage, and protect and secure our data.'"
Retailers are also looking to provide customers with a consistent payment experience across sales channels.
"Today's connected/online customers expect the same interactive experience regardless of where they shop. Retailers must deliver a holistic customer experience that transcends channels," said Brian Brunk, principal, Boston Retail Partners. "Under the unified commerce approach, retailers are transforming their organization, business processes and technology to better align with their customers."
Ken Morris, principal, Boston Retail Partners added, "While only 8% of retailers have implemented a single commerce platform, more than half of the retailers indicated they will have a single commerce platform implemented within the next 4 years – that's a 663% increase! It is encouraging to see the commitment from retailers to provide the seamless shopping experience consumers want."
Photo credit: Shopping New York by Matt Weber