NEW YORK (InsideBitcoins) — Bitrated publicly released the latest version of its reputation and arbitration platform on Wednesday, and the service could be useful for consumers who wish to purchase goods or services online from untrusted sellers via bitcoin. Cryptocurrencies do not allow payments to be reversed because there is no third party between the sender and receiver of a payment. The Bitrated platform allows anyone to position themselves as the third party participant through the use of multisignature addresses.
Chargebacks come to bitcoin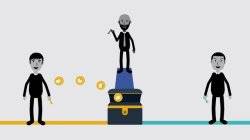 If you've ever purchased a laptop, book, clothes, or anything else online, then you know that sometimes the purchased good is not everything it was made out to be by the seller. In some situations, you may have never received anything at all after making your purchase online. For this reason, it's important to have arbiters, such as PayPal or Visa, between the buyer and an untrusted seller.
[Read More: Can Bitcoin Handle 8% of $4.5 Trillion in US Retail Sales This Year?]
The issue with these sorts of arbitration services is that there aren't many to choose from and they're usually attached to a specific payment system. For example, when you make payments via PayPal, you're stuck with PayPal's arbitration services. Bitcoin is able to democratize the online arbitration industry to the point where anyone can be the arbiter between a buyer and a seller.
Bitrated uses multisig addresses to activate a third party arbiter in situations where a buyer is not satisfied with the end result of a transaction. Instead of being stuck with PayPal, Amazon, or one of the handful of other online arbiters, you can now find a dispute resolution provider like you would find an Uber driver or an Airbnb rental. If you're making an online purchase from an untrusted buyer via bitcoin, you now have the ability to essentially conduct a chargeback if things don't go your way. It should also be noted that the money is not held in escrow, so there is no chance for a malicious arbiter to run away with the funds (unless they're colluding with the seller).
A user-friendly web of trust
In addition to the arbitration services, Bitrated also provides a reputation system that can be useful when choosing an arbiter for a transaction. Some early bitcoin adopters may be familiar with the original #bitcoin-otc web of trust, and Bitrated's reputation system works in a similar manner. It wouldn't be a stretch to say that Bitrated's reputation system is simply a user-friendly version of the #bitcoin-otc web of trust. Bitrated users can link accounts from places like LocalBitcoins, the #bitcoin-otc web of trust, bitcointalk.org, Twitter, Reddit, and more. Those external accounts can be used to create a preliminary rating, but Bitrated also has its own reputation system where uses can proclaim their trust for each other.
Integration with wallets, marketplaces, and more
Bitrated is also willing to share their data via open APIs. This means wallet providers and payment processors are able to integrate their multisig payment solution, and marketplaces, such as OpenBazaar, could allow their users to carry over their Bitrated reputation score. It will be interesting to see if Bitrated is able to take hold as the de facto reputation system and arbitration service for the bitcoin ecosystem.
You can follow @kyletorpey on Twitter.