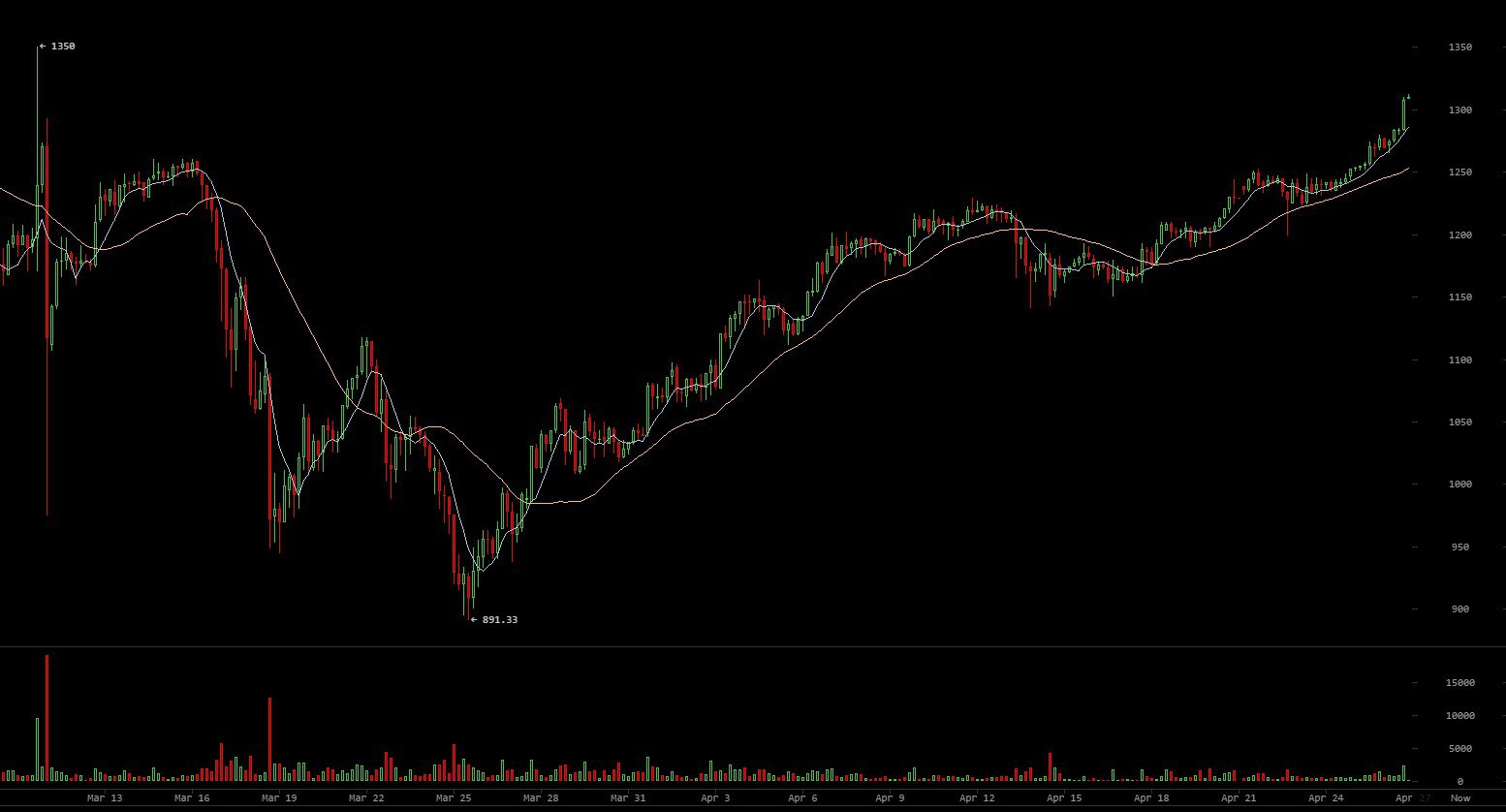 This
story
was shared from
this site
208
SHARES
Bitcoin price is booming as April winds down, reaching a high of $1,311.9 (and climbing) on the Bitstamp Price Index (BPI). As it stands, bitcoin is within $50 of its all-time high of $1,350, scaled last month.
Buoyed by yesterday's SEC decision to review its own decision of rejecting the Winklevoss bitcoin ETF in March this year, the bullish gains shown by bitcoin price has kicked up a gear, pushing above $1,300 in a continuing rally.
Wednesday's surge started to take shape around midday UTC, with price trading above $,1280. An hour later, BPI prices shot upwards of $,1290 before scaling the new milestone of $1,300 at 15:30. At 16:15, bitcoin was trading at a new April high of $1,311.9.
// Get exclusive analysis of bitcoin and learn from our tutorials. Join Hacked.com for just $39 now. //
On Bitfinex, an exchange that saw significant bitcoin trading leading up to its freeze on USD wire deposits, bitcoin is trading at a near $100 premium with price reaching beyond $1,400.
Ironically, the trading frenzy during the lead-up to last month's SEC decision whipped up prices to scale the all-time high of $1,350 on March 10, hours before the decision went public. When the SEC's disapproval for the Winklevoss ETF became apparent, prices crashed below $1,000.
On a global average of trading values across exchanges, data from BitcoinAverage shows bitcoin price reach an all-time high of $1,304.06. At the time of publishing, bitcoin is trading to the dollar at $1,303.77.
These gains have pushed the total value of all bitcoins mined thus far to be valued at over $21 billion for the
---