BitTorrent (BTT) is one of the newest tokens on the crypto market, with less than two months since its launch. It is also known for having one of the fastest ICOs in the history of cryptocurrencies, with its record being broken only by Fetch.AI. Both of these coins were launched in 2019 on Binance Launchpad, a special platform created by Binance crypto exchange, and dedicated to helping new tokens take off.
BTT price sinks deeper and deeper since its launch
BitTorrent token never had a particularly high price, despite its popularity and great demand which allowed its token sale to end within 18 minutes. It reached its all-time high within a week of its launch when its price hit $0.001200.
This has also been its largest resistance level, one which it tried to reach several times after the initial surge, which brought its price from $0.000400 to this resistance level. However, the bear market was still relatively strong on the occasion, and it quickly started dragging the price back down, until it was stopped by the coin's largest support, at $0.000800.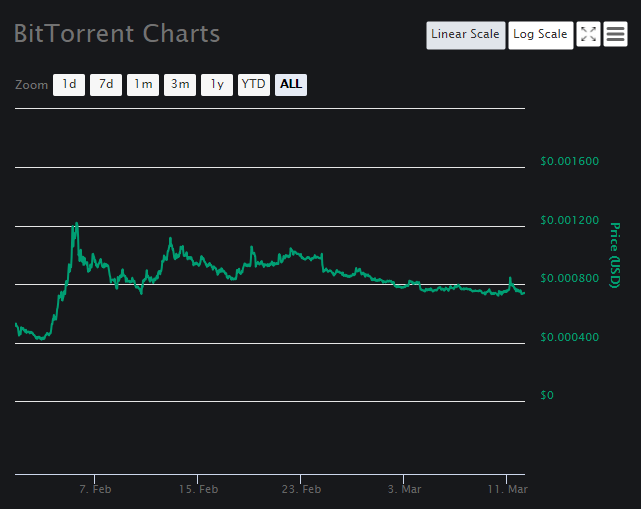 In mid-February, BTT attempted to reach this price again, which was at the time when most cryptocurrencies started experiencing a series of smaller surges. BTT even managed to breach two smaller resistances, at levels $0.000900 and $0.001000.
However, this was where its growth was stopped, with the second resistance proving too strong to be breached for a longer period. Instead, it still acted as a resistance, and it prevented the coin from fully breaching it. BTT still remained right below it, making several more attempts, until February 24th came. This was when the bears struck once again, and the coin dropped once more, breaking $0.000900 support.
The newly-broken support level started acting as a resistance at this point, and it remained a strong roadblock until the end of February. But, if the coin holders hoped that the arrival of March would allow BTT to surge back up, they were wrong, as the coin actually broke another support in the first days of March. $0.000800 has been a strong support for BTT, but the coin broke it on March 2nd. It quickly rose above it once again on the following day, only to drop even further down.
Its next drop was stopped by another smaller support at $0.000750, while its growth was prevented by a newly-formed resistance at $0.000800. This is where the token spent the next week, trapped between these two levels until it finally broke its support once again. As it usually happens, the support turned into a resistance which held BTT from going back up, even though it remained close to it in the previous days.
However, that is when another surge happened, starting on March 10th. While BTT was struggling to break the $0.000750 resistance, it suddenly grew, and within hours, it broke this level, as well as the one at $0.000800, and it even reached the resistance at $0.000850. However, just as abruptly, the surge turned into a drop, with BTT breaking both levels on its way down as well, returning the price it had prior to the unexpected growth. Its current price is at $0.000739, after a drop of 7.88% in the last 24 hours.