Last Updated on
UPDATED: 5:17 p.m. EST 1/5/2015
NEW YORK (InsideBitcoins) — Bitstamp, a major bitcoin exchange, has confirmed the theft of some $5 million in bitcoin after suddenly halting all services late Sunday night.
It took hours for the company to post an initial update on its website, and after less than a handful of tweets from the CEO, no further official information was issued until an official statement was released shortly after 5 p.m. EST.
"We have reason to believe that one of Bitstamp's operational wallets was compromised."
The first notice posted on the website stated:
"We have reason to believe that one of Bitstamp's operational wallets was compromised on January 4th, 2015. As a security precaution against compromises Bitstamp only maintains a small fraction of customer bitcoins in online systems. Bitstamp maintains more than enough offline reserves to cover the compromised bitcoins."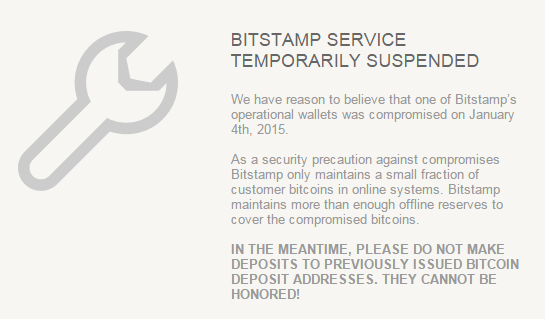 Bitstamp is urging users to refrain from making deposits.
"In the meantime, please do not make deposits to previously issued bitcoin deposit addresses. They cannot be honored!" the statement adds in all caps.
"Customer deposits made prior to January 5th, 2015 9:00 UTC are fully covered by Bitstamp's reserves. Deposits made to newly issued addresses provided after January 5th, 2015 9:00 UTC can be honored. Bitstamp takes our security and soundness very seriously. In an excess of caution, we are suspending service as we continue to investigate. We will return to service and amend our security measures as appropriate," the statement concluded.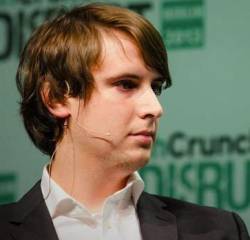 Slovenia-based Bitstamp co-founder and CEO Nejc Kodric, who was enroute to the Consumer Electronics Show in Las Vegas, apologized to customers early this morning via a tweet saying, "My sincerest apologies to those who are affected by our service being temporarily suspended."
Later he added, "Thank you all for your patience, we are working diligently to restore service and hope to have an ETA later today."
Just over one year ago, in December 2013, Bitstamp received $10 million in venture capital funding from Pantera Capital.
The problem was initially made public by a Reddit user who complained about having deposit issues:
"A few hours ago I made 2 deposits to Bitstamp. After lagging 7 confirmations behind on the blockchain, they each disappeared from the incoming transactions list WITHOUT updating my balance, which still sits at zero bitcoins," wrote 'Tsuyoku Narital' at around 10 p.m. Eastern time Sunday. "No transfers or sales have been made under the account and there is no indication that it's been compromised."
Cold wallet storage – bitcoins held offline at the exchange – were not being reported at risk.
[READ MORE: Bitstamp Confirms $5 Million Bitcoin Breach]
To restate: the bulk of our bitcoin are in cold storage, and remain completely safe.

— Nejc Kodrič (@nejc_kodric) January 5, 2015