Last Updated on
NEW YORK (InsideBitcoins) — On January 12, a "27 years young" programmer named Felix decided to head out on a journey around the world for 365 days – the only caveat being that he must do it all primarily using bitcoin.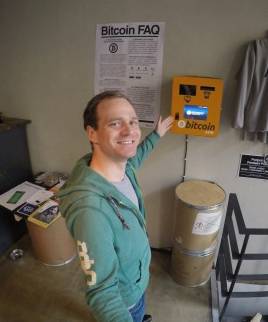 "I discovered the digital currency Bitcoin in 2012 and it took me quite a while to understand this new kind of money but eventually it has changed my life," Felix wrote in his blog introduction.
Starting from Luxembourg, he set out on a train from Berlin, expressing overwhelming excitement that kept him awake the night before.
"I'm pretty tired since I didn't sleep last night. Mainly because I'm super excited about the fact that I'm about to start my biggest adventure yet: a round-the-world trip for 365 days," Felix said.
The requirements he's holding himself to are simple: he must use bitcoin whenever possible to pay for food, accommodations and travel, as well as never use a debit card, credit card or ATM. He'll allow himself to use local currencies in the form of cash, but they can only be obtained by trading bitcoin with the locals.
Felix starts day zero in Prague
To kick off his trek, he booked an Interrail ticket for 30 days, allowing him to take the train to any country in Europe. Interrail doesn't accept bitcoin purchases, so Felix used all4btc to pay in bitcoin for his ticket and received it in the mail prior to the expedition.
As to why he chose Prague as his first stop, he said the decision was easy. Prague hosts more than 40 businesses accepting bitcoin. One of those businesses is the creator of the TREZOR cold storage device, a device Felix wanted.
"It's a beautiful city and the gate to middle Europe culture," he said. "I also always wanted to explore Eastern Europe and will continue in this direction for the next few days."
Bitcoin, coffee and cryptoanarchy
He stopped off as Paralelni Polis, a shared-space office and guerilla art project containing the Bitcoin Coffee shop, a 3D printing business and the Institute of Cryptoanarchy. Bitcoin Coffee claims to be the world's first bitcoin-only café, meaning patrons have to pay in bitcoin. They host a bitcoin ATM at the entrance or people can use Piper, a bitcoin paper wallet printer.
"Apparently, 80% of the customers have never used Bitcoin before, but are willing to try it out."
"Victor, a young computer science student, shows me around the space and gives me a quick tour of the building," Felix posted. "He explains that as well as the café, the co-working space also only accepts Bitcoin. Apparently, 80% of the customers have never used Bitcoin before, but are willing to try it out and most of them are surprised at how easy it is to use Bitcoin."
Paralelni Polis also hosts regular bitcoin and Hackerspace meetups, and Felix said he's going to stick around the area for the Bitcoin meet up, even though he doesn't speak Czech.
"Later I meet Michal," Felix said. "He usually rents out a room on AirBnB. He likes my idea of traveling the world on Bitcoin and immediately offers the room – for payment in Bitcoin. I accept and we have coffee together. The coffee is 55 CZK (8.4 mBTC). The room is quite large and I'm going to stay here 3 nights. They have a cat called Kočka, which is Czech for 'cat.'
"Their creativity is sublime."