Bitcoin SV (BSV) is one of the newest top coins in the market, even though it had quite a controversial origin. The coin came to be as a fork of Bitcoin Cash, after nChain's chief scientist, Dr. Craig Wright, attempted to take over BCH network. After the hard fork, which was supposed to only introduce a new upgrade to BCH blockchain, BSV was born into the market.
Following the week of hash wars which had the title of Bitcoin Cash as a reward for the winner, BSV lost and went its own way. However, the coin still remained quite popular, and many were more than willing to buy Bitcoin SV. These days, BSV is seemingly losing its popularity, with its daily trading volume being barely above $91 million, which is quite low for a coin that holds the 11th spot on the list of largest cryptos.
However, it does have a decently large market cap, currently at $1.20 billion, with a price of $68.17 at the time of writing. However, while this price is not exactly the lowest BSV has ever been, it is certainly quite far away from its all-time high.
Bitcoin SV's volatile 2018
As mentioned, Bitcoin SV became extremely popular right after it came to be in mid-November 2018. It was quickly listed on numerous exchanges and everyone who knew how to buy cryptocurrency at least considered investing in it, with many actually doing it. This huge initial demand made Bitcoin SV price skyrocket to over $200, although it quickly started dropping in the following days.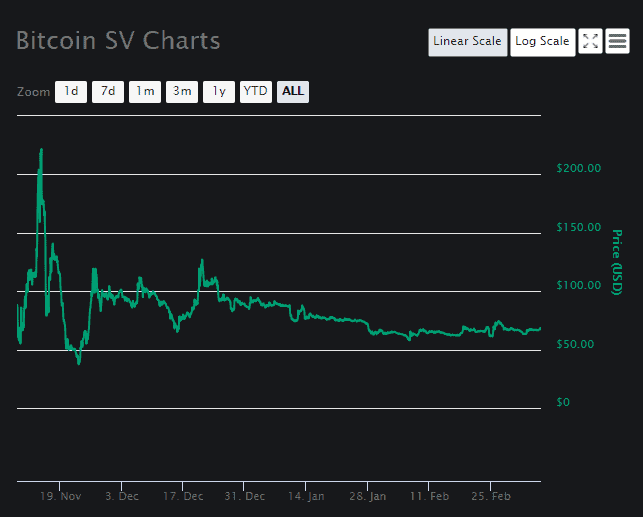 It reached its all-time low only a week after its all-time high, as this period was marked with excessive volatility. As a result, BSV dropped to $39.17 on November 23rd, after breaking multiple supports, with the largest ones being at $100 and then $50.
While the drop was quite harsh and sudden, it did not last for very long, and the coin experienced another surge which brought it back to the resistance level at $100. It managed to breach this roadblock several times before the year ended, although it was never a permanent breach. Without exception, every time the coin grew beyond $100, its surge was followed by a correction that brought it back down, which happened for the last time on December 24th.
Bitcoin SV seeking stability?
As soon as 2019 started, BSV seemingly abandoned its attempts to grow. It is also very likely that the bearish grip managed to drain all of its power, forcing the Bitcoin SV price to drop further.
The price was briefly stopped from dropping by a support at $80, although this support fell shortly after that as well. It was broken on January 14th, and after nearly two weeks of trying to hold its own, BSV dropped down to the support at $60.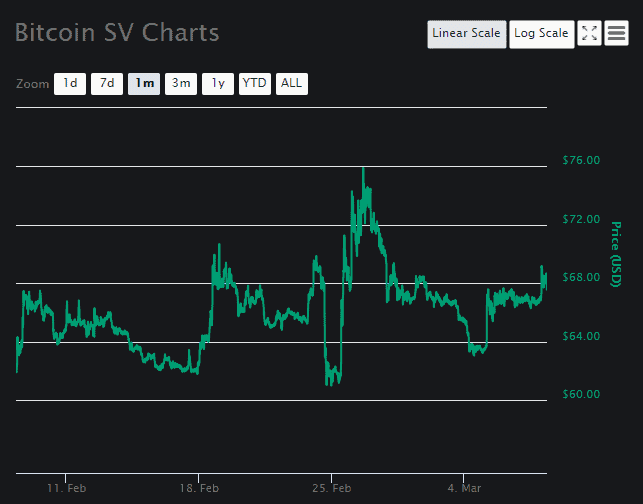 In February, BSV made numerous attempts to leave this support behind and grow back up, although it was unable to go far. The two bull runs — one in mid-February and the second in early March — had a small effect, and the coin's price only managed to reach $76 before returning down. Its decline was shortly stopped by a minor support at $68, although it quickly fell further down, having to rely on a support at $64.
In the last several days, it made attempts to breach the newly-formed resistance at $68, which it eventually did, even going as far as to $69 before being brought back down. This is where the coin is right now, with a price of $67.55.
In the future, BSV will likely make additional attempts to grow, although it is unlikely that it will manage to pull it off. For the foreseeable future, the coin will likely remain between the support at $65 and a resistance at $70, unless another, stronger bull run arrives, in which case it may see some actual growth. However, its current fluctuations are rather small, which makes it seem like BSV may have found some stability, or at least a bottom.