NEW YORK (InsideBitcoins) — When the words "bitcoin" and "regulation" are offered in the same sentence, many people react negatively. And that is a justifiable reaction because many bitcoin companies, especially those that do business in New York, have been dealing with the BitLicense proposal and its many possible ramifications.
However, Monday at the Bloomberg bitcoin panel discussion regarding regulation, there was a resounding agreement that regulation is not a bad thing — and could actually be a positive for the bitcoin business.
"Regulators are risk averse: 'If I don't understand it, I don't like it.'"
"I think you do a disservice to the industry by being blind to the realities of the world we live in. In today's world, having a compliance officer is a mark of professionalism," Arthur Levitt, former Chairman of the SEC, said. "I don't care if you call him a Chief Compliance Officer or a banana, but the function is to bring transparency."
Overestimating government's understanding of bitcoin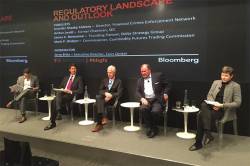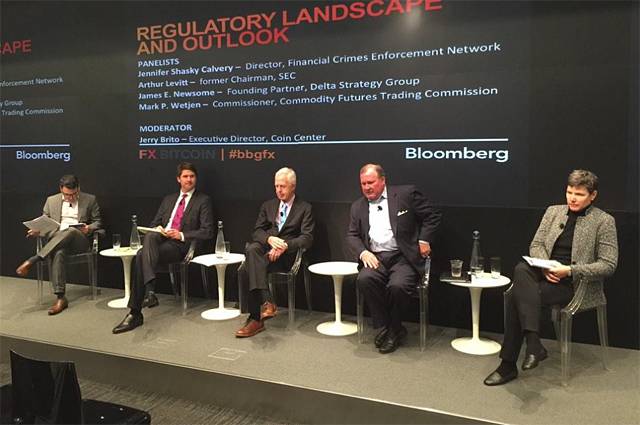 "Many in this room overestimate government understanding of bitcoin. The quicker you recognize that, the quicker you start the discussions with regulators," James E. Newsome, founding partner of Delta Strategy Group said. "Most in Washington can do a better job of explaining what bitcoin is not, rather than what it is."
"I think the cryptocurrency industry views the compliance office as a cousin of the devil himself and I think that's wrong because we're in a steep learning curve and there's no better way to adjust irrational misunderstanding regulation than by having transparency," Levitt added.
A clear example of this came in the beginning of the year when West Virginia Senator Joe Manchin wrote a letter calling for the ban of bitcoin because of his lack of understanding about the currency. The entire panel agreed that education is necessary in order for regulators to make the correct choice rather than a misguided one.
Regulation as a level of standard
"I believe the Commission of Commodity Futures Trading Commission and SEC would welcome meetings and definitions of exactly how new bitcoin companies make up the fabric of a new financial system," Levitt said.
Newsome offered a few examples of where regulation would have helped: Hunt Brothers and silver, Enron, and oil prices.
[See also: Bloomberg Bitcoin Conference: "Bitcoin Is Unstoppable"]
"People use regulation as a level of standard. Without having any data, I believe most Americans wouldn't have the confidence to use a service or good without that confidence," Mark P. Wetjen, commissioner of the Commodity Futures Trading Commission said.
But regulation may ultimately be a dead end for cryptocurrencies, according to Felix Salmon, senior editor of Fusion.
"Regulators are risk averse: 'If I don't understand it, I don't like it.'  It's got to be easy to understand to people who aren't completely invested in this," Salmon said. "I just don't think regulators are comfortable — or that they will be — or that they are willing to be captured in an educated way. There's no upside to them to try and persuade themselves that there is upside."