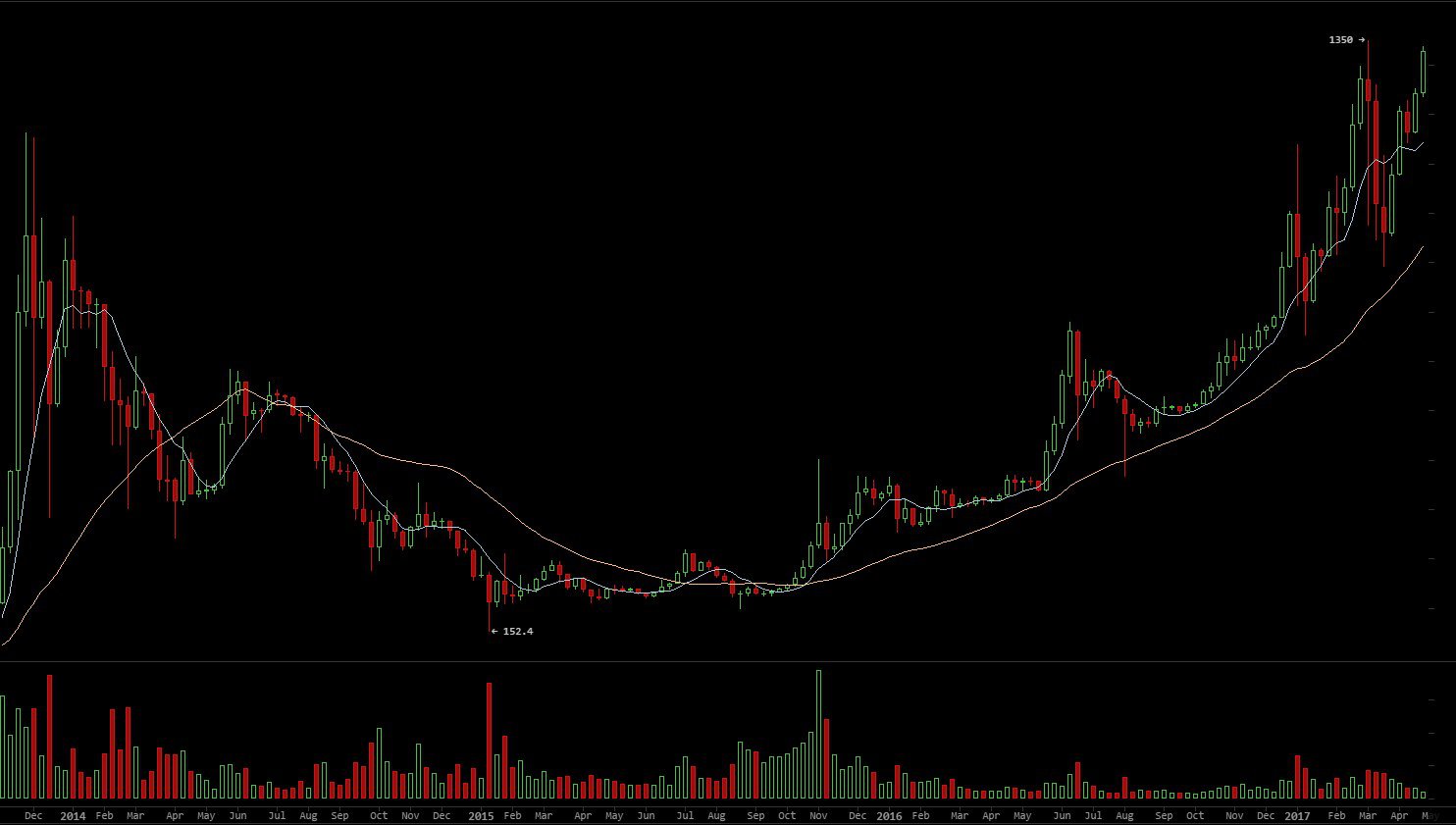 This
story
was shared from
this site
140
SHARES
The final days of April have seen the value of bitcoin make soaring gains in what has been a positive month for the cryptocurrency in a dramatic 2017.
On Thursday, bitcoin price reached a high of $1,338 on the Bitstamp Price Index (BPI), $12 away from the all-time BPI high of $1,350 scaled on March 10. On a global average exchange, bitcoin is already trading beyond an all-time high.
BPI data shows the world's most prominent cryptocurrency gaining over 8% in value since the turn of the week.
// Get exclusive analysis of bitcoin and learn from our tutorials. Join Hacked.com for just $39 now. //
On Wednesday, price climbed above $1,300, hitting a new high for the month. A dip followed toward $1,285 in the late hours of the day (UTC) that quickly proved to be short-lived. While trading began at $,1287 at the dawn of Thursday, bitcoin was back up toward $1,310 at 06:00. The spike occurred at 13:15, when price shot up to $1,327 in a 60-minute period. By 15:30, bitcoin price hit a new monthly BPI high of $1,338.
At the time of publishing, price has dipped slightly, just under $1,330.
On a global average, according to BitcoinAverage, bitcoin climbed to a new all-time high of $1,331 today to build on a series of highs set throughout the week.
April has seen a handful of notable positive developments in the bitcoin space, starting with the cryptocurrency gaining acknowledgment as a legal method of payment in Japan. Japanese retailers have taken notice, partnering with bitcoin companies to accept bitcoin as legal tender. Huge growth markets like Russia and India have softened their previously abrasive stance to hint at regulating the
---