Bitcoin (BTC) has once again started showing signs of recovery in the last several days, and despite the current price correction, it is likely that this trend will continue. BTC price is known for being highly volatile, and this is particularly clear on its 3-month chart.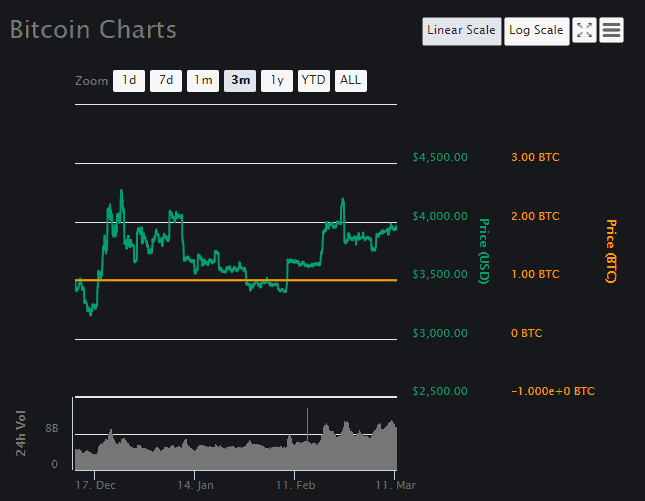 After experiencing drops for the most of 2018, and especially in mid-November when its price got cut in half, BTC started seeing its first serious growth in mid-December. This was when its price broke through a major resistance level at $3,500, and it even managed to break another resistance at $4,000 only days later, on December 20th.
However, the coin found it difficult to remain above this level for a long time, and it soon found itself dropping back towards the $3,500. It stopped before reaching it, its drop softened by the $3,750 support, and the coin made several more attempts at the growth in the final days of 2018, finally ending the year with its price trying to break a smaller resistance at $3,800.
Bitcoin remains volatile in 2019
During the first few days in 2019, the BTC price kept going up and down between $3,600 and $4,000. It managed to breach this resistance briefly once more, around January 7th, although it once again fell beneath it on January 10th. This was a period when the bearish grip started losing its strength, although it still had enough power over the market to bring the prices down, occasionally. However, the drop was stopped by a support level at $3,600, which is where BTC spent the rest of January.
The bears managed to make another strike in late January, bringing BTC below the support level, which immediately became a resistance, one that the coin was trying to breach until January 27th. This was when the coin lost its strength briefly and went further down to its next support at $3,400. The support managed to hold until February 8th, when a series of smaller bull runs started bringing BTC price back up.
On the same day, BTC surged and managed to breach the resistance at $3,600, once again turning it into a strong support. It managed to do so just in time, too, as the bull run ended as suddenly as it appeared, and this support kept the coin from dropping for the next ten days.
This was when another, stronger bull run arrived, and took BTC back up, to the resistance at $4,000. However, Bitcoin struggled to breach this one for an entire week, finally managing to do so, on February 23rd. It even succeeded in going further up, to the next major resistance at $4,200. However, this was when the bull run ended abruptly, leading to a free fall that took BTC below the support at $3,900.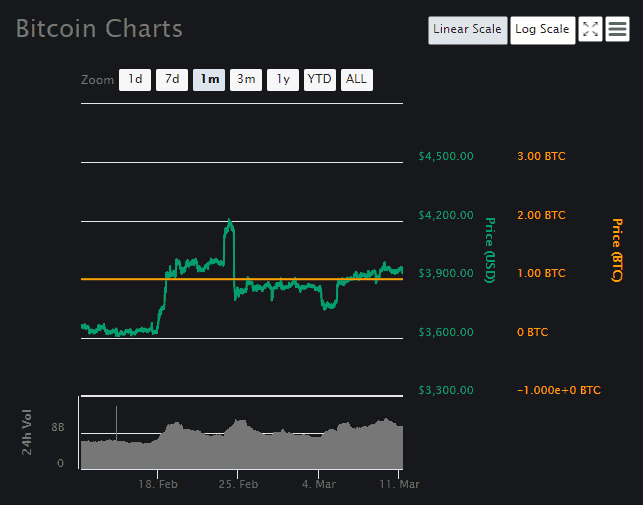 The support turned into a resistance, similarly to what happened in the past, and despite Bitcoin's best attempts, the resistance held from February 24th until March 5th.
This was when a new bull run started, and it finally allowed the coin to breach this level. However, the new surge was a small one compared to the previous ones, and it was only strong enough to buy Bitcoin above the resistance, which has been a support ever since.
In the last week, the coin remained stuck between this support and a smaller resistance at $3,960, which tried to breach multiple times. But, each time it attempted it, it got rejected, and the current drop in price is likely another one of these corrections.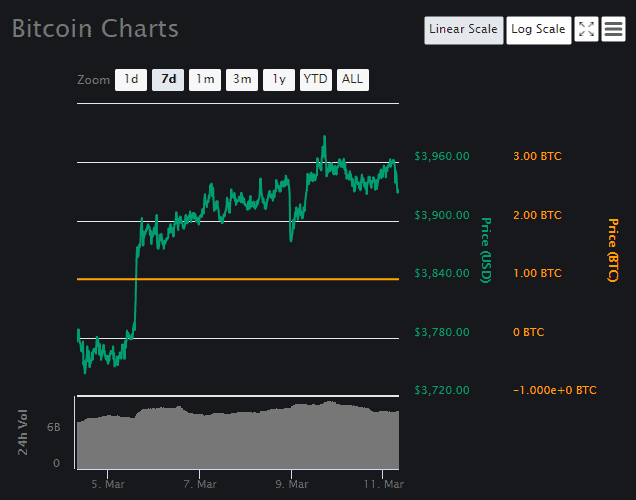 While the correction took hold of most coins on the market, it is likely only a temporary one, and BTC is expected to start growing once again in the following days. So, for the investors it is the best time to buy Bitcoins. Meanwhile, it is also quite likely that the coin will not drop below $3,900, as this has proven to be a strong support in the last week. As soon as the bearish grip loosens once more, BTC will likely return to its attempts to reach $4,000 once again.