Bitcoin Mining Facility Giga Watt to Launch Token Crowdsale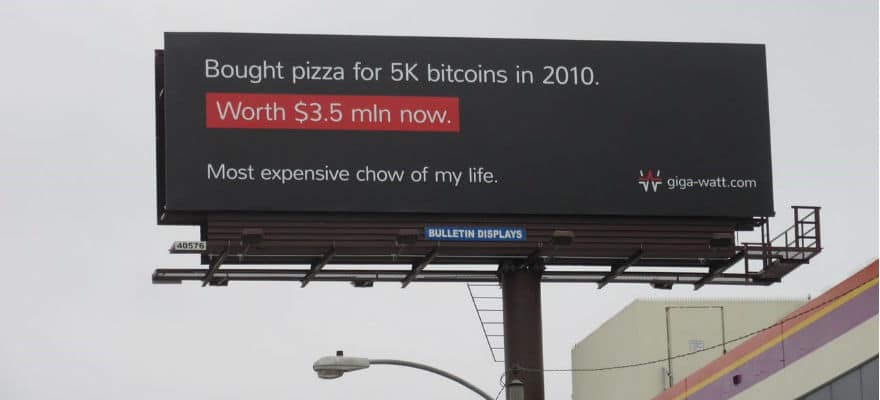 Photo: Giga Watt billboard in Los Angeles
Blockchain crowdsales solution Cryptonomos has just announced the launch of a token which offers access to the capacities of cryptocurrency mining facility Giga Watt, built by Bitcoin mining veteran Dave Carlson.
The London Summit 2017 is coming, get involved!
The Giga Watt token, WTT, will be offered on Cryptonomos beginning June 2, 2017, and will tokenize the processing center's capacity to accommodate one watt's worth of mining equipment power consumption, rent-free, for the lifetime of the hosting facility (which the company estimates to be about 50 years). This would allow Bitcoins to be mined for less than $500, according to the firm's estimations.
David Carlson
"By tokenizing our mining infrastructure, GigaWatt is finally able to extend our huge economic advantage to anyone in the world, large or small, to run their own mining business and be successful by having our expert team build and manage it," said Dave Carlson, founder of Giga Watt. "This is a move to decentralize the global balance of mining power and put it back in the hands of the little guy. The home miner built Bitcoin, and I want anyone to succeed as a true participant in the explosive growth of cryptocurrency mining."
Giga Watt's facilities also power any proof-of-work miner, so WTT token holders will also be able to mine Ethereum, Litecoin, and additional cryptocurrencies in the future.
While the company is registered in Singapore, Giga Watt's facility is located in the US state of Washington in order to benefit from the low electricity costs that the state is known for. The initial stage of construction has already been completed and is actively mining.
Got a news tip? Let Us Know Found a mistake? Let us know