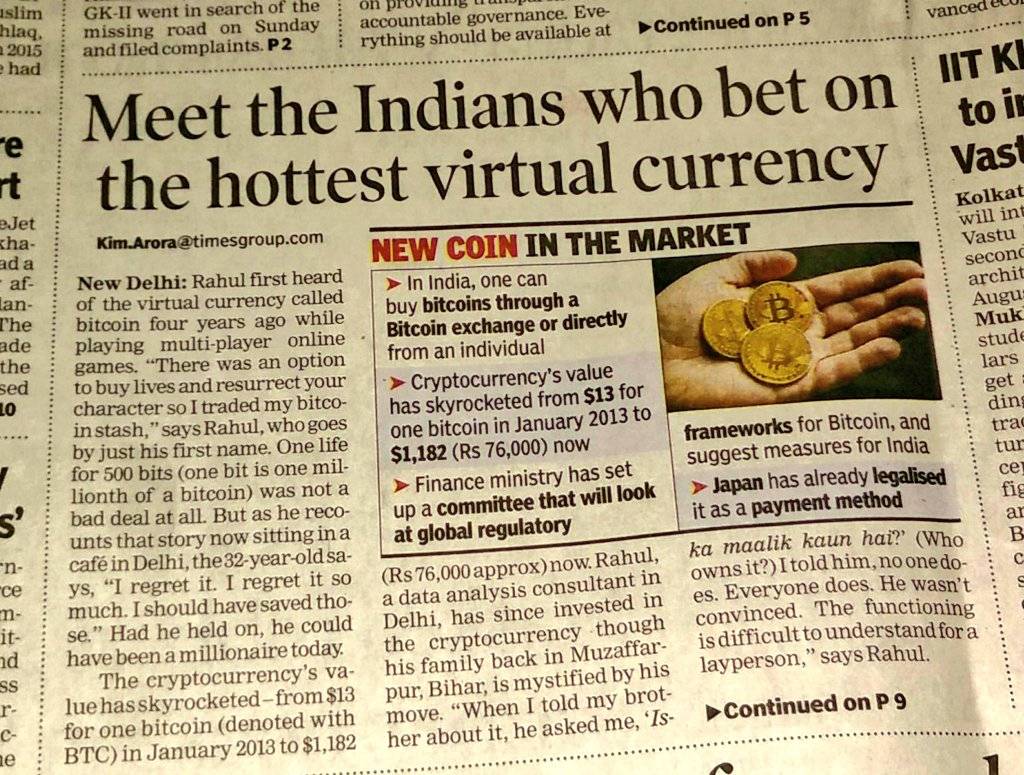 This
story
was shared from
this site
Bitcoin is gaining a lot traction in India. Bitcoinist spoke with Sunny Ray, co-founder of India's Bitcoin exchange UnoCoin, to better understand what is fueling this growing trend in the country.
Bitcoin Goes Mainstream in India
Bitcoin is going places. After conquering China and catapulting it to the front line of Bitcoin's trading and mining sector, it is now starting to get traction in other countries like Japan and South Korea.
Now, Bitcoin is also showing signs of a growing adoption rate in India, a country that has been deeply impacted by the demonetization policies implemented.
A look at yesterday's Times of India publication shows that Bitcoin is featured on the front page. The publication tells the story of a man who unknowingly exchanged, what would now be, a Bitcoin fortune for extra lives on an online game, something that he obviously regrets.
The article also provides some facts about the cryptocurrency, its price, and regulatory standing. It also mentions the Interdisciplinary Committee created to assess the current state of existing global regulatory and legal structures as a means to apply the best regulatory framework possible for Bitcoin in India.
The paper reads:
Finance ministry has set up a committee that will look at global regulatory frameworks for Bitcoin and suggest measures for India.
Bitcoin adoption in the country can be seen, not just in media reports, but also in the data provided by Unocoin, India's most popular Bitcoin Exchange. Co-founder Sunny Ray recently noted that:
It took 2 years and 10 months for Unocoin to reach 100,000 users. It only took another 6 months to reach 200,000 users.
Why is Bitcoin Booming in India?
Bitcoin's received a lot of attention after the demonetization policies that saw India's highest denomination banknotes removed from the economy were implemented in November 2016.
Since then,
---