Last Updated on
A correlation is developing between Emerging Market currencies and the value of bitcoin, according to Christopher Vecchio, Senior Currency Strategist at DailyFX. Data reveals that over the past six months the cryptocurrency market has benefited when emerging market FX such as the South African Rand (via USDZAR) and the Indian Rupee (via USDINR) are in decline.
The Future of Bitcoin After the Bubble Burst
The mania-like rise of bitcoin since 2010 has been well documented. At its peak in December 2017, its value had risen from less than $1 to the best part of $20,000, with the majority of the value spike occurring within a single year. A characteristically swift decline in value followed after the bubble burst in 2018 – but what future do digital currencies have?
Vecchio suggests that cryptocurrencies lack the most important feature of being a currency, namely a stable store of value, meaning that they shouldn't be seen as a "safe" option for FX traders. However they do have their benefits:
"Given the electronic nature of the globalized economy in 2019, the cryptocurrency market, coins and tokens can all be used as intermediaries to move capital beyond the reach of governmental agencies."
Capital controls in emerging market economies may lead traders to move their capital beyond the reach of government. These controls may be enforced as a result of domestic factors, such as central banking independence or elections, or because of external factors such as the economic repercussions of the US-China trade war.
Chinese Yuan (USDCNH) vs Bitcoin
This can be seen in the technical analysis of the performance of the Chinese Yuan against that of Bitcoin over the past six months: the 6-month correlation is 0.56, the 3-month correlation is -0.18, the 20-day is -0.47 and the 5-day is 0.11.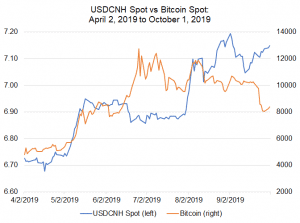 South African Rand (USDZAR) vs Bitcoin
This trend is not just present in the Chinese Yuan. The South African Rand has seen a similar set of correlations. Current correlations for 6 months, 3 months, 20 days and 5 days are 0.17, -0.09, -0.78 and 0.07 respectively.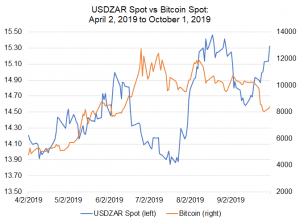 Indian Rupee (USDINR) vs Bitcoin
Again we can see this in the Indian Rupee vs bitcoin data. It has the most significant 5-day and 20-day correlations: 0.82 and 0.71 respectively. The 3-month correlation is -0.07 and 6-month is 0.71.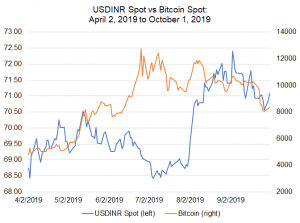 The Relationship Between EM FX and Cryptocurrencies
In general, it can be deduced that cryptocurrencies such as bitcoin do well when emerging market FX such as the Indian Rupee, South African Rand and Chinese Yuan do badly. It seems that if the bitcoin forecast continues to improve it may be as a result of the deepening trade war between China and the USA.