As the name suggests, Bitcoin Gold is a fork of Bitcoin, which makes it a part of the Bitcoin ecosystem. However, while most other Bitcoin forks still manage to hold their own in a less-than-friendly market, this is not exactly the case with BTG. In fact, Bitcoin Gold price has been dropping ever since December 20, 2017.
People willing to buy Bitcoin Gold are rare these days, and the coin's price has been suffering a lot as a result. It is one of the lowest ranking, if not THE lowest ranking coin in the Bitcoin ecosystem, with its current price being only $12,61. As a result, many were speculating whether or not the coin will hit zero in 2019. While it is difficult to say anything with certainty due to the unpredictable nature of cryptocurrencies, we can take a look at the coin's performance and see what might lie in its future.
Bitcoin Gold in 2017
As mentioned, BTG peaked on December 20th, 2017. This was around the time when Bitcoin itself hit its all-time high at $20,000.
Of course, BTG never grew that high up, and its own all-time high was at $481.70. Unfortunately, it was all downhill from this point forward, and BTG ended 2017 with a drop that cut its price in half. On December 31st, 2017, BTG price decline was stopped by a support level at $240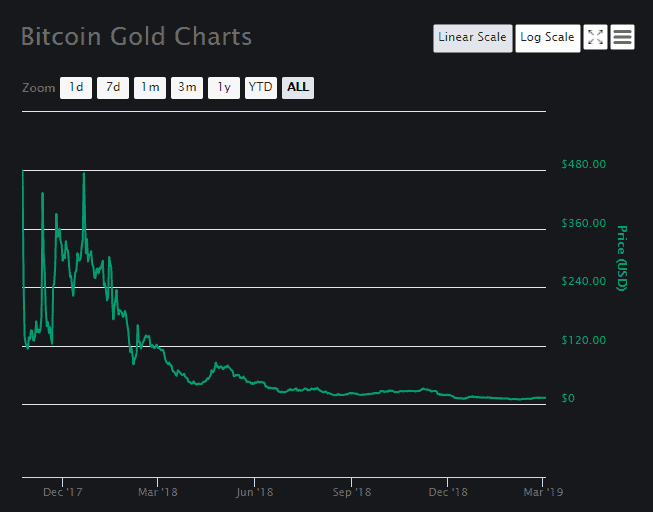 Bitcoin Gold in 2018
In January 2018, BTG had a few surges, followed by sharp drops, all of which occurred before the real market crash even arrived. When it did, it found the coin on its way back up, with a price nearing $300. However, it was not to be, and as soon as the bears emerged, BTG dropped down, breaching most of its major supports. By April, its price was the lowest it has ever been up to that point, at $40 per coin.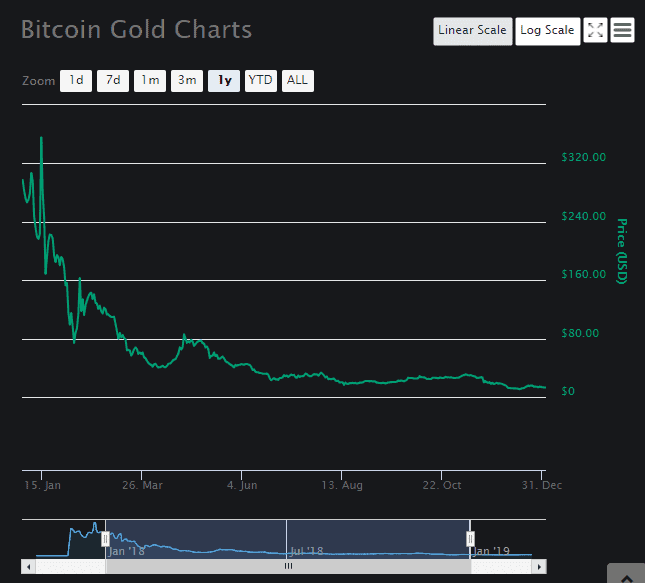 In May 2018, the crypto market took a short break from the bears, and most coins saw a surge that promised to bring them back up. This was the first big break that cryptocurrencies got from January, and many believed that the bear market was over. However, BTG's growth came before this, in the second half of April, when the coin surged and broke the resistance at $80.
However, this was a short-lasting break, and since then, the coin has been mostly on a downward spiral, getting closer and closer to zero as months went by.
In the final days of June 2018, BTG nosedive was stopped by support at $25, which is where it spent the entire July. In August, the coin broke the support, which started acting as a resistance. The coin attempted to breach it during the entirety of August and September, and it finally succeeded around October 1st. Once again, the $25 mark became support, and this lasted until mid-November.
At that point, the BCH hard fork happened, and the crypto market experienced its second crash in 2018. Since BTG is in Bitcoin's ecosystem, just like BCH, it was affected by the following hash war, and its price once again broke the $25 support, going down to $11.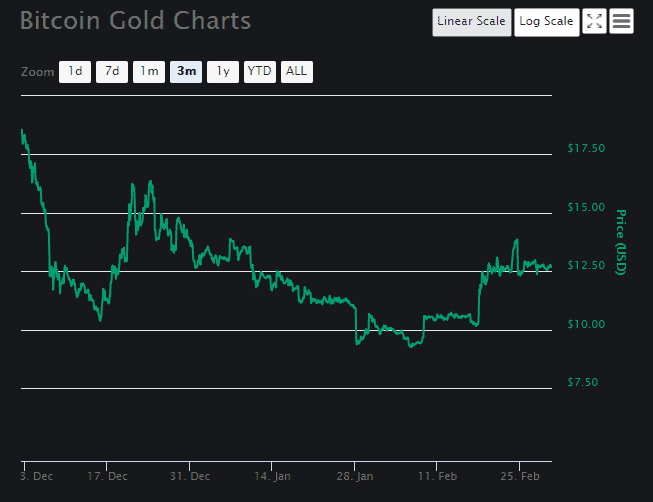 Another small surge in mid-December 2018 allowed the coin to grow slightly and breach the $15 resistance, although this also ended as we entered 2019.
BTG in 2019
Bitcoin Gold started the current year with another drop which took its price below the $10 support level in late January. This was the lowest its price has ever been, and the coin's all-time low was at $9.26.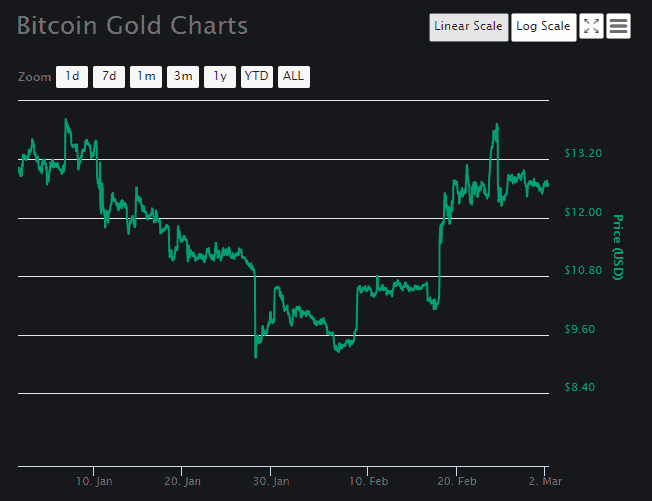 At this point, a few short surges in February brought the coin back up and even allowed it to breach two resistances — at levels $10 and $12.50, which is where the coin has been ever since. $12.50 turned into the support that has lasted to this day, although it is unlikely that BTG will remain at this level for much longer.
What to expect next?
Bitcoin Gold price has been on a constant drop, and while the same can be said for most other coins — this is one of the lowest-ranking members of the Bitcoin family. The coin has shown that it could grow if caught up in a bull run, although its surges were short-lasting and relatively small, while its drops continue to be harsh and sudden. It seems unlikely that it will ever return to its former glory, although everything is possible in the crypto world.
At the time of writing, BTG is struggling to overcome the resistance at $12,80, and its current price at $12.61 did see minor gains (0.09%) in the last 24 hours. However, while BTG does seem stable, it does not attract that much attention anymore. It currently holds the rank of the 28th largest coin with a market cap of $219 million, while its daily trading volume is typically below $10 million.