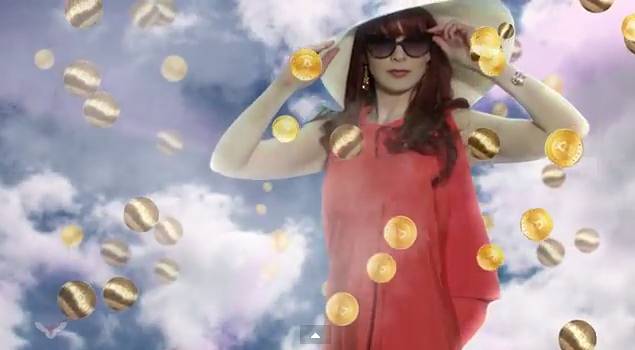 NEW YORK (InsideBitcoins) — "Bitcoin Girl" a video parody of Billy Joel's "Uptown Girl" made its debut on YouTube today. The video is "a love story, a comedy and an entry point into the cryptocurrency world for Bitcoin novices, experts, and everyone in-between," according to a press release.
The music video was produced by the non-profit Moving Picture Institute based in New York, which "produces and promotes films that make an impact on people's understanding of individual rights, limited government, and free markets," according to MPI's website. Founded in 2005, MPI says its videos have amassed a viewer count of over 110 million, with an average Amazon rating of 4.62 stars out of five.
"Those who are unfamiliar with Bitcoin want to see it banned, while those who understand Bitcoin support it strongly. Essentially, the more people learn about Bitcoin, the more they like it!" said Naomi Brockwell, the director – and star — of the video. "Film is the best way to educate Americans about this exciting innovation," she added.
While the video is sufficiently professional, the vocal is absolutely horrible – if not enthusiastically delivered. The video is at least two minutes longer than necessary, but then so was Joel's. You can view the video below.
Here are the lyrics to "Bitcoin Girl":
Oh oh oh oh, oh oh oh oh oh oh
Bitcoin Girl!
She's been living in her Bitcoin world.
I bet she's never had a Wall Street guy.
She kissed the Federal Reserve goodbye –
for digital dimes.
Bitcoin Girl!
She's been living in her Bitcoin world.
where all her currency is peer-to-peer.
No regulations that can interfere —
unlike my tears.
And when she wakes up
she shakes up her "mine."
Because she knows what she wants:
it's finite supply.
That's when I realized
it is all decentralized!
She's a Bitcoin girl!
You know I've seen her in her Bitcoin world.
She's so over paper money,
which has no value intrinsically.
No stability.
D-o-o-o-o-o-ge
She's the Bitcoin Girl.
She's been living in her Bitcoin world.
Like her transactions I'm anonymous.
Look at her reading the Economist's
analysis.
Digital wallet in her pocket,
it's strange
that when I'm walking
I'm rattling with loose change.
But there's hope for me yet,
after all,
I've got Internet!
She's a Bitcoin girl.
She doesn't care that I can buy her pearls.
But maybe someday when my public key
creates a brand-new cryptocurrency
she'll pick me.
D-o-o-o-o–o-ge
She's the Bitcoin Girl,
the Bitcoin Girl —
You know I'm in love with
the Bitcoin Girl.
---