ARNHEM, GELDERLAND (InsideBitcoins) – Six months ago, three enthusiasts, Patrick van der Meijde, Annet de Boer and Rogier Eijkelhof set out to make Arnhem, a small city in the East Netherlands, the home of bitcoin. In that time, the number of merchants accepting the currency locally has almost tripled, from 15 to 41. Six months might seem like an odd anniversary to celebrate and yet, in the mercurial world of cyrptocurrency, six months is an age; judging by the number of people who have arrived to mark the occasion, I'm not alone in this assessment.
(Ian Jackson, European correspondent for Inside Bitcoins, is visiting Arnhem, a bustling little city in the Netherlands — proclaimed as the "most bitcoin-friendly city in the world.")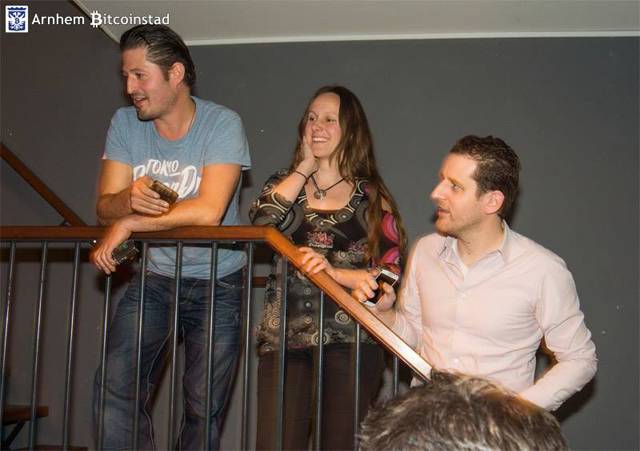 On May 28th the 'Arnhem Three' decided they wanted to be able to spend bitcoins in their own town. Their mission, to convince local bars and restaurant owners to accept bitcoin payments, exceeded even their expectations; indeed, it has turned out to be something of an inspiration. So much news surrounding bitcoin revolves around governments and banks, scandals and scams, court rulings, speculation and start-ups; we tend to forget where bitcoin truly lives, in the grass roots, where passion and enthusiasm is turned into action, into a quantifiable increase in the currency's profile.
A speech, a cake — and stories to tell
The people gathered at Roses Lounge — a once-was dance hall down by the river, nestled in the shadow of Arnhem's infamous bridge too far — have travelled from far and wide, partly in order to mark the occasion, partly to spend some bitcoin though mostly, in order to feel part of something, something good.
"I'm nobody, I just spend bitcoin."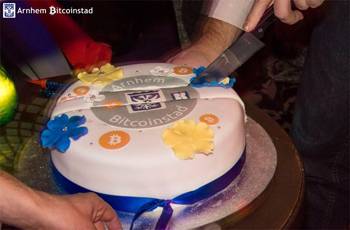 Typical of a community whose foundations flow from anarchic routes, the evening lacks a prescriptive agenda; after a brief speech is given, and a cake is of course cut, attendees split into dinner groups, some go this way, some go that, the selection of bitcoin-friendly restaurants in Arnhem is eclectic enough that all culinary tastes are catered to. After-dinner seminars have all been prearranged with the talks as decentralised as were the dinner arrangements, attendees brave the chill in order wander to their chosen locale.
The speeches are an aside though. Everyone, not just the organisers of the event, has a story to tell. One does not simply find oneself an active participant in such a nascent community, there is always a catalyst. Otto De Voogd has recently returned from Estonia, a country that has already imposed a 23% tax on bitcoin transactions, which according to Otto, has destroyed the viability of the currency within Estonian borders. "I've returned to the Netherlands," he told Inside Bitcoins, "because this is where I am from but also, because this is where I can do business in bitcoin."
Julian Hoffbauer hails from Bavaria and has recently completed his undergraduate dissertation, an examination into adoption rates of the currency in the hospitality industry.
"I conducted my research late at night, going into hotels where, at that time they have nothing better to do than speak to me," he said.
The dissertation, which achieved the highest possible score, makes for an interesting read; merchants asked to list negative things they have heard about bitcoin were able to draw from a list of sound bites lovingly passed on from torpid mainstream media outlets. Finding something positive for them to say was of course a different story.
"In most, if not all cases," Hoffbauer said, "They had not heard one positive thing about bitcoin, it was all negative."
The elusive Mr. Bitcoin
And then there is Mr. Bitcoin himself, as everybody calls him. Martijn Wismeijer made the news recently when he had two microchips implanted in his hand so that he could make contactless payments without having to reach for his smart phone. He is everywhere and nowhere.
"He is here somewhere." I am told time and time again. "He has this moustache, you know?"
Facial hair notwithstanding, he proves an elusive catch.
The event reaches that tipping point where everything suddenly seems to wind down without warning; the energy of the evening has begun to take its toll and even the Bitcoin Three have begun to flag.
"This is how it is done and it's all thanks to them," an anonymous attendee informs me.
He brushes questions about himself aside with a smiling shake of the head.
"I'm nobody, I just spend bitcoin."
Perhaps so, but then again is this not what the bitcoin community is at its heart? The anonymous, the camera shy, the un-thanked rank and file spenders of bitcoin — these are the people that will drive the currency to greater heights, the people with vision and drive if not personal ambition. These are the people of Bitcoin City.
Feature photo: Annet de Boer and  Marek Skorek celebrate their acceptance of bitcoin.