LONDON (InsideBitcoins) — There are few places in the world that have gone through as many turns of fate as Japan. The nation's post-war reconstruction was nothing short of phenomenal, but it was not the first time Japan had to re-launch themselves. The lack of resources to be found on the island somewhat paradoxically has always set them apart from other nations. By the time Europeans made contact with Japan in the 16th century, the Japanese — forced to be frugal with limited resources — had focused their efforts on quality and durability; their expertise in metallurgy was unsurpassed anywhere else, and to this day the Katanna is one of the most recognizable swords in the world. The Europeans were so enamored with Japanese produce that trading links were rapidly established and ownership of Japanese art and technology became something of a badge of distinction and sophistication.
Not that this dalliance with the west lasted. The history of Japan's withdrawal from the world is complex, convoluted, and difficult to summarize. Suffice to say that the 1534 introduction of European firearms into Japanese feudal society upset the delicate balance that had been in situ for centuries. Regional warlords and administrators, the Samurai, endured rigorous training, much of it martial; a fully armored and trained Samurai was a formidable opponent — unless of course you were armed with a European matchlock firearm or Tanagashima as they were known in Japan. Guns have always been the great leveler and a group of peasants could be trained to use firearms in a day. The days of the Samurai were numbered. Or so you might think. Rather than accepting that a quantitative technological change can often lead to qualitative societal upheaval the Japanese turned their back on innovation. Guns were banned and Tokyo, then called Edo was made into the new capital of a nation that was to remain closed to the world for some 354 years.
[Read More: Bitcoin Around the World: Bulgaria]
Moving towards modern Japan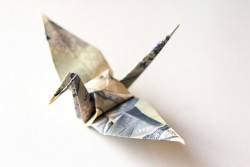 Perhaps this is just one of the reasons why Japanese culture so unique. By the time its borders were forced open in 1854, Japan was a nation frozen in time. A perfectly preserved feudal society found itself in a world that had undergone rapid industrialization. Japan's transformation into a modern state, a world power no less, took less than 50 years. Post-war reconstruction was accomplished even more quickly. It's no exaggeration to say that Japan's rise was unprecedented in the world, it was the first Asian giant, it weathered the economic chaos of the seventies and dominated the 80's in just about every sector one cares to imagine.By 1978, it had become the second largest economy in the world. And then, sometime around 1990, it kind of stalled.
When you hear of Japan's economic woes you might do well to remember that it is still the third largest economy in the world by nominal GDP, ranks fourth by purchasing power parity and enjoys a per capita income of around $36,000, the 22nd highest in the world. All of which begs the question, what exactly is wrong with its economy?
Well for one, it's a nation in debt. In 2013, it owed US$10.46 trillion, that's 226% of its GDP — a depressing ratio, the highest in the world and one that doesn't look set to get better any time soon. Japan's population, like so many other countries in the world, is aging; it's also declining, not at a prodigious rate to be sure, but the downward curve is definitely there. Since the 90's, Japan has been struggling with fiscal issues that seem to have no solution. It's holding on but holding on by its fingernails only.
And it's somewhat ironic that a country that turned its back on technology and rejected modernity for so long has become one of the most tech savvy in the world. Japanese manufacturing, from cars to games consoles and other consumer electronics, regardless of economic woes at home, remain world class. The population seems to go through endless cycles of fad after fad and their cultural reach far outweighs their rather modest size. Nintendo, Sony, Tamagotchi, Pokemon, these words are part of our own language. At one point, the US media erupted with outrage at the news that Mario was better recognized by American children than Mickey Mouse.
And then there's Mt. Gox
Those two words sit together in an uncomfortable silence of their own making. There are numbers floating inside the heads of all who hear them: 850,000 bitcoin, $450 million net loss, and, of course, '70.' In 2013 Mt. Gox was handling an unbelievable 70% of all transactions; to many, Mt. Gox was bitcoin. Satoshi Nakamoto having a Japanese name is not the only reason people associate the currency with Japan; many seem to see it as a Japanese invention, which, of course, (since nobody really knows who Nakamoto is) could very well be true. Still, speculation aside, the truth about Mt. Gox is that it's not as Japanese as people might think. Even the name isn't Japanese. It stands for "Magic: The Gathering Online Exchange", and was originally conceived to do just that — trade game cards like stocks. So a company that was not of Japanese origin, either in conception or management came to be based in Tokyo due to various twists of fate. Regardless, Japan will forever be associated with bitcoin's very own Chernobyl.
[Read More: While Mt. Gox Was Burning, Karpeles Was Heading Home for the Weekend]
All of this might lead you to the conclusion that Japan is truly sick of the currency. You'd be wrong. The Japanese love technology, they love innovation even more, and it would take much more than a $450 million hole in the accounts to dissuade them. The country might only sport 37 bitcoin merchants, but it still has an ace or two up its sleeve. For one, there's the Japan Digital Asset Authority, a regulatory body that Prime Minister Shinzo Abe helped launch. Jada represents a unique vote of confidence on behalf of the Japanese government; it's a self-regulatory body, and that's a badge of distinction that you won't find anywhere else. Bitcoin is a real, grown up industry in Japan, mature enough to come up with its own solutions to issues of security and ethics without having to say boo to anyone.
And then there's Rakuten. If you haven't heard of it, well that's ok. Its closest comparison would be Amazon. As an online retail store, it dominates the Japanese market and is on the brink of accepting bitcoin.
Japan's economy is a definite headache. Like many nations faced with the shifting socioeconomic landscape of the 21st century, thinking outside the box is not a luxury commodity, it's absolutely essential. Whatever the future direction cryptocurrencies take us in one thing is clear: Japan may once have been closed to the outside world, but it is — and will no doubt remain — open for bitcoin.
Featured image via Takashi Hososhima.
Ian Jackson is an Inside Bitcoins correspondent based in the U.K.