Last Updated on
Anthony Pompliano, co-founder and partner of Morgan Creek Digital, reckons bitcoin will be priced at $100,000 by the end of 2021.
Naeem Aslam, chief market analyst of broker ThinkMarkets, is also now on record with a $100,000 price target.
Buy first what Pompliano had to say.
'The Pomp', as he is affectionately referred to as by crypto followers, predicted that the bitcoin price would bottom in the low 3,000s, and that turned out to be true.
Writing in his regular email newsletter and podcast Off The Chain,  he reprises his previous price call:
"This prediction of a ~50% drop in Bitcoin's price was met with plenty of skepticism, but it ultimately proved to be accurate. Bitcoin proceeded to drop under $3,200 in December 2018 before recovering and shooting past a $10,000 price this past Friday."
On August 24, 2018 I called for Bitcoin to drop 50% to $3k before rallying back over $10k.

That call was deadly accurate and allowed Morgan Creek Digital to buy the dip.

Here is my next price target.https://t.co/KzhRO7u2Vi

— Pomp 🌪 (@APompliano) June 24, 2019
Today he is joining the $100k crowd, alongside the likes of trader Peter Brandt who has made a similar call although with a shorter timeframe than Pompliano.
Institutional buyers see the lustre of bitcoin
Pompliano thinks that institutional buying will grow even further from here, with exchange traded funds set to make it easier for retail investors to get in on the action. He also cites  low returns in other asset classes and the "continued manipulation" by governments.
"The increase in demand for Bitcoin will come from a variety of sources and will be due to various factors. These include large scale institutional adoption, multiple ETF and retail product approvals, increased global instability, lack of performance in traditional markets, and the continued manipulation of markets, economies, and currencies by governments around the world."
As far as supply goes, he notes the "disinflationary supply schedule" which is seen in the next halving in block rewards due to take place in May 2020, will sustain the price appreciation.
The retail investors haven't turned up in numbers yet but the environment is being made easier for such buyers to enter. For example, you can now buy bitcoin with PayPal these days.
Bitcoin is going for gold
He notes that even at $100,000, the market capitalisation of bitcoin will still only account for less than a third one third the market cap of gold.
Pompliano reminds his readers that he is "incredibly bullish about the future prospects of bitcoin" and that the digital currency is "a highly volatile asset".
So his prediction comes with this rider:
"It is unlikely that Bitcoin will go from the current ~$11,000 to $100,000 without experiencing this volatility. I anticipate that there will be numerous 20-30% drawdowns from new all-time highs as the asset continues to appreciate in value."
Bitcoin's extreme volatility means that as well as holding out the prospect of massive returns it also comes with the risk of a 100% loss.
"An investment in Bitcoin will deliver approximately a 10x return if I am correct in my $100,000 price target, while the risk is a complete loss of invested capital (-1x)," notes the Pomp.
Bitcoin at $20,000, then $50,000 are next key price levels says bullish analyst Aslam
Back with ThinkMarkets' Aslam, he sees key price levels at $20,000 and $50,000 in the march to $100,000.
"The only way for the bitcoin price is to move higher from here. If we stay above the 240 2-day moving average I don't see this things coming down soon," Aslam claims.
"I don't see this thing coming down soon."
He added: "The next bull run will be in the range of $60,000 to $100,000."
"Need to break the next hurdles, all-time high at $20,000… the market will then start pricing in the next  important level is $50,000 then the next level will be $100,000."
On whether the bull run is being helped by Facebook's Libra, Aslam said: "I would concur with you it has provided enough tailwind, and headwinds depending on how the project will perform."
He sees others in Big Tech following in Facebook's wake, specifically naming Amazon, Samsung and Apple.
Then there's the rise of tokenisation to factor in
"The maturity of the tokenisation of assets to create liquidity out of fungible and non-fungible assets ."
Asked what can I buy with bitcoin, Aslam replied:
"Bitcoin is a commodity, a store of value… used to diverse risk…What you can but with gold you can buy with bitcoin."
"[We are seeing] huge spike because of uncertainties around economic growth, trader. War and possibility of another major war," he continued.
"It has acquired a reputation as a safe haven and a different asset class to gold. We have evidence of investors parking their money there."
With gold trading at highs for the year, bitcoin looks to be joining it as a favourite safe haven play.
Bitcoin and gold prices moving in step
As with gold at the moment, geopolitical tensions and ultra-loose monetary policy that sees investors having to pay to lend to governments because of negative yields on government debt, is pushing perceived safe haven assets higher.
Blogger Jeroen Blokland has tweeted a Bloomberg terminal chart showing the gold/bitcoin correlation:
#Gold and #bitcoin (digital gold for some)! pic.twitter.com/txcVGQsOmA

— jeroen blokland (@jsblokland) June 25, 2019
Gold is currently trading at six year high at $1,429 and bitcoin trading at 4.5% higher over the past 24 hours, trading at $11,295 on US exchange Coinbase.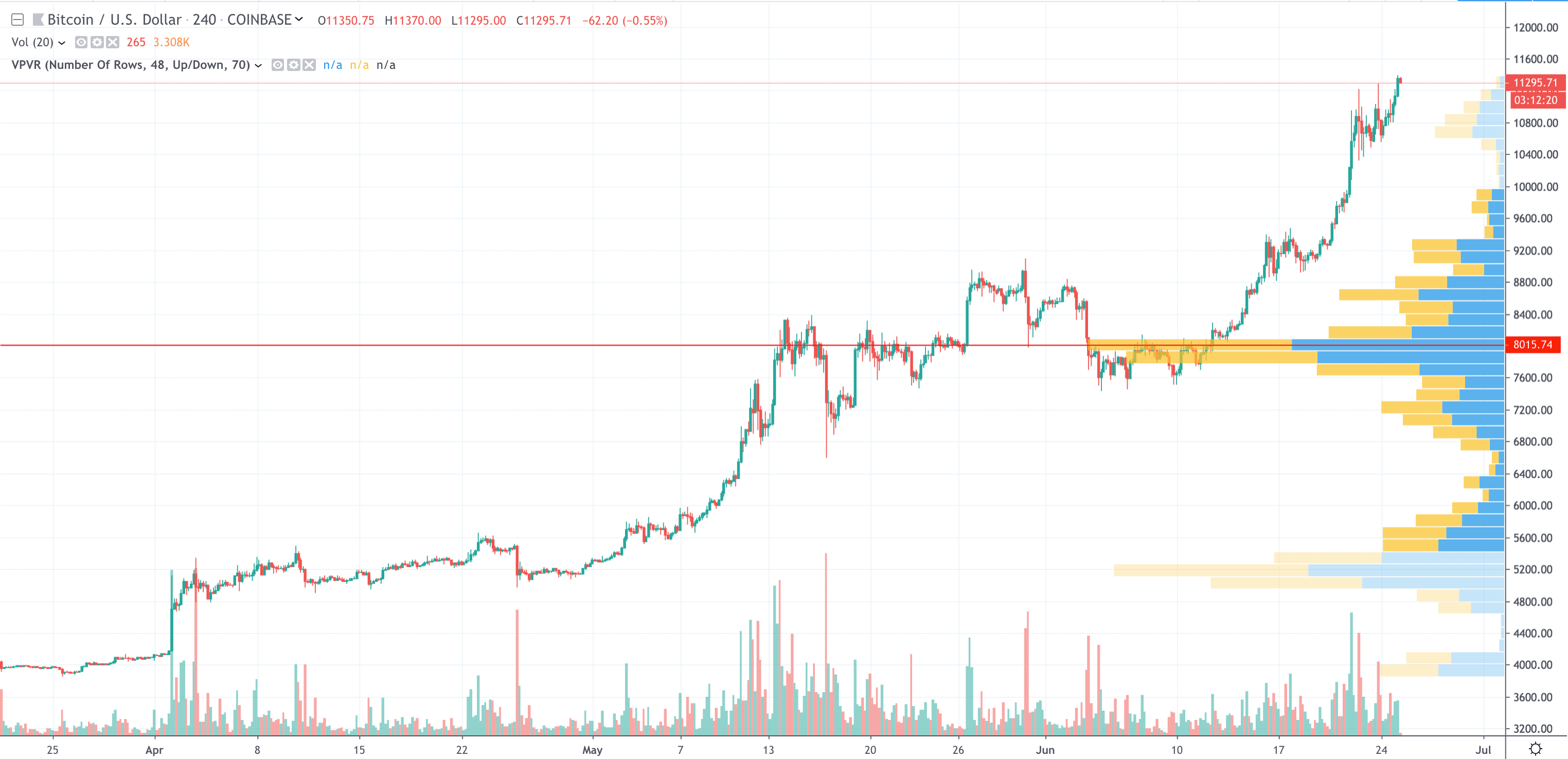 Gary McFarlane is the crypto analyst at interactive investor and writes in a personal capacity and none of his commentary should be considered investment advice.