One of the more interesting panels on day one of Inside Bitcoins NYC 2015 was "Bitcoin 2.0 and Blockchain Startups: What Really Matters?" The panel featured Bitwage Founder and COO Jonathon Chester, Veritaseum Founder and CEO Reggie Middleton, CryptoCurrency Certification Consortium (C4) President Michael Perklin, Bitcoin Center NYC Founder Nick Spanos, and Gem Founder and CEO Micah Winkelspecht. The panel was moderated by MintCombine CEO Rik Willard. What made this panel stand out from many of the other discussions and presentations from day one was that the main topic of the discussion was discussed in a somewhat negative manner.
Also Read:  All About: The Blockchain Part Three
The panel as a whole was not trying to discourage the development of bitcoin 2.0 applications, but they were definitely cautious of the trend of trying to use a blockchain to solve every problem in the world. In short, many of the panelists seemed to believe that some bitcoin 2.0 applications are solutions in search of problems.
A system of certifications for bitcoin
At the start of the discussion, Michael Perklin was asked about his work at C4. He explained that a certification process "makes it really easy to figure out what you need to do to secure your coins." He continued, "Up until a few months ago, bitcoin companies were left to do everything on their own." Later on, Perklin mentioned Case as one of the companies that found the C4 certification process to be helpful in making sure that they're following best practices and creating a secure product for their users.
After the other panelists on stage agreed that a centralized certification process is the right move, Perklin noted, "There are people who are trying to throw a blockchain at everything." He added, "There are some things that are simply better centralized, and one of those things is the certification process."
Most bitcoin applications are still about currency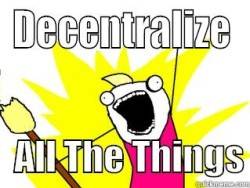 It was at this point that Gem CEO Micah Winkelspecht stated, "At least create transparency instead of going for a completely decentralized system . . . 90% of the market is still bitcoin — the currency — applications." He then added, "The reality is that there is not yet a huge market for that [bitcoin 2.0] stuff." This wasn't to say that Winkelspecht was completely dismissive of "bitcoin 2.0" proposals. For example, he noted that a user's bitcoin wallet will also be able to double as a replacement for the outdated login process that involves typing in a username and password. In fact, this sort of functionality has already been implemented on the Unsystem Wiki through the use of BitID. Later on in the panel discussion, Perklin noted, "Bitcoin 2.0 comes from outside of finance."
Don't force new applications onto a blockchain
The key point that the panel was trying to make was best summarized by Veritaseum CEO Reggie Middleton near the end of the talk. Middleton was originally talking about how bitcoin startups can compete against large financial institutions who decide to enter the digital currency space, and he explained:
"The banks have the technological capability to walk over us. They have the money and lobbying power to walk over us. What they don't have is the mindset to work quickly . . . a [bitcoin] startup can outrun the banks from a speed perspective and a creative perspective . . . instead of trying to take the way things are done and force it into a blockchain, start from scratch and build a new solution."
Perklin was quick to note that Middleton's comments deserved a round of applause, and the crowd obliged. While "decentralize all the things" seemed to be the motto of the bitcoin community a year or two ago, it now appears that many bitcoin users, developers, and entrepreneurs are ready to take a more practical approach to how the blockchain will be used in the future.
You can follow @kyletorpey on Twitter.