Last Updated on
Basic Attention Token (BAT) is one of the coins with a lot of potential when it comes to disrupting the way advertising works. The coin is mostly being used within Brave browser, as a method of tipping online content creators and showing support.
Users can obtain the coin by buying Basic Attention Token within one of many exchanges around the world, or by viewing ads within the Brave browser. The goal is to allow companies to advertise their products directly, without having to go through intermediaries such as social media or other websites. Instead, the companies would get a direct connection with users, who can view their ads and be rewarded by BAT as a result.
Another thing that makes BAT seemingly stand out is its price, which is performing in a very different way than the prices of other coins, almost like it is not directly affected by the crypto market's trends.
BAT cycles throughout 2018
There are some similarities, of course, but BAT is mostly going its own way instead of rising and falling as Bitcoin commands. One of the similarities with the rest of the market is the fact that BAT reached its all-time high in January 2018, similarly to most other cryptocurrencies. After that, the coin's price has been spiraling down for several months, although its major supports managed to disrupt the fall most of the time.
BAT's strongest support so far has been at $0.20, and this is the very support that stopped BAT's drop from its all-time high. The drop was stopped in mid-March, and the coin's price spent almost two months at this level until it surged again in late April and early May. The surge allowed it to break one of the major resistances, and more than double its price, reaching $0.498193 on May 3rd.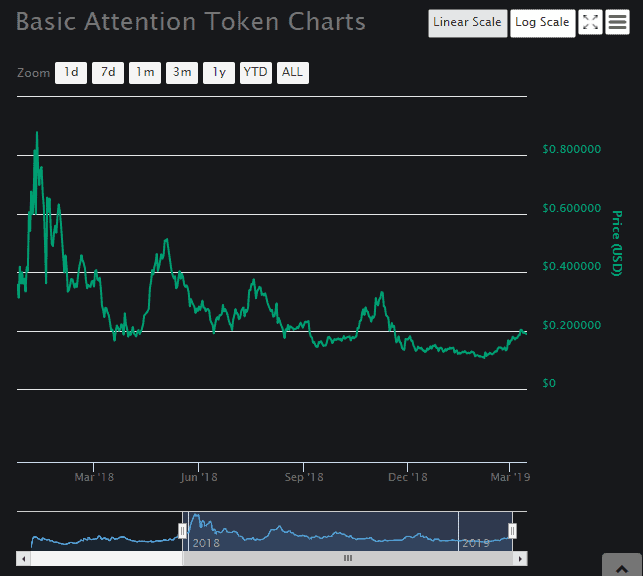 Following this was another drop, once again similar to the rest of the market. And this one once again brought BAT to its old support at $0.20. However, where most other coins continued to drop or found some stability for the following few months, BAT surged once again during the summer.
This new surge brought it in close vicinity of its $0.40 resistance, although the coin never actually reached it. This was followed by another drop, stopped by the $0.20 support for the third time. However, the support finally got broken in early September, and it turned into equally as strong resistance.
BAT surged one last time in late October and early November, making another attempt at reaching $0.40 mark. It may have succeeded if not for the second market crash, caused by the Bitcoin Cash hard fork. This caused BAT to fall for one last time, and once again break the $0.20 support. This was also the last time BAT has been above $0.20 level until only a few days ago.
BAT shows signs of another growth
As 2019 arrived, the coin has been relatively stable, with smaller fluctuations between its new major support at $0.10 and $0.15. However, February bull runs allowed BAT to breach $0.15 resistance and once again grow towards $.020. As time went on, the bear market started losing strength, and BAT managed to grow further up.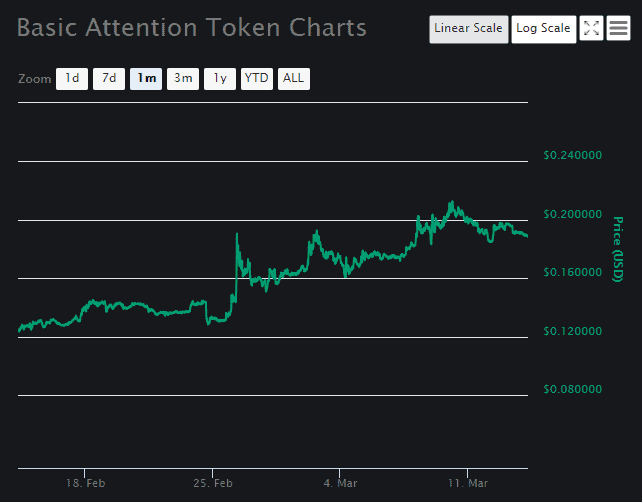 Only days ago, on March 10th, the coin finally managed to briefly breach $0.20 resistance, which was something that has not happened since mid-November.
The breach was brief, however, and followed by a correction which took the coin down, although it never went far away from its major resistance. BAT's current price is at $0.188510, although there is a fair chance that BAT will make another attempt at breaching the $0.20 mark with the next rally. If such a rally does arrive, it is equally as possible that BAT will finally breach this roadblock permanently, and use it as a support level for further growth.