A new report from DataLight suggests that most crypto traders are concentrated in the US. About 22 million monthly visits to digital exchanges can be attributed to American traders.
The US takes the lead in trading
While cryptocurrency regulation is nowhere to be seen in the US, traders have not lost confidence in the market. A new report from Estonian crypto research firm DataLight suggests that most of the cryptocurrency traders in the world are based in the United States. The firm collected and analyzed data from the top 100 cryptocurrency exchanges for their research.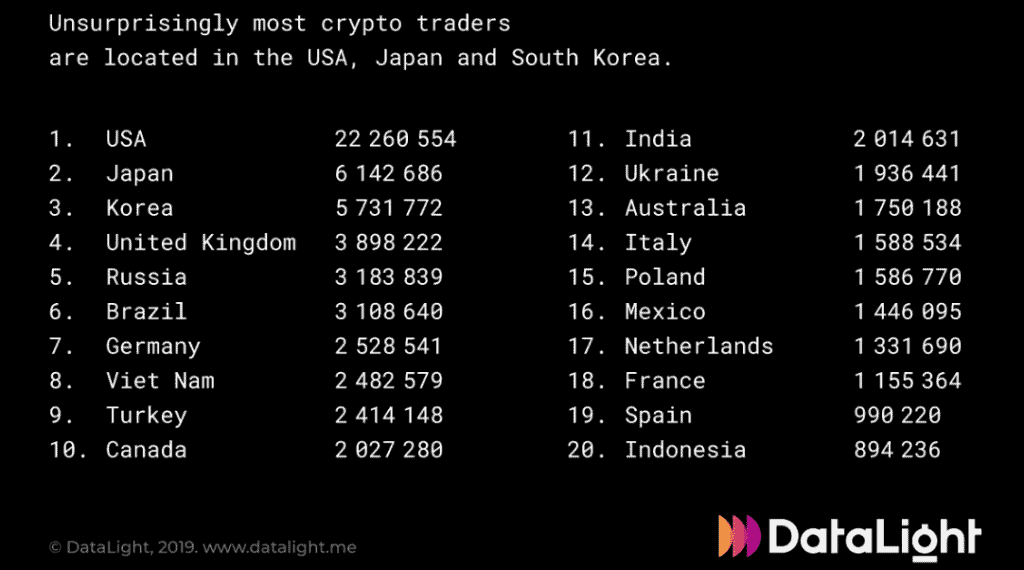 They found that 22 million monthly visits on cryptocurrency exchanges came from US-based users. Japanese users came in at number 2, with 6.14 million monthly visits. South Korea was in third position with 5.73 million monthly visits. The UK remained slightly behind, with 3.89 million monthly visits. However, the firm believes that British numbers are likely to grow.
Countries, where the national fiat currency is becoming unstable, are also sending huge traffic to these exchanges. They include Turkey, Ukraine, and Mexico. The report suggests,
"Interestingly, on one day in August 2018, a 10% drop in the value of the Lira was accompanied by a marked spike in volumes on bitcoin exchange LocalBitcoins."
The report reveals some countries are untouched by crypto
The report also suggests that there are some countries where cryptocurrency trading is non-existent. Most countries in the world have seen at least some kind of trading volume. However, some parts of Central Africa, along with Greenland and two Asian countries have sent zero traffic to crypto exchanges. The researchers noted that Binance is one of the exchanges that sees some potential in these untapped markets. They stated that Binance's efforts, especially with Binance Uganda, will help in bringing crypto trading to the central and coastal African regions.
Back in the US, cryptocurrency regulations are still vague, and there doesn't exist a common consensus that defines the country's approach to the market. However, lack of regulation doesn't mean that cryptocurrencies are not facing enforcement activity. Last month, the Financial Crimes Enforcement Network (FinCEN) issued a $35,000 fine to a peer-to-peer Bitcoin trader because it failed to register as a money services business. In August last year, a trader on LocalBitcoins was sentenced to 41 months in prison for money laundering. The trader conducted in-person Bitcoin trades for over $160,000.