Alibaba stock has been on a steady rise ever since early January of this year, and within only two months — the company's stock managed to grow by as much as 33%. However, things changed several days ago, and everyone who might be looking to buy stocks might want to consider BABA.
Of course, this is not the biggest drop Alibaba has ever experienced, and the one in the final days of December 2018 has been much deeper. Back then. BABA sank all the way down to its major support level at $130. The stock price remained just above this level, sitting at $131.89 for several days, until it finally started to grow on December 25th.
However, the growth was suddenly stopped by a resistance level at $140, which caused the price to experience a slight correction. BABA ended 2018 with a price of $137.07.
Alibaba stock price on the rise
As soon as the new year started, however, Alibaba stock price dropped right back to $130, and this time it sank even lower. This time, it managed to touch its support before leaving it once again. However, when it left, it left in a massive surge that allowed it to breach two major resistances — $140 and $150.
After growing above $150, the resistance turned in to a support and allowed BABA to remain there for seven days, until January 14th. During this time, the stock price seemingly gathered its strength before attempting another surge, this time aiming at the $160 resistance. The initial attempt to breach it was stopped and BABA experienced a slight correction, but the $150 support managed to hold.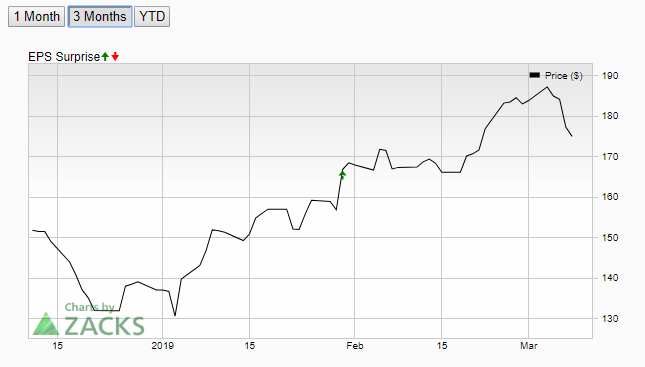 The price struggled to breach the resistance for the second time as well, in the final days of January. However, it finally managed to make a  breach on January 29th, and the surge brought it right to the next resistance at $170. This one proved just as difficult to breach, and BABA price was attempting to do so for the larger part of February, finally managing to grow beyond this mark on February 18th.
Alibaba stock price takes a sharp turn
The growth was large, and it allowed Alibaba's stock price to breach another major level — $180, and even go beyond this one. Its progress was stopped once again, however, as soon as March began. On March 3rd, the stock price hit a massive barrier right before the $190 mark. It was a minor resistance at $188, although it was more than enough not only to stop the price from advancing, but also to turn things around for Alibaba, and cause the largest drop in 2019.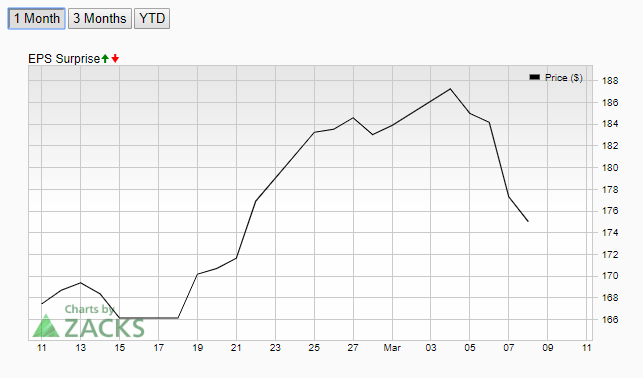 The price started going down, and one of the minor supports at $184 briefly slowed down its decline. However, the price broke this support with a relative ease, breaching multiple other smaller supports, currently going towards the one at $174. At the time of writing, the BABA price is at $175.03.
While Alibaba is currently experiencing a major drop, the decline might be slowing down. It is also likely that it might bring the price back down to the $170, or even a $160 support before stopping completely. However, Buying Alibaba stock may be a good idea right now, as the stock price is seeing a significant drop — the biggest one in 2019 so far. It still needs a lot of strength to breach the $190 resistance, as well as many smaller ones on its way back to these levels, although it is entirely possible during the next bull run.