Die Chefs von zehn Fintech-Startups aus der ganzen Schweiz reisen im Herbst nach New York. Organisiert wird die Roadshow von Venture Leaders.
Im vergangenen Jahr haben Schweizer Fintech-Startups bei Investoren insgesamt CHF 76 Millionen Risikokapital eingesammelt; die meisten von ihnen im einstelligen Millionenbereich. Das klingt nach viel Geld. Für eine internationale Expansion ist es jedoch zu wenig. Dafür sind die Startups auf globale Partnerschaften und Finanzierungen angewiesen.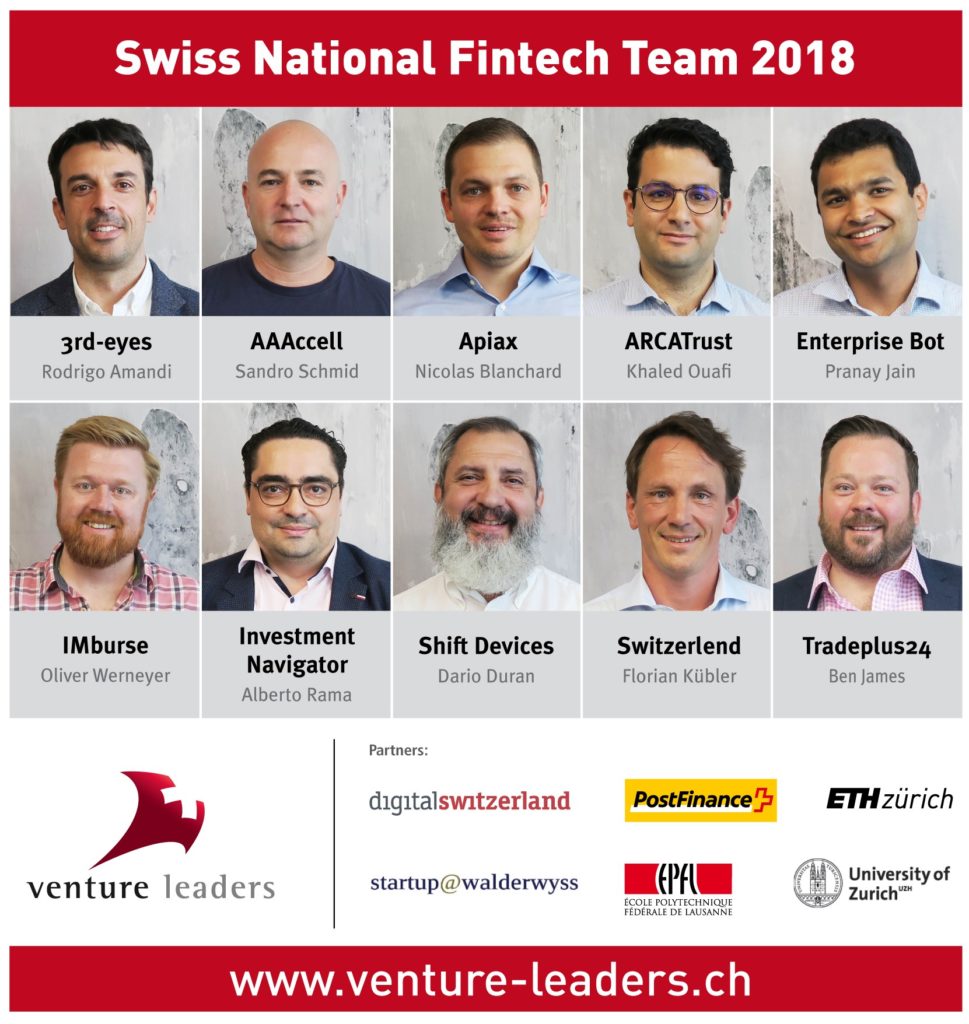 Dafür hat Venture Leaders – eine Initiative von Venturelab unterstützt von Unternehmen und Hochschulen – auch dieses Jahr eine Roadshow ins Zentrum der internationalen Finanzwelt ausgeschrieben. Aus allen eingegangenen Bewerbungen wurden von einer Jury aus Investoren und Experten zehn Startups ausgewählt.
Auf den Spuren von Qumram
«Fintech-Projekte haben immer einen globalen Anspruch»,
sagte Jens Schulte, Leiter Innovation und Venture Capital bei PostFinance. Gleichzeitig lebt die Finanzindustrie wie keine andere vom wechselseitigen Vertrauen der Akteure. Deshalb ist für Jurymitglied Schulte klar:
«Der Weg zu kraftvollen Partnerschaften führt über persönliche Kontakte».
Entsprechend anspruchsvoll ist das Programm, welches die Startup-Vertreter in New York erwartet. Sie werden in einer knappen Woche eine ganze Reihe von namhaften Vertretern des weltgrössten Finanzplatzes treffen: Banken, Investoren und Anwälte.
«Sie haben die einmalige Möglichkeit, die ersten Pflöcke eines internationalen Netzwerkes einzuschlagen»,
sagt Schulte.
Einer, der die Chance genutzt hat, ist Patrick Barnert, Gründer des Zürcher Fintech-Startups Qumram. Er war auf der letzten Roadshow von Venture Leaders in New York dabei. Zwei Monate später verkaufte er sein Unternehmen an den amerikanischen Softwarekonzern Dynatrace.
Die Gewinner von Venture Leaders Fintech 2018 auf einen Blick
3rd-eyes | Rodrigo Amandi | 3rd-eyes-com | Zürich
3rd-eyes ist der Software-Partner für Banken, Versicherungen und Anlageberater. Die Software kombiniert ein Vermögensplanungsmodul mit einem stochastischen Prozess, der basierend auf den Zielen des Kunden die optimale Vermögensallokation berechnet. Der Algorithmus berücksichtigt individuelle Kriterien wie den Anlagestil und persönliche Werte, einschließlich Klimawandel und soziale Probleme.
AAAccell | Sandro Schmid | aaaccell.ch | Zürich
Das Unternehmen entwickelt innovative Lösungen im Asset- und Risikomanagement. PSARM (Portfolio Selection and Risk Monitoring) ist ein führendes Produkt von AAAccell das bestehende Portfolios von institutionellen oder privaten Kunden in Portfolios mit geringen Risikoprofil umschichtet und gleichzeitig die Rendite erhöht.
Apiax | Nicolas Blanchard | apiax.com | Zürich
Das Regtech-Startup entwickelt flexible Instrumente, um komplexe Vorschriften in digitale regulatorische Regeln zu überführen und den gesamten Lebenszyklus zu verwalten. Kontinuierlich überwacht, aktualisiert und überprüft, können diese Regeln direkt in jede Anwendung über eine einfach zu bedienende API integriert werden.
ArcaTrust | Khaled Ouafi | arcatrust.io | Lausanne
ArcaTrust zielt darauf ab, eine sichere Umgebung für Sicherheitsanwendungen in Form einer physisch sicheren Serveranwendung bereitzustellen. Eine seiner primären Anwendungsfälle ist eine Blockchain-Anwendungen für eine sichere elektronische Geldbörse.
Enterprise Bot | Pranay Jain | enterprisebot.ai | Zug
Das Tech Startup entwickelt mit künstlicher Intelligenz betriebene Chatbots. Diese dienen dazu, Kundeninteraktionen zu automatisieren und Unternehmen mit einem leicht zugänglichen digitalen Vertreter auszustatten, der das Kundenerlebnis verbessert und die Betriebskosten um bis zu 40% reduziert.
IMburse | Oliver Werneyer | Zürich
Die cloud-basierte Advanced Transaction Suite von IMburse ermöglicht es Unternehmen ihre Kunden durch personalisierte Transaktionen zu erreichen. Eine Integration von IMBurse reduziert die IT-Komplexität erheblich, minimiert die Auswirkungen auf interne Prozesse und senkt die Kosten im Zusammenhang mit umfassenden Zahlungs- und Partnerschaftsfunktionen, während die Zeitpläne für die Markteinführung erheblich beschleunigt werden.
Investment Navigator | Alberto Ram | www.investmentnavigator.com | Zürich
Das Unternehmen erweitert die Investment- und Beratungswertschöpfungskette von der Forschung bis zum Vertrieb mit Eignungsbewertungen und Lösungen für die grenzüberschreitenden, produkt- und steuerrechtlichen Angemessenheitsprobleme von Finanzdienstleistern. Eine Kombination aus Kundenkontext, Regeln und Daten führt zu einer automatisierten eindeutigen Lösung.
Shift Devices | Dario Duran | www.shiftcrypto.ch | Adliswil (ZH)
Das Start-up wurde 2015 von Douglas Bakkum und dem Bitcoin Core Unterstützer Jonas Schnelli gegründet und entwickelt sichere Produkte für Privatpersonen und Unternehmen im Cybersicherheits-Ökosystem auf der Basis angewandter Kryptographie und bewährter Blockchain Verfahren. Das Produkt BitBox wurde bereits in mehr als 90 Ländern verkauft.
Lend.ch | Florian Kübler | lend.ch | Zürich
Lend.ch ist die am schnellsten wachsende Peer-to-Peer-Kreditplattform der Schweiz für Verbraucher, Zweithypotheken, Studenten- und KMU-Kredite. Die Plattform Switzerlend schaltet den Zwischenhändler aus und gibt die Kostenvorteile an Kreditnehmer und Kreditgeber weiter.
Tradeplus24 | Ben James | www.tradeplus24.ch | Zürich
Das Startup unterstützt KMU und mittelständische Unternehmen bei der Finanzierung ihres Kapitalbedarfs mittels einer innovativen Lösung, welche die Verbriefung sämtlicher Debitoren ermöglicht. Dies vereinfacht und vergünstigt die Beschaffung von Finanzmitteln.
Treffen Sie die Teams und wählen Sie den Kapitän am 19. Juni am Startup Champions Event
Merken Sie sich den 19. Juni 2018 für die Auftaktveranstaltung in Zürich vor. Ab 18 Uhr werden die zehn Gewinner von Venture Leaders China und die zehn Gewinner von Venture Leaders Fintech (New York) vorgestellt. Das Publikum wird die jeweiligen Teamkapitäne wählen. Das vollständige Programm und die Anmeldung finden Sie hier.
Verfolgen Sie die Veranstaltung am 19. Juni und die Venture Leaders Fintech Roadshow vom 10. bis 21. September auf Twitter und Facebook mit dem Hashtag #vleadersFintech.
Featured image via Pixabay
The post 10 Schweizer Fintech Startups fliegen nach New York appeared first on Fintech Schweiz Digital Finance News – FintechNewsCH.