OKEx is currently considered one of the largest and most popular crypto-to-crypto and fiat-to-crypto exchanges in the world, serving more than 20 million users in over 100 countries. This platform is ranked as the fourth biggest crypto exchange in the world in terms of trading volume and is best suited for experienced cryptocurrency traders and for "one-time" investors.
If you are considering opening an account with OKEx exchange, be sure this read this guide first. We'll cover everything you need to know including the exchange fees, features, range of assets, the safety of funds, and more.
What is OKEx?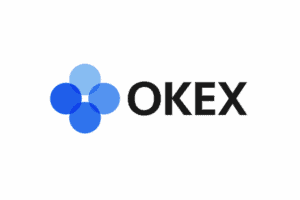 OKEx is a Malta-based world-leading cryptocurrency exchange that allows users to trade on hundreds of tokens and futures trading pairs. OKEx was founded in 2017 with headquarters in Malta and the Republic of Seychelles. CEO of OKEx, JayHao, had a background in game development and the semiconductor industry before joining the cryptocurrency space. In 2018, it expanded crypto operations to Malta as the Maltese government has adopted an overall friendly approach to cryptocurrency trading.
Throughout the years of operation, OKEx has managed to raise capital from leading venture capitals and investment companies including VenturesLab, Ceyuan Ventures, Longling Capital, Qianhe Capital Management, eLong Inc. etc.
Nowadays, OKEx is one of the top 20 cryptocurrency exchanges worldwide by trading volume according to CoinMarketCap, and has a wide presence all over the world.
Tradable Assets
OKEx offers a wide selection of trading assets, making it possible to get access to spot and derivatives trading. On this platform, there are over 140 digital tokens and more than 400 BTC and USDT pairs to trade on. This includes OKB, which is a utility token issued by OK Blockchain Foundation and can be used for an array of purposes on the OKEx trading platform.
OKEx Fees
The trading fee structure at OKEx is based on whether an investor is a market maker or a market taker. But due to the size of securities needed to facilitate the volume required to become a market maker, the majority of crypto investors are market takers.
Trading Fees
The trading fees for market takers charged by OKEx are a maximum of 0.15% for spot trading, which is below the industry average of around 0.25%. The fees charged on the platform vary based on the investor's trading volume. For example, if the Bitcoin trader has achieved a spot trading volume greater than 500 BTC, the market taker fee reduces to 0.135%. VIP users can enjoy much more competitive trading fees of 0.030%-0.080%.
As for futures and options trading, taker fees range from 0.03% to 0.05%.

Deposit and Withdrawal fees
On OKEx's platform, traders do not have to pay deposit fees but are required to pay a withdrawal fee of 0.0005 BTC for bitcoin, 0.01 for ETH, and 0.15 for ripple. Overall, the exchange's withdrawal fee is slightly lower than at other exchanges.
Margin Interest Rate Fees
When you use margin trading, you are essentially borrowing funds from your crypto exchange and therefore, they will charge you interest on any position held overnight. Like any other crypto exchange, OKEx charges a margin interest rate as soon as tokens are borrowed. You can find the margin interest rate fees below: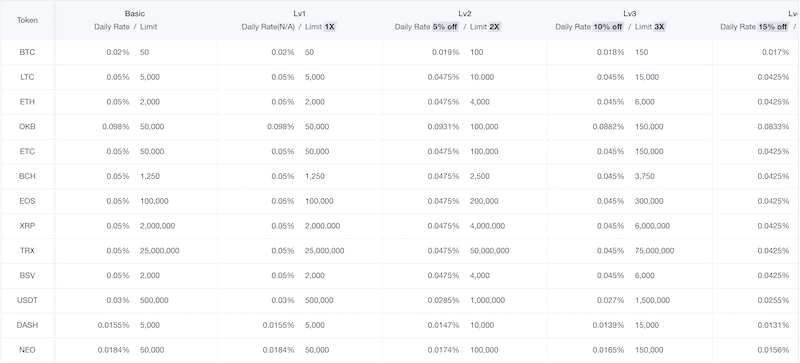 Special Features
Algo-Order Options
There are different types of market orders to help investors place a trade at predefined price and volume, and the ability to use Algo orders is specially vital for active day traders. In comparison to other cryptocurrency exchanges, the OKEx platform is quite advanced, allowing users to trade with different types of orders. Those include market order, limit market order, advanced limit order, stop-limit order, trailing top order, iceberg and Time-weighted average price (twap) orders.
OKEx Pool
OKEx provides a mining pool which is a shared group of cryptocurrency miners who combine their computational resources over a network in order to mine digital assets. Further, it supports PoW (Proof-of-work) mining of 9 major cryptocurrencies. This means you can offer your computer hash rate that is needed to mine digital assets and in return, you will be able to get an additional income.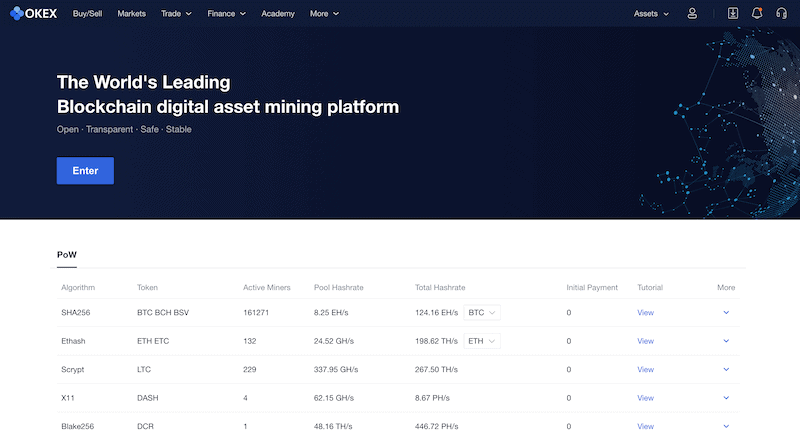 A Range of Crypto Trading Solutions
Ultimately, OKEx sets itself apart from competitors in the industry by offering different methods of crypto trading. Those include:
Quick trade (One-stop Marketplace)
Spot trading
Margin trading
DEX (Decentralized Exchange) trading
Perpetual swap
Futures
Options
On top of that, OKEx offers a crypto mining pool, Crypto-to-Crypto loans, and staking.
OKEx Academy
OKEx has a great education section on its platform with plenty of guides, trading ideas, and industry analysis. On the OKEx academy, you'll find lots of tutorials on a wide variety of topics suited for beginners and experienced investors.
Banking
On this platform, you can deposit funds with crypto coins you own or with fiat currency payment methods. You should note, however, that transfers with fiat currencies is available on the One-stop Marketplace feature and enables users to buy only 6 mainstream coins – Bitcoin (BTC), Ethereum (ETH), USDT, Ripple (XRP), Litecoin (LTC), and OKB. All in all, here are deposit and withdrawal payment methods provided by OKEx:
Cryptocurrency transfer
Credit/debit card – Visa, MasterCard
Bank transfer
UPI
PayPal
Payeer
Skrill
SEPA
ApplePay
Poli
BPay
Qiwi
KaKao Pay
Payid
Blueshift
iDeal
Western Union
Gift Cards – iTunes, Google, Amazon
The minimum amount required to open an account and start trading is 10 USDT or any other cryptocurrencies with an equivalent amount. Once your account has been verified and you have completed the deposit process, the funds will be automatically added to your trading account.
While OKEx does not charge any deposit fees, it charges a withdrawal fee of 0.0005 BTC for bitcoin, 0.01 for ETH, and 0.15 for ripple.
User Experience
OKEx is one of the few crypto exchanges on the market to offer not only a mobile app, but a desktop app as well (rather than only offering a browser version on desktop). While the web browser version is potentially a good option for you if you are not an active trader, you may be more comfortable using the OKEx desktop or mobile app for regular use.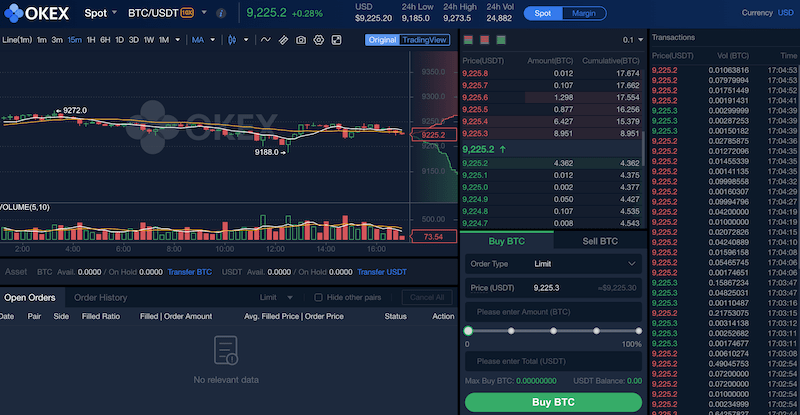 Overall, the exchange's user interface is very friendly and interactive, particularly when compared to other exchanges such as Binance. The instrument page is very basic and inserting an order is extremely easy.
On the negative side, the exchange lacks essential features for crypto investors. First, it is difficult to find market news and analysis., which means you'll have to find a third-party tool that offers instant market updates. Further, the charts are not intuitive to derive insights and can be difficult to use.
Mobile Trading
OKEx supports a mobile application that is easily downloadable on Apple Store and Google Play and is very user friendly. We decided to test it to find out whether you can manage your account from the mobile app and what are the supported features.
Our conclusion, the OKEx mobile stock trading apps is an all-in-one trading platform for cryptocurrency trading. It allows users to buy and sell digital assets in all forms available on the site (spot and derivatives), view real-time streaming quotes, store crypto coins on its built-in digital wallet, deposit and withdraw funds, and subscribe to digital asset news.
On top of that, the app is extremely easy to use and its user interface works for both beginner and more professional investors.
Security
OKEx is registered in Malta and Hong Kong and recently featured digital assets and trading services that are compliant with the Virtual Financial Asset Act ("VFAA"), which is a regulated authority by the Malta Financial Services Authority.
The exchange has never been hacked despite being one of the largest cryptocurrency exchanges in the world, and overall, OKEx is considered to be a safe and secure trading platform.
The token security is based on the core private key encryption algorithm, and the cold and hot wallet technology developed by OKEx's team, is based on the most advanced privacy encryption technology in the industry. Furthermore, in order to secure investors' account from unauthorized access, OKEx supports the following features:
2-factor authentication
Mobile verification code for security settings and withdrawal, of funds
Email verification codes
Customer Service
OKEx offers 24/7 online support to help users solve any technical and trading issues. The exchange offers users to contact the support team via phone, email, submit a ticket form, WhatsApp, and live chat that is available on desktop and the mobile app. In addition, OKEx has a great FAQ section a 'join the community' section where you can find answers and communicate with other members on the platform.
Supported Countries & Regions
OKEx offers crypto trading services to more than 100 countries around the world. However, residents of the following countries are restricted from trading with OKEx.
Below is a list of the countries not supported by OKEx:
Hong Kong
Cuba
North Korea
Iran
Crimea
Sudan
Malaysia
Syria
the USA and its territories
Bangladesh
Ecuador
Bolivia
Kyrgyzstan
How to Trade on OKEx
Registering for a trading account is mandatory in order to use the platform and trade cryptocurrencies. Luckily, the account creation process is not complex and you will be able to either register through the website or OKEx iOS/Android mobile app.
If you are still keen to open a Bitcoin account with OKEx, follow our simple step-by-step guide below:
Step 1. Open an account with OKEx
The first step involves signing up on the platform and creating an account. Once you visit OKEx's website, click on the Sign-up button at the top right corner of the screen and then, submit your email address or phone number, and create a password. Next, you will have to enter a 6 digit code that was sent to your email or mobile phone.
One major advantage of opening an account with OKEx, when compared with other crypto exchanges, is that when you use the 'One-stop Marketplace', no KYC verification on OKEx is required. This is essentially a fast buy option of 6 mainstream crypto coins  -  Bitcoin (BTC), Ethereum (ETH), USDT, Ripple (XRP), Litecoin (LTC), and OKB with 30 fiat currencies.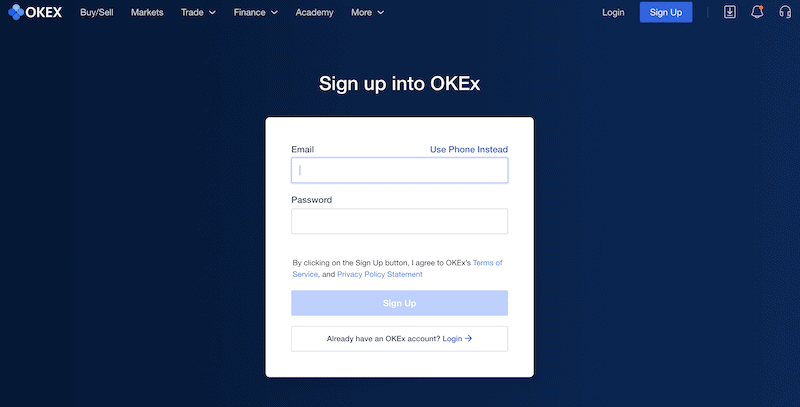 Step 2. Deposit funds
Once your OKEx account has been verified, navigate to the Assets button and click on the Deposit. The platform's deposit screen will open up, and on this page, you can choose the type of cryptocurrency you'd like to deposit to your account. As previously mentioned, OKEx allows users to deposit funds through a wide range of crypto coins but keep in mind that you will be able to transfer a specific type of token to the wallet deposit address you receive on the selected token only. For example, you can deposit Etherem to an Ethereum address.
Next, copy the wallet address into the digital wallet you own and transfer the cryptocurrencies.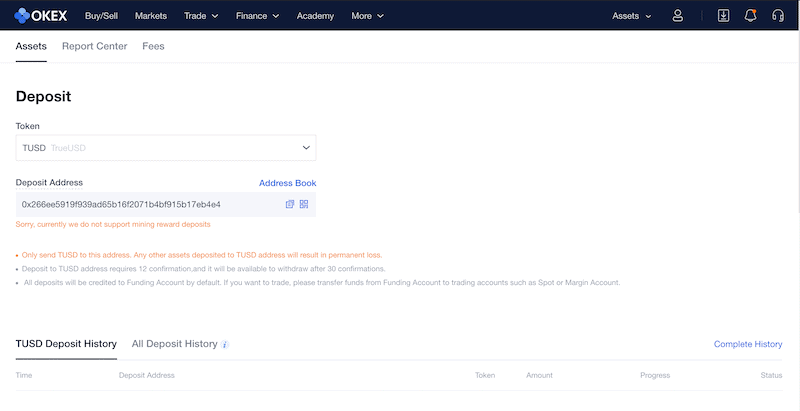 Step 3. Trade
Crypto-to-Crypto Trading
Once the funds have been automatically added to your account, you can start trading at OKEx. As mentioned, there are different types of trading options available including a spot, margin, futures, options, DEX, and perpetual swap.
Fiat-to-Crypto Trading
If you are not holding any digital asset and wish to buy and sell cryptocurrencies via OKEx, you can choose the Quick Trade option that enables you to buy cryptos with fiat payment methods.
To do that, click on the Buy/Sell button on the top menu. Then, select one of the OKEx-supported fiat currencies and set the amount of which you wish to buy a specified crypto coin.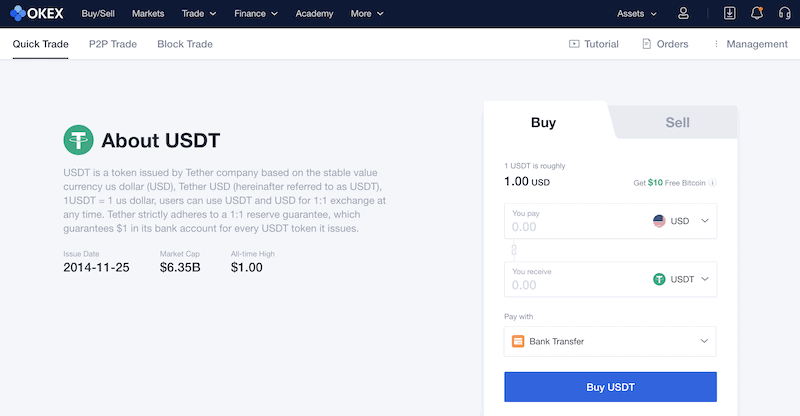 Once you click on the Buy button, you will be transferred to a page where OKEx offers you the best prices provided by a third party.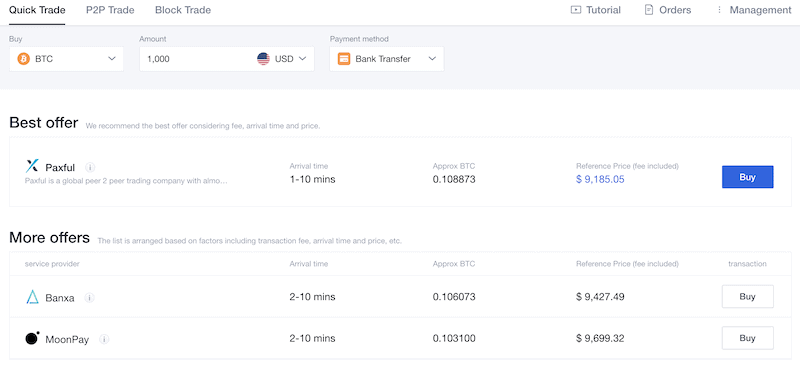 OKEx Pros & Cons
Pros:
Spot and derivative trading
A huge selection of digital assets coins
Accepts fiat currency deposits
Low trading and financing fees
Accepts PayPal
No deposit fees
Great Mobile app
Cons:
Not Available to US Citizens
There are withdrawal transfer limitations
Conclusion
In summary, OKEx is one of the best exchanges in terms of liquidity, the supported assets, and features. Whether you are an advanced active trader or a one-time investor, you will find a solution on this platform. Further, the trading fees are below the average in the industry and the exchange has never been severely hacked.
Want to get started with OKEx? Simply click the link below to register an account today!
OKEx: Excellent Crypto Exchange with Low Fees

Huge range of coins
Low fees
Excellent mobile app
Accepts PayPal

FAQs
Does OKEx offer a digital wallet?
Yes, OKEx offers the OK Vault multi-currency wallet that allows users to store mainstream and ERC20 tokens. The wallet is available on OKEx desktop/web platform and on the OKEx mobile app.
Should I choose a regulated exchange instead?
No. OKEx is a safe cryptocurrency exchange as they use the most advanced encryption technology to secure its platform from hackers. While cryptocurrency exchange regulations are still in their infancy, OKEx efforts to get a regulatory framework in Malta and in other parts of the world. The exchange has never been hacked and overall, it is considered one of the safest cryptocurrency exchanges in the market.
What is the difference between a bitcoin exchange and a bitcoin robot?
While a bitcoin exchange gives users a platform where they can independently place orders in the cryptocurrency market, a Bitcoin trading robot is an automated software that enters and exit trades based on predefined parameters.
Do I need to verify my identity to use OKEx?
Yes. After creating the account, you will have to complete KYC level 1 verification and then link your mobile number so the system can verify your identity. This process includes uploading your passport and recording a verification video according to the instructions provided by OKEx.
What is leverage and does OKEx offer it?
A leverage ratio, also known as margin trading, is a tool that allows you to open positions with more capital than initially deposited. OKEx provides a leverage ratio of 10:1 and 20:1 under the margin trading mode, and 100:1 leverages when choosing to buy tokens via perpetual swaps contracts.
How much money should I deposit when I begin?
The minimum amount required to open an account and trade at OKEx is 10 USDT (or other cryptocurrencies with equivalent amount). For those unaware, USDT is a digital token that was designed to have a 1:1 exchange rate with the Us dollar.