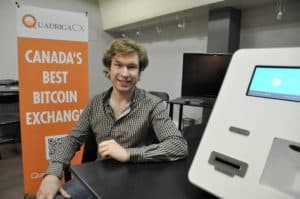 Gerry Cotton, founder and CEO of QuadrigaCX, a Canadian cryptocurrency passed away a few days ago at the age of 30. Mr. Cotton had not revealed the passwords to the platform's cold wallet to anyone of his staff. In the wallet are currently stored $137 million in Bitcoin and Ethereum currencies.
He suffered from the so called Crohn's disease, a degenerative inflammatory condition.
QuadrigaCX is based in British Columbia, Canada. Soon after Gerry Cotton's death, it became clear that he was the only executive with access to a huge slice of the company's funds. In fact, they are stored in an offline cold wallet. This was a measure taken to protect the funds from hackers.
Jennifer Robertson, Cotton's wife, is claimed to be searching her late husband's laptop for the cold wallet but has so far been unable to access it.
The matter has initiated legal disputes and speculation questioning Cotton's death.
The exchange is now facing bankruptcy and bank default. Customers have also been left waiting with frozen assets, unaware if they will see their funds again.
According to Reddit, the funds are being moved out from the cold wallet, which means that the passwords have not been lost as it was claimed.
Experts have claimed that the event may further decrease people's trust in a market that is already known to be as extremely volatile.