In a tweet released at 7.11AM on the 22nd of January 2019, Bakkt announced that it is hiring. The platform is looking for employees to fill vacancies ranging from Engineering to Software Development as well as Finance and Institutional Sales. Most of the positions are at senior levels, requiring between one and ten years of experience in the respective fields. Most of the jobs will be based in Atlanta, but others include New York, Singapore, Tel Aviv, London, Hong Kong and Tokyo.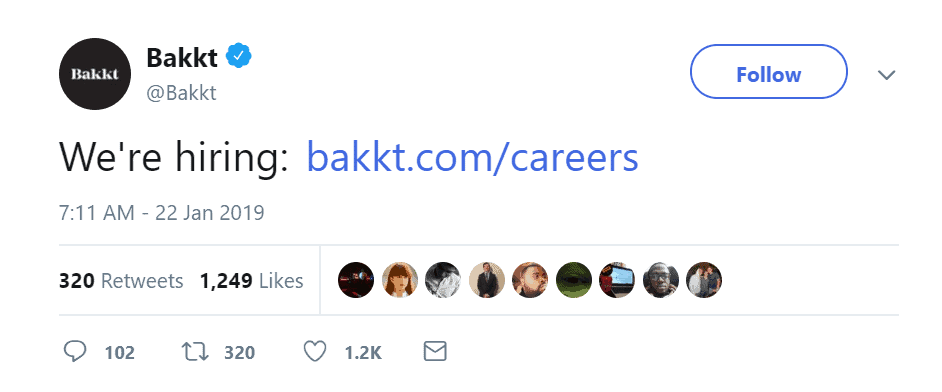 Bakkt is a cryptocurrency platform established to buy, sell, store and spend digital assets. It was created by the same company that created the New York Stock Exchange (NYSE), the Intercontinental Exchange (ICE). Designed to attract institutional investors, the platform raised an initial sum of over $182 million from 12 partners and investors to enter the market. The partners include giants such as Galaxy Digital, Microsoft and Pantera Capital. At the end of December, ICE announced that the platform would be up and running by the beginning of 2019. It seems to be on schedule.
The platform has been seeking approval from the U.S. Commodity Futures Trading Commission (CFTC) to offer physically delivered Bitcoin futures contracts.  A physical delivery of  contracts also means that investors will physically own the cryptocurrency in question. That's not the only function that Bakkt will serve. It will also be a platform for all kinds of cryptocurrency services. These include trading, exchanging, delivering of contracts and warehousing.
Due to the volatility of the cryptocurrency market, Bakkt could represent a first step towards a more regulated market of digital coins where investors can place safe investments. Also, if big such names in the financial world will continue backing Bakkt, more names may soon join in. The results could be an increased credibility for cryptocurrencies and their market.