Last Updated on
Snapcash Binary is a trading bot that allegedly helps investors make at least $4000 in profits per day. All you need to start making the huge profits is to open an account with them and deposit $250. According to the person behind the platform, the earning potential with this robot is immense. The more capital you invest, the higher the profits. But is Snapcash Binary a scam or legit trading bot?

We have been out looking for answers and can confirm that Snapcash Binary is a complete scam. Our live tests reveal that traders stand no chance of making any money with this robot. The $4k profits claim is a big lie. The main goal of this platform is to get unsuspecting users to deposit money with scam brokers. Keep reading to learn more about Snapcash Binary or click the button in the table below to start trading with a legit robot.
Is Snapcash Binary a scam? Yes!
Austin Ford, the scammer behind this robot, claims that their platform has the potential to make millions within a month. According to him, you do not need to have any knowledge about binary options trading to use the app. He claims to be a self-taught software engineer who through sheer luck stumbled upon a formula that has proven to be highly profitable in binary options trading.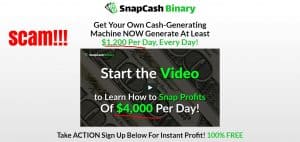 However, on the partially hidden disclaimer at the bottom of their website, they claim that all information provide is fictitious. The disclaimer further points out that the average profits figures stated on the website are for "entertainment" purposes only. This means that no one has made the $4k per day using this app.
InsideBitcoins gives Snapcash Binary an accuracy level of zero percent. Almost 99.9% of online reviews show that people who try this robot lose money within an hour of live trading. Our live test confirms that you won't make any money with this robot. Like most scam robots, the Snapcash Binary robot appears to be set to make losses. Also, there is a high likelihood that this platform does not have any proprietary trading technology.
InsideBitcoins gives Snapcash Binary a legitimacy score of 6% – Legit robots score above 70%
Snapcash Binary lies about its founders and app potential – This is typical of most scam robots.
We give this trading app an accuracy score below 10% – top trading robots must score above 90%.
Snapcash Binary has generally negative online reviews – At least 99% of the reviews we have analyzed report that Snapcash Binary is a scam.
What is Snapcash Binary robot?
Snapcash Binary is a scam trading robot that claims to help traders make an average profit of $4k per day from an investment as little as $250. InsideBitcoins investigation reveals that this platform is used by scam brokers to solicit deposits from unsuspecting traders.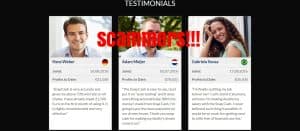 Our tests further reveal that the person behind this robot has no background in binaries trading. He is a seasoned scammer who appears in several other unrelated scams across the web. Snapcash Binary is therefore not based on any binary options trading technology.
Like mentioned above, the platform is nothing but a webpage linking traders to scam brokers. The scammer behind Snapcash Binary receives a commission on every signup made through his platform. The majority of scam trading robots we have come across appear not to have proprietary trading technology. In addition, most are founded by people who have no background in trading.
How does Snapcash Binary work?
Before we look at Snapcash Binary, let us first understand what binary options trading involve. Investopedia defines a binary option as a financial product where traders make money by betting on asset prices movements. Unlike other forms of speculative trading, binary options traders are given an option to select a yes or a no.
For instance, a trader can predict that a specific stock will hit a certain price in a given date at a given time. They can enter into a bet with a binary options broker to receive a certain amount of money if their prediction is true. The binary options trader losses money if their prediction is not true.
In binary options robo-trading, a computer algorithm scans the markets for insights hence improving the accuracy of the bet. Unlike humans, computer algorithms can scan big data within milliseconds and place corresponding decisions. Some binary options trading robots depend on trading signals to make decisions. Snapcash Binary scam claims to apply trading signals to make trading decisions. However, our investigation reveals that they do not have the technology for this purpose.
This platform appears to work in collaboration with scam brokers to defraud traders of their money. InsideBitcoins investigation concludes that Snapcash Binary is a platform used by scam brokers to get deposits. The results reported by this app are artificial and only meant to create the illusion that the app works. In other words, Snapcash repots consistent losses until the traders' account depletes.
Who founded Snapcash Binary Robot?
As mentioned previously Snapcash Binary robot was founded by a scammer by the name of Austin Ford. InsideBitcoins background investigation did not find any information linking this person to binary options trading. He claims to have a background in software development but there is no proof that he has experience in this area.
In a video presented on their website, this scammer pretends to identify random people to demonstrate the potential of the app. He meets two people who are obviously paid actors and throws in an act showing that the app helps them make up to $6500 per day. The act is so poorly done that anyone with average intelligence can see that it is not real.
Like most scammers, Austin Ford does not discuss the technology behind the platform but insists on how it has made him rich. He ends the video by asking traders to sign up right away or they will not get an opportunity to make millions through the app. This marketing technique is typical with most scam trading robots.
Why you should not signup with Snapcash Binary robot
InsideBitcoins investigation reveals that Snapcash Binary Robot is a scam. Traders who sign up with this platform end up losing their money. The founder of Snapcash Binary is a known scammer with several other scam robots. Here are some of the reasons as to why you should not sign up with this platform.
Unsafe signup process

Just like most scam trading robots, Snapcash Binary website and trading platform expose users' data to hackers. The site is not SSL protected which means that cybercriminals can intercept traffic and steal data. InsideBitcoins investigation further reveals that this platform shares users' data with third parties. This explains why most users report receiving a lot of spam calls and emails.
Steals deposits
InsideBitcoins investigation reveals that Snapcash Binary partners with scam brokers to steal from unsuspecting investors. As mentioned severally in this review, their platform is set to report predetermined results. There is a high likelihood that what they provide is just but a webpage that connects traders to scammers.
Our investigation also reveals that they do not allow capital withdrawals for those who opt out before live trading. Once you open the trading page, their live trading platform kicks in automatically and wipes out your deposit in minutes. InsideBitcoins live test reveals that the app takes less than fifteen minutes to clear a trading account.
Predetermined live trading results
InsideBitcoins investigation can confirm that you will make consistent losses if you opt to trade with this robot. We are 99.99% convinced that Snapcash Binary does not have any proprietary trading technology. Also, it is highly likely that they do not engage in any form of trading. This review concludes that what they provide is a scam platform that tricks unsuspecting traders to sign up with scam brokers.
What to look for when determining a legit trading robot
InsideBitcoins carries out rigorous tests to help traders identify legit trading robots. We look at the following five factors when determining the legitimacy of a trading robot.
Transparency – A legit trading robot should reveal all the necessary details to help traders make informed decisions. Furthermore, all the information provided on its website should be 100% true and backed by evidence. Scam trading robots such as Snapcash Binary are known to lie about almost everything including the founders.
Consistency – A legit trading robot should show consistency in performance and returns. The best trading apps report an accuracy level of about 99%. Furthermore, these robots provide quality trading platforms. Scam robots are known to have poorly built trading platforms and report consistent losses.
Safety – Legit trading robots pay attention to users' data safety. They have a safe trading platform and are likely to have a well-defined personal data protection policy. InsideBitcoins takes into account factors such as SSL certificate, data storage, data sharing, and users' rights when determining a robot's safety.
Customer service – Legit robots usually have excellent customer services. Scammers often avoid questions and are therefore likely to have poor services. InsideBitcoins recommends that you read other users reviews before settling on any trading robot.
Deposits and withdrawals – Legit trading robots have fully secure deposit and withdrawal methods. Additionally, they allow traders to withdraw their money whenever they need it and without incurring any charges.
Is Snapcash Binary a scam? The Verdict!
InsideBitcoins investigation reveals that Snapcash Binary is a big scam. Our investigation reveals that those who try it end up losing their money. The scammers behind this trading robot collaborate with unregulated brokers to steal deposits.
We did not find any evidence that they have a proprietary trading technology. Additionally, there is no proof that there are people who have made money using this platform. Most people who have tried this platform report losing money. Snapcash Binary does not allow traders' who opt out of live trading to withdraw their capital.
InsideBitcoins investigation further reveals that this robot provides poor customer service. People who try this platform only get assistance on matters relating to how to make a deposit. The only available channel of communication is email.
We recommend that you try Crypto Edge if you are looking for a legit trading robot. With this robot, you can make an average profit of $1500 per day from an investment as little as $250.  Read our comprehensive review of Crypto Edge or click the trade button in the table below to start trading.
FAQ