Last Updated on
Profitcoins.io is a crypto trading robot that guarantees a daily profit of 1% irrespective of the direction of the market. But is it legit? InsideBitcoins test reveals that Profitcoins.io is a scam. Traders who try this platform report losing their entire deposit in less than three hours of live trading.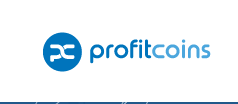 InsideBitcoins has carried out a live test on this platform and confirmed that it is a scam. We lost a deposit of $250 during the live test. Moreover, this review can ascertain that most people who have tried this Profitcoins.io have lost money.
In this review, we will present all the red flags that show that Profitcoins.io is a scam. We will also provide tips to help you identify legit robots and present alternative robots. You can go straight to a legit robot by clicking the 'trade now' button in the table below or keep reading to learn more about this robot.
Is Profitcoins.io legit? No!
InsideBitcoins gives Profitcoins.io a legitimacy score of 5% – Legit robots must have a score above 70%
We give this platform an accuracy score of zero percent – You will end up losing all your deposit if you decide to trade with Profitcoins.io
Profitcoins.io lies about its founders and testimonials – This is a technique that is common with most scam robots
Keep reading to learn more or visit our Top Bitcoin Robots 2019 review for tested and proven robots
InsideBitcoins gives Profitcoins.io a legitimacy score of 5%. We find almost everything they claim to be false. For instance, the three people they present as founders are fictitious characters. We did a google reverse search and confirmed that the images are from stock images sites.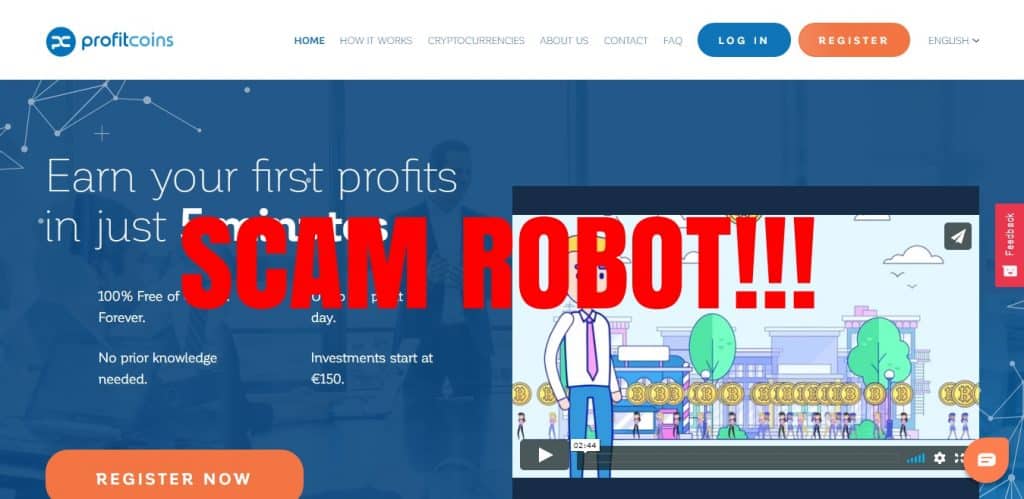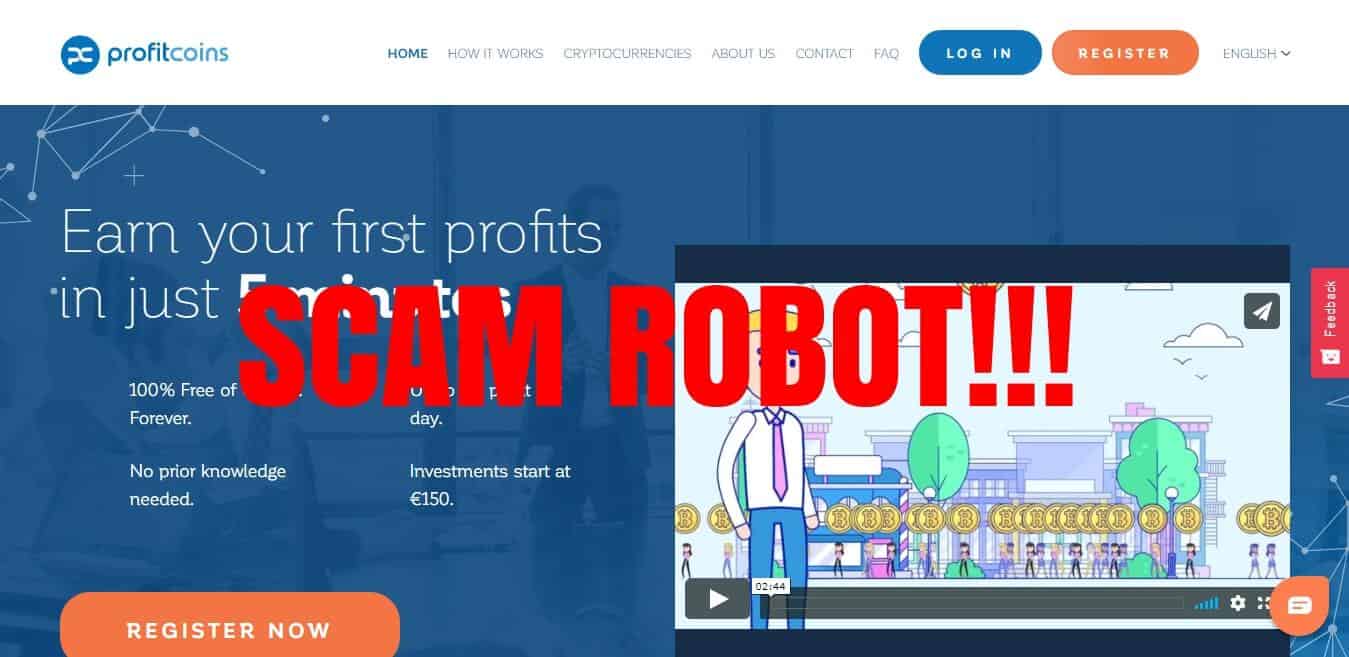 Furthermore, the brokers they present as their partners are a scam. Our investigation shows that none of them is regulated. Without regulation, there is no way to hold them accountable when they disappear with your money. Profitcoins.io collaborates with these brokers to swindle traders.
When it comes to accuracy, we give Profitcoins.io a zero percent score. This is because there is no chance in hell of making a single cent. Their web-trader is fake meaning that there is no live trading that takes place. When you deposit with Profitcoins.io, your money goes to the scam broker. The broker shares the deposit with the scammers behind the fake robot and their affiliates.
As this happens, the unsuspecting trader is made to believe that their money finishes during live trading through the fake web-trader. As previously mentioned, this web-trader is set to report predetermined losses until the trader's account depletes. Like most scam robots, the scammers behind this robot will try to trick you into making another deposit.
Profitcoins.io fake founders
Profitcoins.io was allegedly founded by a Stanford University alumnus by the name Rocio Knight and a Cambridge University alumnus by the name of Tony Mahony. The two claim to have studied computer science in their respective universities.
We have carried out in-depth background research about these characters and determined that they are fictitious. A Google reverse image search on the photos presented on the founders' profiles confirms that they are from stock image sites.
The scammers appear to use the fake identity in several scams and have even created fake profiles on LinkedIn. This makes them hard to detect for traders who do not conduct an in-depth investigation. Unfortunately, most scam robots today are investing more in building fake profiles hence making it hard to detect them.
InsideBitcoins investigative team is experienced and has all the tools to differentiate legit robots from scam. Browse through our robot section to learn more about our robot rating criteria and also identify top robots for 2019.
How does Profitcoins.io work?
Profitcoins.io claims to apply computer algorithms to do trading research and execute trades. However, we can confirm that this platform does not have any trading technology and is nothing but a terrible scam. Every deposit made through this platform goes to the sham brokers listed as its partners. These brokers then send a share of the deposits to the scammers behind Profitcoins.io.
Profitcoins.io manipulative tactics
Profitcoins.io has all the characteristics of a scam platform. Like most scam robots, their marketing approach is highly emotional and less logical. The testimonials on their website are mostly about people who came from rags to riches through the robot. Furthermore, there are a lot of unsubstantiated claims about the earning potential of the robot.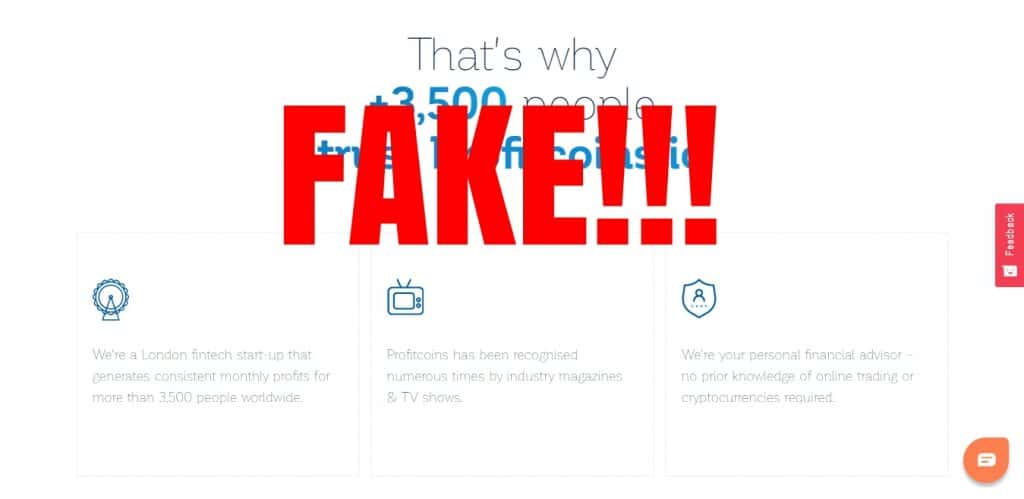 For instance, they guarantee traders windfall profits in the first five minutes of trading. They do not explain how this is possible and won't get back to us when we reached out to them for clarification. Amazingly, our test shows that you will make huge losses in the first few minutes of trading. We suspect that their web-trader is fake and is set to make huge losses.
Again, the scammers behind this platform are dodgy on the one percent daily profit claims. Furthermore, they contradict themselves with high profitability in 5 minutes and the one percent average daily profit. It is not unexpected for scam robots to make conflicting claims about their earning potential.
We have also determined that Profitcoins.io keeps changing domains. It was previously Profit-coins.com, and before that, it was profit-coins.co. Scam robots tend to shift from one domain to another to avoid being punished by search engines due to the many complaints about them.
Is Profitcoins.io signup process secure?
Like most scam robots, Profitcoins.io appears to expose users' data to third parties. We received a flood of spam emails and calls after registering with this platform during a live test. The majority of the spam emails are from sham offshore brokers, but there were a few that look like phishing scams.
Exposes personal data to third parties without consent
Appears to expose users to phishing scams
Does not handle billing data appropriately
Read our Bitcoin Trader review for a legit and highly secure robot
For the record, hackers use phishing emails to infect devices with malware that steals sensitive data such as passwords. This means that you are likely to get hacked if you click on any of the phishing emails. Some scam robots use phishing emails to harvest users' data and sell it in the black market.
Our review of Profitcoins.io further reveals that it does not handle clients' billing information safely. We have determined that they store this information beyond its intended use, meaning that users' are likely to be exposed in the event of a data breach. Safe data practices require operators to dispose of sensitive data after its intended use safely.
Does Profitcoins.io allow capital withdrawals?
As mentioned severally in this review, traders stand no chance of making any profits with profitcoins.io. Likewise, this scam platform does not allow traders who opt out before their account is wiped out. This is because the scammers behind the platform make money by stealing deposits.
Profitcoins.io scam does not allow users to withdraw trading capital
They are likely to block you if you insist on making a withdrawal
Read our review of Bitcoin Revolution for a legit robot that has a money back guarantee
When a trader makes a deposit, the funds go to a scam broker. The Profitcoins.io platform acts as an affiliate to these brokers, which mean that the scammers. As this happens, the unsuspecting trader is shown predetermined losses on the fake web-trader. If you have been reading our reviews, you must have realized that this is a technique that is common with most scam robots.
It is also important to note that Profitcoins.io heavily depends on unscrupulous affiliate marketers. These marketers also receive a share of your deposit when they convince you to sign up. This explains why you should not take any affiliate review as the absolute truth. It is always important to carry out enough due diligence before settling on a platform.
Profitcoins.io fake web-trader
Profitcoins.io alleges that its web-trader depends on computer algorithms that analyze market big data and executes corresponding trades. However, a closer look reveals that it is nothing but a web-page that mimics a real trading platform. Moreover, the fake web-trader is engineered to display predetermined losses.
Legit trading robots have technologies with a proven track record and are willing to disclose details about their technologies. Top trading robots such as Bitcoin Rush use advanced technologies in artificial intelligence and machine learning. These technologies ensure high-level accuracy and speed, which translates to high profitability. For instance, Bitcoin Rush reports an average daily profit of $1500 per day from a deposit of less than $1k. Others like the Bitcoin Revolution can generate up to $500 per day from a deposit as little as $250. Read our review of Bitcoin Revolution to learn more.
How to identify a legit trading robot
With at least 90% of all trading robots being a scam, it is hard to differentiate legit robots from those that are not genuine. InsideBitcoins makes the research easier for you by providing comprehensive robot reviews. Visit our main robot page to learn more about legit trading robots for 2019. Leave us a comment below on the robot you would like us to review.  Here are some of the factors we take into account when determining if a robot is legit.
Transparency – A legit robot must provide truthful information about its legal registration, founders, and partner brokers. Scam robots tend to hide this information. We determine the truthfulness of the information provided by robots by conducting a rigorous background investigation.
Reputation – Good robots tend to have generally positive online feedback. Scam robots, on the other hand, are likely to have a lot of complaints. InsideBitcoins analyzes thousands of individual consumer reviews to determine the reputability of a robot.
Trading platforms safety and ease of use– We conduct a live test to determine the safety and ease of use of a trading robot. Legit robots are likely to have easy to use and highly secure trading platforms. Regarding security, we look at measures undertaken by a robot to safeguard users' data.
Customer service – Legit robots provide multiple communication channels and are easily accessible. Scam robots, on the other hand, tend to provide email as the only channel of communication.
Is Profitcoins.io legit? The Verdict!
Our investigation reveals that profitcoins.io is a scam. The majority of traders who try this robot report making consistent losses from the beginning to the end. We carried out a live test on this robot and lost a deposit of $250 in three hours of live trading. From our experienced, it is evident that this platform does not have any proprietary trading technology. Our investigation also finds a lot of misinformation on their website.
We recommend that you avoid this robot and instead try Bitcoin Trader, a tested and proven robot. Our investigation reveals that it is possible to make a daily profit of up to $1500 using this robot.
FAQ