Last Updated on
Algorithmic trading has become highly popular in recent days thanks to the success rate reported by the some of these software. Today, trading robots claim to be generating more millionaires than the traditional trading approaches combined. However, not all trading robots are legit. There are a lot of scams out there aimed at fleecing investors. Option Robot is one of the scam trading platforms that you should avoid.

InsideBitcoins carries out extensive research to differentiate legit robots from the scam. Our review focuses on four key areas namely transparency, reputability, consistency and customer service. We carry a hands-on test while analyzing individual users' online reviews.  Keep reading to learn why Option Robot is a scam or read our review of the best trading robots in 2019.
Is Option Robot a Scam? Yes!
InsideBitcoins can confirm that Option Robot is a scam. You are likely to lose money if you deposit with this platform. Just like other scam robots, this platform is used by sham brokers to trick people into depositing with them. Once you make a deposit, you cannot withdraw your money again. Option Robots appear to be configured to make consistent losses until a trading account is wiped out.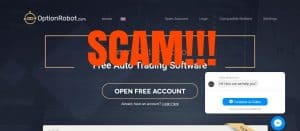 From our investigation, we have concluded that Option Robot does not have any trading technology. Similarly, the scam brokers behind it do not facilitate any trades. Their main goal appears to be stealing deposits. This explains the hefty commissions paid to their affiliates for any deposit made through them.
Option Robot claims to be a completely free app and does not even charge commissions on profits. A big red flag here is that they do not explain how they make money. This is because they work in collaboration with the scam brokers where they are paid a commission for every deposit facilitated through them. In other words, this robot shares the deposit with the sham binary options brokers.
InsideBitcoins gives Option Robot a legitimacy score of 12% – Legit trading robots must score above 70%
Option Robot keeps changing its hosting domain – It is typical of scam platforms to keep moving from one domain to another to avoid being caught.
An in-depth analysis of online reviews by people who have tried this robot reveals that it is a scam – most people report losing money
Option Robot does not allow users' to withdraw their capital back – Once you make a deposit, they go MIA.
What is Option Robot?
Option Robot alleges to be a binary options robot that enables traders to generate over $2500 per day trading binaries. The platform claims to apply top level trading signals with an 88% win rate. This app is offered for free but that is not unexpected given that it is meant to lure unsuspecting traders to sign up.
Furthermore, they claim not to charge commissions on profits which beats common sense given that there is no other way to make money from their app. InsideBitcoins can confirm that the scammers behind this platform make money by receiving hefty commissions for the deposits made to the sham brokers through the platform.
From our tests, we find this robot to have a zero percent win rate. This means that you won't make even a single cent from this platform. As mentioned earlier, Option Robot is nothing but a platform that connects unsuspecting traders with scam binary options brokers. These brokers are unregulated meaning that they are not under any authority to protect deposits.
Any deposits made through them cannot be tracked and there is no way for authorities to hold them accountable. This is because they do not reveal any traceable details such as the names of founders and backing team and also registration details. Legit trading robots such as Crypto Revolt ensure high-level transparency to help traders make informed decisions. To find out more about this robot, read our review of Crypto Revolt.
How does Option Robot work?
As mentioned earlier, this scam robot claims to identify the best trading signals and execute them in users' accounts. InsideBitcoins tests did not find any evidence of a technology with such capabilities. Their platform has an extremely high rate of failure with most people who have tried it reporting consistent losses.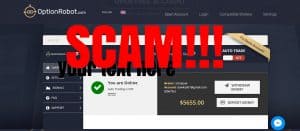 Just like most scam robots in our list, we are convinced that Option Robot is nothing but a webpage without any underlying technology. The page appears to be configured to report losses until the trader's account is depleted. We have also determined that Option Robot does not refund deposits to traders who opt out before live trading.
For the record, signal trading involves the app identifying trading signals from top traders and copying them in the user's account. Unlike humans, trading robots can allegedly analyze big data and make decisions within a split of a second. In trading, accuracy and speed are the two most important determinants of success.
Binary Option trading involves speculating on price fluctuations in multiple global markets. The approach to trading is leveraged meaning that traders can allegedly make huge profits within a short time frame. Read our review of Bitcoin Future if you are looking for a trading robot that applies leverage.
Who Founded Option Robot?
Option Robot does not reveal any information about its founders and their  backing team. This is typical of most scam trading robots. InsideBitcoins investigation also finds it a big red flag that this robot does not provide any traceable details. They do not have a physical office and the only line of communication they provide is email.
Furthermore, there are no details about the registration of the company behind the robot. This is perhaps because there is none. Option Robot appears to be a one man scam working in collaboration with scam brokers. Our investigation concludes that what they provide is just a webpage that connects investors to scammers. We recommend that you avoid this trading robot at all costs.
Why you should not register with Option Robot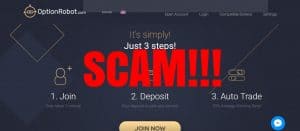 InsideBitcoins investigation finds Option Robot highly suspicious. We recommend that you stay away from this robot. From our tests, we have concluded that this platform is just a marketing tool used by scam binary options brokers to steal from unsuspecting users. Here are some of the reasons as to why you should avoid this platform.
Unsafe Signup process
Like most scam trading bots, Option Robot does not handle users' data with care. Our investigation reveals that those who register with this platform receive a lot of unsolicited offers from sham offshore brokers.
We have also determined that they store users' billing details which make them vulnerable to hacking attempts. Their website and trading platform is also not SSL protected which means that hackers can intercept traffic and steal data.
Consistent losses/no money back guarantee
Our hands-on tests reveal that this robot does not allow traders to withdraw their capital if they opt out of live trading. Also, as mentioned earlier, those who go for live trading lose their deposit within a few minutes of trading. From our tests, we can confirm that the platform reports predetermined results.
Fake Demo Trading
Option Robot does not provide any demo trading. This means that traders are redirected to live trading immediately after signing up. We find their platform to be a bit complicated which is not unexpected with scam robots. There is a high likelihood that this is a strategy to confuse traders and steal their deposit in the process.
Predetermined live trading results
As mentioned severally in this review, it appears that Option Robot is configured to make losses. A good number of online reviews reveal that it takes less than an hour for deposits to be wiped out.
How to identify a scam robot
For a keen trader, scams robots are easy to identify given that they come with almost similar characteristics. We take a myriad of factors into consideration when carrying out investigations. All the robots recommended by InsideBitcoins are tested and legit. Here are the top characteristics of scam trading robots.
Poor online sentiment – a scam robot is likely to have a lot of negative online reviews by people who have tried it. Most people are likely to report losing money. These robots are also highly likely not to allow users to withdraw their money.
No or little reviews – While not all robots without online reviews are a scam, the majority are. Also, those with few reviews that are perfect are likely to a sham. Do not signup with a trading robot that has no proven track record.
Poor customer service – Another way to identify a scammer is by reviewing their customer services. Scam platforms tend to provide email as the only line of communication. Read other users' reviews to determine if a robot has good customer service.
Unsafe platforms – Never signup with a trading robot that does not have a defined data protection policy. Scam robots are likely to share users' data with third parties including unregulated brokers. They are also highly likely to store your billing details hence exposing you to cybersecurity threats.
Recommended Robots
InsideBitcoins carries out extensive research to determine legit robots. In all our reviews, we take several binary robots.
Bitcoin Profit
Bitcoin Profit applies top level algorithms to scan the Bitcoin markets and make investment decisions. Users report that it is possible to make $1500 per day with this robot. The minimum amount required to trade with this robot is $250. The bot claims to have an 88% win rate and an accuracy level above 90%. This means that for every ten trades placed through this robot, at least nine are allegedly accurate. It is important to note that Bitcoin Profit is not risk free. Only invest an amount you can afford to lose.
The News Spy
This robot analyzes news for tradeable insights and executes trades automatically. The average profit per day with this robot is allegedly $1000 and the software claims that it is possible to make more profits with more capital investment. However, we recommend that you start small and add capital as you get used to their trading platform. The minimum deposit required to start trading with this robot is $250. Traders can withdraw their money whenever they need it and all transactions are facilitated within 24 hours.
Is Option Robot a scam? The Verdict!
Option Robot is a big scam and you should stay away from it. Our investigation reveals that this platform connects unsuspecting users with scam binary options traders. You stand no chance of making any money trading with this robot. From our tests we are convinced that it is configured to make consistent losses until the deposit is wiped out.
Furthermore, there are several complaints that the trading platform automatically turns itself on when a deposit is made. This means that traders are not in full control of the platform. Also, Option Robot does not allow capital withdrawals. Our investigation reveals that once a trader makes a deposit, they are blocked from accessing the customer services. If you wish to trade with one of the alternative robots recommended in this article, please remember taht all trading carries risk and loss of capital is possible.
FAQs