MeProfits is one of those robots that reach out to traders with promises of helping them join the millionaire club. You are probably here after receiving a spam email claiming to hold the key to a lavish lifestyle. But is MeProfits legit, and is it true that it is the secret to financial freedom? Definitely not! We have investigated MeProfits and determined that it is a terrible scam. This fake robot conspires with fraud offshore brokers to defraud unsuspecting traders.

InsideBitcoins conducts intensive research on robots to help you avoid scam and maximize profits on legit bots. Our reviews take into account factors such as genuineness, transparency, consistency in performance, reputation, customer service, and security. We rate robots based on each of the above factor and then aggregate all the factors to determine an overall legitimacy score.
MeProfits is among the worst robots in our list with a legitimacy score of 5%. Keep reading to learn more about the MeProfits scam or go straight to Bitcoin Trader, a legit robot with a legitimacy score of 97%.
Is MeProfits Legit? No!
InsideBitcoins gives MeProfits a legitimacy score of 5% – This platform is among the worst scam robots in the market today
MeProfits lies about everything including their earning potential – The testimonials on their website are also fake
We give this robot an accuracy score of zero percent – There is no chance in hell that you will make a dime with this robot
MeProfits partner brokers are all scam – They lack regulation, and there are a lot of complaints about them
There are a lot of complaints about this platform – Most people report losing money through this platform
Visit our Top Bitcoin Robot 2019 review for legit robots or keep locked for more info about the MeProfits scam
MeProfits Scam: Test Results Explained!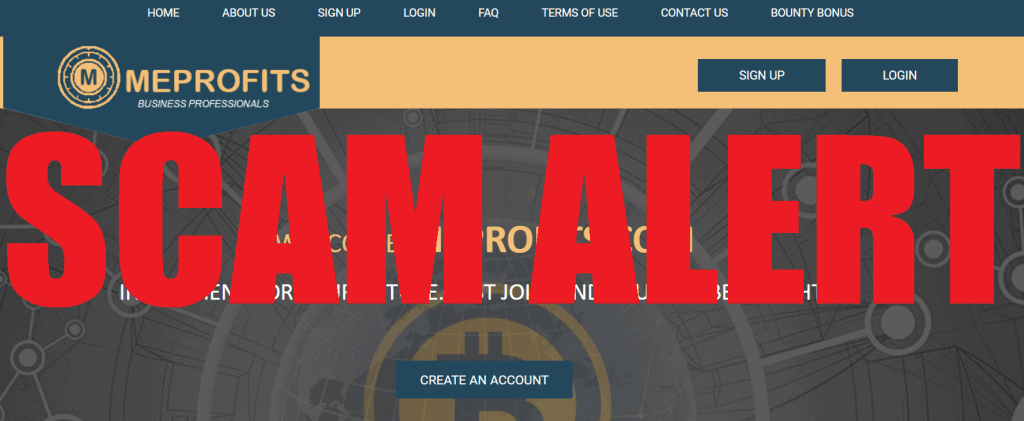 MeProfits scam follows a pyramid scheme model where users' are asked to introduce others and earn a commission. Unfortunately, there is no other way of making money with this scam other than referring to others.
As we will see below, their web-trader is fake. Furthermore, their partner brokers are scammers. Consequently, there is no live trading that takes place with this platform, and all their claims are false. Here is an in-depth explanation of our test results on MeProfit. Read on or go straight to a legit robot by reading our Bitcoin Trader review.
Zero percent accuracy
MeProfits claims to have a win rate of 99 percent. However, this review of MeProfits confirms that this platform is a scam. You stand no chance of making a single cent with this bot unless you are willing to participate in their pyramid scheme.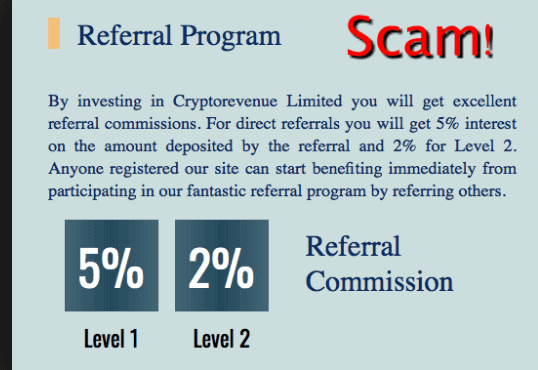 MeProfits scam depends on referrals for new signups and is therefore willing to pay a few pennies to traders who agree to refer others to the fraud.  Perhaps this is an opportunity for you to revenge on your enemies if you have been scammed and need wallowing companions.
Alternatively, you can try a tested and proven robot with an actual win rate of 88% and an average daily profit of up to 10%. We suggest that you start small, preferably with the minimum deposit of $250, and grow your account by reinvesting your profits.
Remember that the emotions of fear and greed are the drawbacks to profitability in trading. Consequently, you need to be patient to make significant returns with little risk. With the power of compounding, you can grow a $250 account to $500K in one year.
Fake Ridiculous testimonials
The testimonials on MeProfits website are not only false but also funny. Most reviewers claim to have been living in poverty and rotting in debt before stumbling on the MeProfits robot. According to the reviewers, it took a month of trading with the free robot to join the millionaires club. They are now allegedly living in the spoils of life, with mansions in posh neighborhoods, big cars on their parking lots, and private jets and boats to their names.
Scam robots are known to use these types of testimonials to bait complete and financially desperate beginners. It is no wonder that their marketing approach focuses on the earning potential and not the technicalities of the underlying technology. Legit robots, on the other hand, will always provide details about the technologies behind their platform and are willing to offer more information on request.
Exaggerated earning potential
MeProfits has all the red flags of a ridiculous scam robot. We are confident that this platform targets inexperienced traders. The types of lies they tell show that they have no clue about crypto trading. For instance, they claim that their robot has the potential to generate an average return of 200% per day. These are blatant lies; no investment on planet earth can generate such astronomical returns consistently.

Top trading robots such as Bitcoin Trader report an average daily return of 10%. We can confirm these returns are real and there most of the traders who try Bitcoin Trader make money. Read our Bitcoin Trader review to learn more.
Fake web-trader
From our background tests, we are 99.9% sure that the MeProfits web-trader is not genuine. We did a live test on this platform and discovered that it generates consistent losses. A review of users' feedback shows that the platform reports losses in the same frequency. It takes approximately 2hrs 13min to lose a deposit of $250.
This can only mean that the platform is fake, and the reported losses are predetermined. If you have been following our reviews, you might have discovered that this is a trick that is common with most scammers. The fake web-trader is there to give you the illusion of live trading as the scammers pocket your hard-earned money.
No withdrawals
MeProfits is a scam that profits by pocketing deposits and will therefore never allow you to withdraw your money. When you make a deposit, the funds go to the untraceable accounts of scam brokers. These brokers keep a portion of the deposit and send the rest to the fraudsters behind MeProfits.
Meanwhile, you are tricked into believing that you are participating in live trading through their fake web-trader. As mentioned above, the web-trader reports consistent losses from beginning to the end.
How to detect a scam trading robot
Scam robots like MeProfits tend to have almost the same characteristics. However, these characteristics are not easy to identify for the untrained eye. That's why we suggest that you read comprehensive and unbiased reviews like this one before opening an account with any robot.
We recommend that you browse through our main robots page to determine if your robot of choice is legit. If the robot is not in our list, please feel free to notify us in the comment section below, and we will do a review for you. The following are some of the features we look at when determining the legitimacy of a trading robot.
Information verification – InsideBitcoins conducts a battery of tests to determine if the testimonials provided on a robot website are genuine. We also conduct background research on the founders or founding company. Scam robots are likely to present false testimonials and founders information.
Feedback analysis – We analyze thousands of individual consumer reviews on sites such as TrustPilot. Scam robots are likely to have a lot of complaints or no reviews at all.
Customer services analysis – Here, we determine if a platform has adequate channels of communication and if they are easily accessible. Scam robots provide email as the only channel and do not respond to most inquiries.
Cybersecurity review – Our investigation also includes reviewing the security measures undertaken by a robot to safeguard data. Scam robots are likely to have zero security measures in place.
Is MeProfits legit? The Verdict!
MeProfits is a ridiculous scam that is based on a pyramid scheme model and targets inexperienced traders. InsideBitcoins investigation shows that this scam operates in cahoots with scam brokers. Any deposit made through MeProfits goes to the pockets of these brokers and the scammers who own the platform.
We suggest that you keep off this platform and instead try Bitcoin Trader, a tested and proven trading robot. Our live test shows that it is possible to generate an average daily return of $1500 through this robot.
FAQ
Is MeProfits legit?
No! MeProfits is a scam! You will lose money if you sign up with this platform. Try Bitcoin Trader instead, if you are looking for a legit and highly profitable bot.
How much should I deposit with MeProfits?
Deposit money with this robot at your own risk. It is a scam that profits be defrauding traders of their trading capital.
How much profit can I make with MEPeProfits?
We can confirm that you will not make any money with this robot. It is a scam, and you should stay away from it.
Does MeProfits allow withdrawals?
MeProfits won't allow you to withdraw your capital. Once you make a deposit, consider your funds as gone.