If you are thinking of signing up with LiteCoin Trader, Stop right there! We have investigated this platform and revealed that it is a scam. Consequently, any deposit made through this self-proclaimed bot is bound to be lost. Scam robots like LiteCoin Trader not only fleece traders but are also highly likely to expose them to other scammers.

In this review, we will take a deep dive on the LiteCoin Trader scam and also provide tips to help you identify and avoid scam robots. We will also suggest some robots that we believe are worth a try. The robots in our recommended list have gone through rigorous testing and determined to be legit.
Continue reading this LiteCoin Trader review or go straight to a legit bot by clicking the "Trade Now" link in the table below.
Is LiteCoin Trader legit? No!
InsideBitcoins gives LiteCoin Trader a legitimacy score of 3% – They use deceptive techniques to get new signups
LiteCoin Trader has an accuracy of zero percent – There are a lot of complaints about traders making consistent losses through their web-trader
Our test reveals that their web-trader is fake – It appears to be a simple webpage that mimics a real web-trader but without the underlying algorithms
Read on to learn more about LiteCoin Trader or visit our Bitcoin Trader review for a legit and highly profitable robot
What is LiteCoin Trader?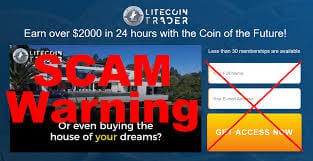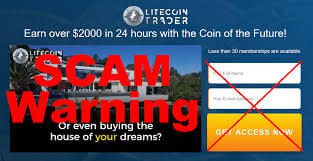 LiteCoin trader claims to be a fully-auto trading bot designed specifically for the crypto known as LiteCoin. However, InsideBitcoins investigation shows that it is a scam. You are likely to lose all your money within a few hours of live trading with LiteCoin Trader. InsideBitcoins has carried out a live test on LiteCoin and determined that it makes consistent losses. We are 99.9% certain that LiteCoin Trader reports predetermined losses and doesn't have any trading technology.
LiteCoin Trader scam: Test Results Explained!
LiteCoin Trader is one of those laughable scams that claim to be the key to immense wealth. They tell all forms of lies to get traders to make a deposit after which they go missing in action. As we will see below, the platform they present as the web-trader is fake. Likewise, the brokers listed as the robot partners are not genuine. Moreover, they have no legal registration or regulation.
Like most scam robots, their primary target market is people who are going through financial difficulties. Their first approach of reaching out to potential traders is spam emailing. You are likely here after receiving an unsolicited email claiming to offer you an opportunity to make big money without paying anything.
Fake and ridiculous testimonials
On their website, you will find testimonials accompanied by flashy photos of people bathing in cash and posing on private jets. However, InsideBitcoins investigation reveals that the testimonials are not genuine, and the reviewers are actors for hire. Nowadays, you can pay a few dollars to pose on a grounded private jet. The majority of scam robots share these photos in their testimonials.
Any robot with testimonials of people showing off wealth is likely to be a scam. We suggest that that you scrutinize such platforms before registering with them. InsideBitcoins makes the research easier for you by providing unbiased and comprehensive reviews. Visit our top Bitcoin Robot 2019 review to learn more about our robot rating criteria and also a suggestion of robots worth trying.
Fake web-trader and partner brokers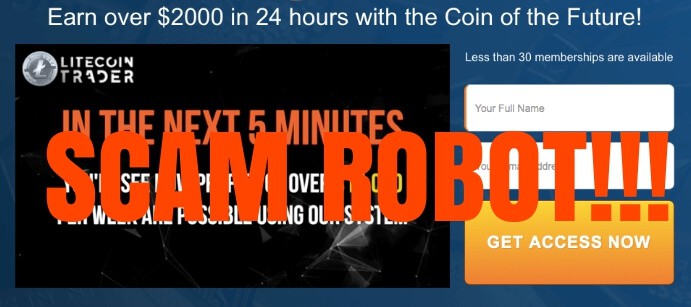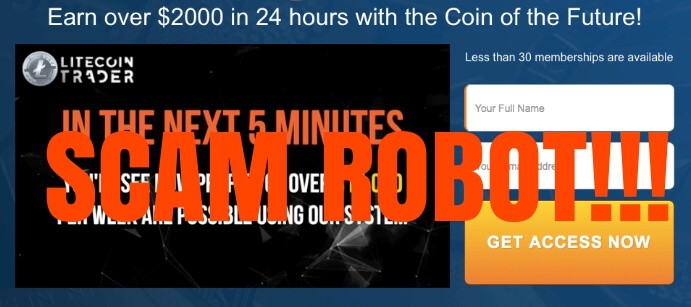 The web-trader provided by LiteCoin Trader is simply a webpage that mimics a real trading platform. Our investigation shows there are no algorithms behind it, and the results it generates are predetermined. In other words, there is no live trading that takes place with this platform.
Like other scam robots, LiteCoin Trader depends on its scam brokers to receive deposits. And as mentioned earlier, these brokers have no regulation. The lack of regulation means that they have no oversight, and there is no way to hold them accountable. As a result, any deposit you make with them is cannot be recovered.
It is essential always to determine if the brokers listed as your robot of choice partners are regulated. The best regulators for forex and crypto brokers include ASIC, FCA, FSB, and CySec. Avoid any robot that claims to have regulation in less known jurisdictions and cannot provide proof to that effect. Please read our review of CryptoKartal, a legit robot-broker, to know what to look for in a broker.
Unsafe deposit process and no withdrawals
We also find LiteCoin Trader to have no proper data protection policies. For instance, they appear to keep billing details beyond their intended use. Furthermore, the deposit page does not have encryption. This makes it possible for hackers to intercept the traffic to the platform and copy data, including the banking details.
Like other scam robots, LiteCoin Trader will never allow you to withdraw your capital. Once your money gets into their accounts, there is no way to get it back. The scammers behind this platform share the deposits with their scam partner brokers. Meanwhile, you are made to believe that the fake web-trader is real and you have lost money during live trading. Moreover, this investigation reveals that LiteCoin Trader does not respond to withdrawal requests. And like most scammers out there, they are likely to block you from the platform if you insist on making a withdrawal.
Who is Tony Davis and is he the founder of LiteCoin Trader scam?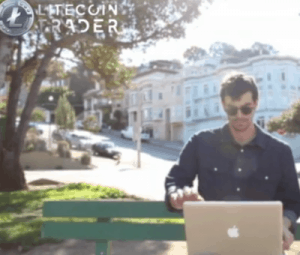 LiteCoin Trader claims to have been founded by a financial guru known as Tony Davis. In-depth background research shows that Tony Davis does not exist. The image used on the founder's profile is from a stock image site.
It is a common habit for scam robots to create fake founders profiles and use fictitious credentials. The scammers behind these platforms usually prefer keeping their true identity hidden for fear of apprehension by authorities.
Is LiteCoin Trader legit? The verdict!
If we have not convinced you that LiteCoin Trader is a scam, then perhaps there is no one who can convince you. This platform has all the characteristics of a scam robot. We can guarantee with 10% certainty that you will lose money if you deposit with this platform. Additionally, there is a likelihood that they will expose your data to other scammers. Our investigation shows that they do not have any data protection measures in place. Also, they appear to share data with third parties without the consent of the owners.
InsideBitcoins recommends that you shun LiteCoin Trader and instead try Bitcoin Trader. We have tested Bitcoin Trader and revealed that it is a legit robot. With this robot, you can make an average daily return of 10%.
FAQ