DigitroniQ alleges to help traders make an average daily profit of $3750. When you open their website, the first statement you see is a guarantee to make $7500 in 24 hours. But is DigitroniQ a legit forex robot? As usual, we went in search of answers and unearthed the hidden truths about this self-proclaimed robot. Our investigation reveals that DigitroniQ is a scam. This means that you won't make any money with this robot and they will steal your deposit.
InsideBitcoins investigation involves a platform test and also an in-depth analysis of users' feedback. In the live test we deposit the minimum amount required and then carry out live trading. We lost a deposit of $250 in less than an hour of live trading with DigitroniQ. The user feedback analysis involves reviewing comments on consumer review sites such as TrustPilot. Keep reading or click the 'trade now' button in the table below to visit a reliable robot.
Is DigitroniQ legit? No!
InsideBitcoins live test shows that this platform does not have legit trading technology. People who try it end up losing money
DigitroniQ operates in opaqueness and lies about almost everything including earning potential and testimonials
There are a lot of complaints about this platform with most people reporting losing the entire deposit within a few hours of live trading
Keep reading to learn more about the DigitroniQ scam or read our Bitcoin Investor review for a reliable robot
The best trading robots in the market allegedly have the potential to generate a return of up to $2k per day. InsideBitcoins investigation takes into account consistency in reported profitability, among other things when determining legit trading robots.  Scam robots such as DigitroniQ report consistent losses, which is a big sign that their trading platforms are set to report losses.
What is DigitroniQ?
DigitroniQ is a scam trading platform disguised as a forex trading robot. As explained above, this platform does not have any trading technology. Like most scam robots, DigitroniQ is just but a website that baits unsuspecting traders' into signing up with offshore scam brokers.  These brokers, in return, give kickbacks for any signups made through the platform.

With this type of brokers, there is no real trading involved. Their main goal is to steal deposits and therefore use all forms of trickery to get more money from their victims. It is no wonder that DigitroniQ will try to trick you into depositing more money after losing the initial deposit. In our live test, they asked as to deposit an additional $250 to get a bonus equal to the amount lost.
The best way to determine if a trading robot is legit is by determining if their partner brokers are regulated. Trading robots depend on brokers to facilitate transactions and execute trades, and it is therefore highly unlikely that a scam robot will partner with a regulated broker.
Regulated brokers are required by law to segregate deposits and only use them for the intended purpose. Consequently, you have an assurance that any money you deposit with them is safe. Scam brokers, on the other hand, operate in jurisdictions with poor regulation, which means that there is no way to trace them when they disappear with your money. Read our Mason Ford review to learn about what to look for in a legit robot broker.
Why is DigitroniQ a scam?
DigitroniQ lies about almost everything from its earning potential to founder's profile and user testimonials. On earning potential, they guarantee a daily return of $3750 from a deposit as low as $250. These claims are not only ridiculous but outright false. Our investigation shows that DigitroniQ is a fake webpage with no real trading technology.
Like most scam robots, the DigitroniQ web-trader is just a simple webpage. Furthermore, the webpage is set to report losses in a specified frequency until the trader's account goes to zero. Put, the scammers behind DigitroniQ keep the trader's deposit while deceiving them through the fake web-trader.
Further investigation reveals that the reviews on DigitroniQ website are all fake. As usual, we conducted a Google reverse image search on the reviewer's profile photos. The majority are from stock images sites. Likewise, the testimonials screenshot are also fake.
Is DigitroniQ secure?
DigitroniQ not only steals your deposit but will also expose you to other scammers including cybercriminals. InsideBitcoins takes into account several factors when determining how secure a trading robot is. These include;
The amount of personal data collected during the registration
How the robot stores users' data
Whether the robot has any data breach incidents
How safe their website and web-trader are
DigitroniQ scores zero in each of the above metrics. First, they collect unnecessary personal details during registration. While the initial registration requires name, phone, and email only, you may be asked to provide additional information later.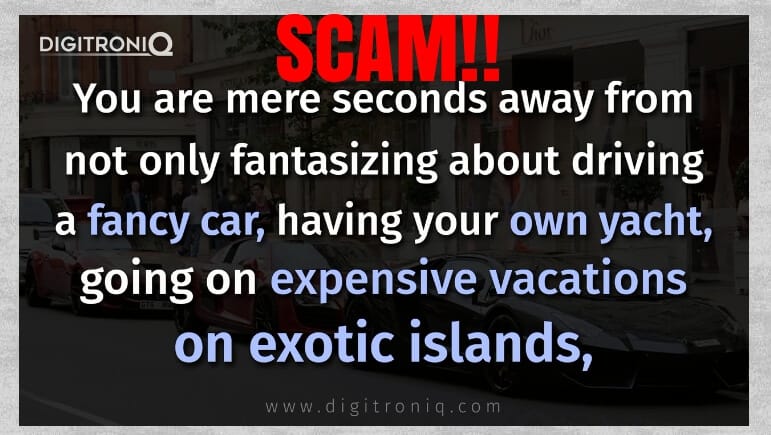 Secondly, there is a high likelihood that this platform shares users' data with third-party scammers. Like with most scam robots, you are likely to receive a lot of spam calls and emails after registering with this robot. Additionally, our investigation shows that they store users' billing details and may attempt to charge credit cards without users' permission.
Does DigitroniQ enable seamless transactions?
The deposit process with DigitroniQ is seamless, which is expected of scam trading robots. They provide multiple deposit methods as provided by the scam brokers. InsideBitcoins research shows that the deposit process with this platform is not secure. They will capture your billing details and attempt to charge your credit card without your permission.
Furthermore, DigitroniQ does not allow traders' to make any withdrawals. Consequently, when you deposit with them, there is no way to recover your money back. As mentioned severally in this review, their partner brokers are all scam and have no regulation. This means that there is nowhere to raise a dispute if they refuse with your money.
Remember that if you attempt their live trading platform, your account will go to zero in no times. We found the fake web-trader a bit complicated. We believe this is a deliberate attempt to confuse traders' as their money is stolen.
Is DigitroniQ web-trader legit?
As mentioned previously, the DigitroniQ web-trader is a sham. InsideBitcoins did not find any evidence of proprietary trading technology in the live test. We can confirm that anyone who attempts live trading through this platform ends up losing money. This is because there is no live trading involved, and the platform is set to report losses.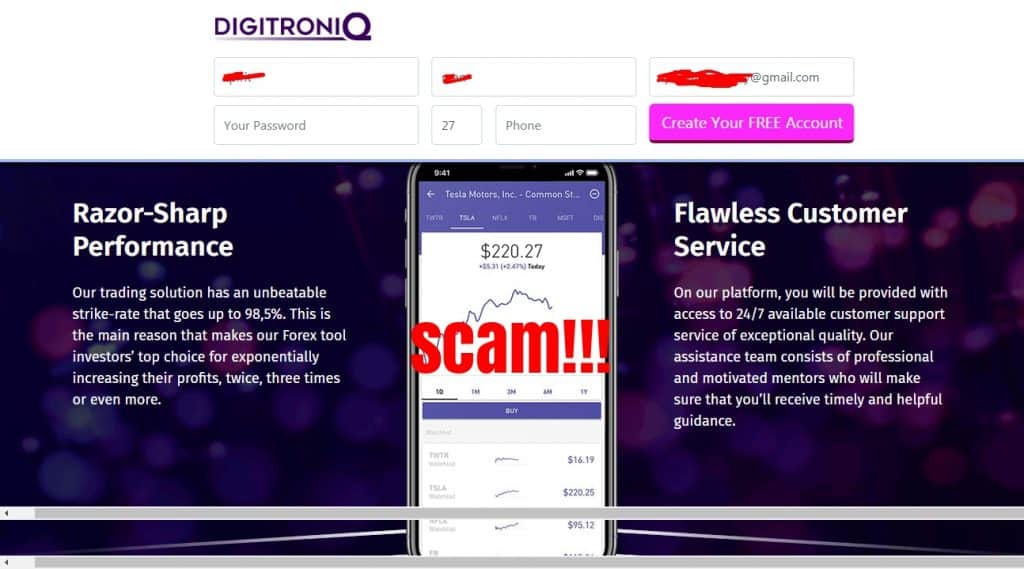 When you make a deposit, your money is shared between the scammers behind the robot and their partner brokers. The DigitroniQ marketing approach also includes unscrupulous affiliate marketers who tell all forms of lies to get new signups. These affiliates also receive a share of your deposit for referring you.
There are a lot of unscrupulous affiliates out there who recommend scam robots to earn a commission. We recommend that you only get your reviews from reputable sites. InsideBitcoins aims to be a one-stop shop for comprehensive and unbiased reviews.
DigitroniQ: Key Features
Zero Payouts
Zero Payouts
DigitroniQ is a big scam robot meaning that you should not expect any profits. Our live test shows that traders lose a deposit of $250 in around three hours. The platform appears set to report losses of $100 per hour. We recommend that you avoid this platform and instead try a reliable bot like Bitcoin Trader
.
Tedious Verification Process
Tedious verification process
While DigitroniQ requires email and phone verification at the initial stages of registration, they are likely to demand more information later. Our investigation shows that they sell users data to other scammers, including hackers.
Unscrupulous marketing practices
Unscrupulous marketing practices
DigitroniQ relies on spam marketing and deceptive affiliates to get new signups. There are complaints that their spam emails are ridden with malware. Moreover, their affiliate marketers use all form of lies to trick traders into signing up.
Poor users' feedback
Poor users' feedback
DigitroniQ generally has negative reviews on independent consumer review sites such as TrustPilot. Most users who have tried DigitroniQ report making consistent losses. There are also a lot of complaints about their unresponsive customer service.
Poor customer service
Poor customer service
DigitroniQ provides email as the only channel of communication. InsideBitcoins investigation reveals that they do not respond to inquiries relating to deposits. We found a lot of complaints about DigitroniQ stealing users' deposit. Furthermore, most people who have tried this robot report making consistent losses.
Fake brokers
Fake brokers
Our investigation further reveals that the brokers listed by DigitroniQ as partners are all scam. They are not regulated and do not connect to any exchange. Furthermore, there are a lot of complaints about these brokers scamming people. We recommend that you read our Profit Trade review to know what to look for in a robot broker.
How to detect a legit trading robot
With 90% of all trading robots being a scam, it is hard for the untrained eye to identify legit robots. InsideBitcoins makes this easier for you by providing unbiased and comprehensive reviews. Our robot legitimacy tests take into account a myriad of factors. These include;
Profitability – We do a live test of robots to determine if they are as profitable as they claim. Scam robots report consistent losses from the beginning to the end. We also review other users' feedback from independent consumer review sites such as TinrustPilot.
Transparency – Scam robots hide crucial information such as their legal registration, founders, and partner brokers. Most create fake founder's profile and users' testimonials. We run a Google reverse image search on any profiles on the website of a broker to determine their legitimacy.
Reputability – Scam robots are likely to have a lot of negative reviews on independent consumer review sites. We advise that you avoid any robot with a lot of negative reviews or those with few perfect reviews.
Safety – A robot that does not pay attention to users' online safety is likely to be a scam. We look at how a robot handles users' data, and the security measures are undertaken to safeguard data. Regarding security measures, we look at whether the robot website and trading platforms have encryption. Read our review of Bitcoin Code for a comprehensive review of a legit trading robot.
Is DigitroniQ legit? The Verdict!
DigitroniQ is a shameless scam that baits traders with promises of making a daily profit of up to $5k. However, our review reveals that this platform is nothing but a scammers' webpage. Further investigation shows that they collaborate with fake brokers to defraud traders. These brokers have no regulation and are well known to steal deposits. Also worth noting, this platform uses fake testimonials to lure unsuspecting traders.
Moreover, DigitroniQ shares users' data with third-party scammers. You will receive a lot of spam emails and calls after signing up with this platform. We recommend that you avoid DigitroniQ and instead try Bitcoin Investor for a legit robot.
FAQs
Is DigitroniQ legit?
DigitroniQ is a scam trading platform. You will lose your hard earned money if you deposit it with this platform. InsideBitcoins investigation shows that they do not have any proprietary trading technology. What DigitroniQ presents is a webpage that makes predetermined losses.
How much should I deposit with DigitroniQ?
Do not deposit any money with DigitroniQ. Our review reveals that it is a shameless scam that works in collaboration with sham offshore brokers. Those who deposit with this platform end up losing money.
How much can I make with DigitroniQ?
You won't make a dime through this platform. Our investigation reveals that it is a complete scam and you should avoid it. Read our review of best trading bots in 2019 for a legit robot.
Can I withdraw my money from DigitroniQ?
DigitroniQ will not allow you to withdraw your capital. Once you make a deposit, consider your money as lost. This platform is a scam, and therefore, there is no chance that they will allow any withdrawals. DigitroniQ is likely to block you if you insist on withdrawing your capital.