Last Updated on
Crypto Genius is the brainchild of a man identified as Chris Peterson. This software promises its user to generate an average daily profit of $5,900. According to him, he hired a team to develop the cryptocurrency trading software with an algorithm that makes it faster than any other software in the market. Are these claims true? Our review reveals otherwise. Crypto Genius is a scam that should be paid no attention. However, we have found that Cryptosoft is a legit robot which can bring you solid profits.
Is the Crypto Genius a Scam? YES!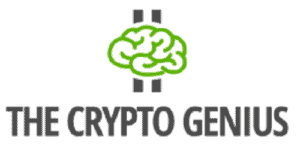 In a bid to deliver important news to our esteemed readers, InsideBitcoins have done adequate research about this automated trading platform and have observed the following:
The Crypto Genius app was created by an unknown identity Chris Petersen. A good search of the software reveals no information about Chris.
Crypto Genius claims to make a whopping $5,900 for its members. However, there is no real testimony to that effect.
All the personalities on the web platform are internet actors and all the testimonies are fabricated.
It claims to be faster than any other cryptocurrency automated trading system by entering a trade position 0.39 seconds faster via South Korean fiber optic technology. However, that doesn't make any sense.
There are recommendable robots that work perfectly in place of the scam 'Crypto Genius' e.g. Cryptosoft. Cryptosoft is another interesting software used for trading cryptocurrencies.
Although the use of Bitcoin robots to trade cryptocurrencies is a valid way of earning through cryptocurrency trading and investment, scams infiltrate the system to confuse the public. A close study of this scam trading platforms shows it is a well-arranged scam. Claiming to search for the most profitable trading signals for cryptocurrencies like Bitcoin, Ethereum, Ripple etc., and this software has duped many unsuspecting investors. With many unrelated stories, Chris Peterson tries to convince that his software is not a scam. He claims there is a South Korean fiber optic technology which helps the app take a good trading position faster than other software, this, in fact, is not true, there is no such technology, it is a bunch of crap put together to sound official.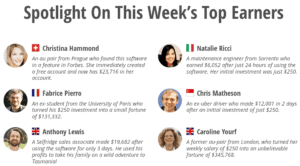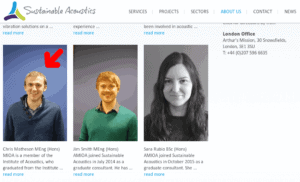 Requiring a minimum deposit of $250 before trading, Crypto Genius sounds contradictory against its initial statements which confirms that the app is free to use for all registered users. Launched in December 2017, Chris claimed also that the total accumulation value of cryptocurrencies this Crypto Genius software has traded is pegged at $13 million. Wow, that seems huge. However, there is no official validation from any regulatory body or member. With fake reviews showcased on its website, Crypto Genius is only but a SCAM which should not be engaged with.
What is the Crypto Genius, and is it a Scam?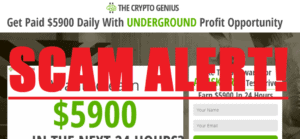 Yes, the Crypto Genius software is a scam. This can be proven from all indications. After creating an account with the platform, the user is connected with a broker to trade cryptocurrencies called STOX Market. A quick background on this broker site reveals that it is an unregulated broker site and it was created solely for the purpose of scamming unsuspecting customers. There are many other unlicensed broker websites used to perpetrate this act.
As earlier stated, this app was created by Chris Petersen. However, our research proves that this character is only fictitious and that is not its real image. The image of Chris Petersen is an image available on iStock. Thus, the image was either stolen or bought from the platform. The characters in the video on the platform also are internet actors paid to act as investors and real users of the imaginary trading system. Although the software can be accessed on mobile phones (Android and iOS), computers (Windows, Mac, Linux), the information displayed on the platform makes it a SCAM to watch against. The information is unverified, untrue and unrealistic. Having read a lot of reviews about this software, many who have used it in time past complained about the system with most of them having withdrawal problems after depositing, and trading.
As a rule of thumb, to unmask a scam, observe the platform, if the platform presents services that are risk-free, booming and contains a lot of excitement from parties to vacation, these are signs to show that the program is a scam.
Who founded the Crypto Genius?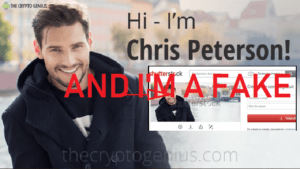 Crypto Genius was founded by an anonymous individual called Chris Petersen. Having researched this personality, it was observed that this wasn't a real human but rather an image bought from Shutterstock as can be seen in the image below. Searching for the registration details of the domain name the same way we did for Crypto GPS, we searched for www.thecryptogenius.com and we found out that its registration details were all kept private. Thus, having a face who we found out to be an image bought or stolen from Shutterstock, and private details of the domain name, all these lead to only one conclusion. CRYPTO GENIUS IS A SCAM!
Why the Crypto Genius is a Scam
There are a lot of valid reasons to justify that Crypto Genius is a scam. These shreds of evidence are so evident that it was so easy digging them out. Some of them are:
False claims about how much you can make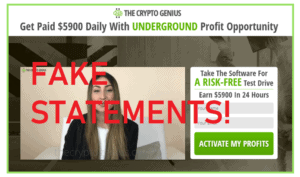 In the promotional video displayed on the homepage of the website, Crypto Genius claims that people would be able to "experience the most important transfer of wealth in history". Claiming to make nothing less than $5,900 for its users, Crypto Genius presents a seemingly impossible promise to its members. Crypto Genius claims that with the system, there is an algorithm designed into the trading software that searches the internet for profitable trading signals. However, in all of this, there is no concrete way to prove such an algorithm exists.
So, imagine a trader who joins the platform by depositing the $250 minimum fee, he or she would expect to earn the same $5,900 daily. But, is this so, it definitely cannot be. What if there is another investor who invests $1,000, the person definitely cannot earn the $5,900 as the investment ratio differs. Thus, from all indications, these claims suffice to say that Crypto Genius is a scam.
Fake Videos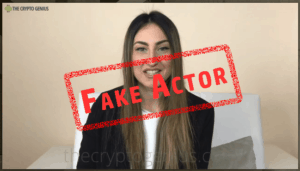 With a neatly arranged video on the software's web platform, Crypto Genius claims media promotions from popular media houses such as CNN, Financial Times, and Forbes etc. However, the video is a doctored one as the media house logos used were actually edited by video professionals in their team. All the personalities also used in the video are internet actors and are in no way connected to cryptocurrency trading or the software. The video points out that the world economy is on the brink of collapse and the only way out is to join the platform and have a financially secured future.
Fake Testimonials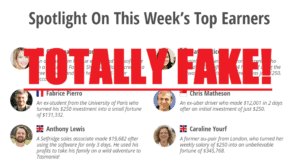 All the testimonies shared by so-called members on the platform about the software are fake. These testifiers claim that the software has helped reshape their financial life, they have built houses, bought cars, gone on vacations, attended wild parties, and they live luxury lives. Our research reveals that all of this is fake.
These testifiers supposedly claim they have earned several thousands of dollars trading with the system every day. It is quite appalling that these testifiers claim to have so much money that they stopped working. All of these statements are unbelievable and are more than enough to conclude it is a scam.
Fake rumors and TV claims
Crypto Genius is reputed for using popular brand names and celebrity identities in the promotion of their scam. There have been situations where they used UK's show, Dragons Den claiming the software team was on the show and the software was endorsed. Also, they claimed at a time that Elon Musk was stepping down at his company, Tesla to focus on cryptocurrency trading through automated trading systems. Also, they once claimed Peter Jones, a top investor in Dragons Den owns 20% shares in the software. However, none of the claims are true. Official sources have confirmed that there is no memorandum of understanding between the concerned parties.
Misleading Information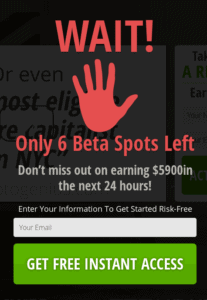 In a bid to mislead the public on the real reason behind the rise in the price of Bitcoin and other cryptocurrencies over time, this trading software claims that it can just generate thousands of dollars every day for every user. The truth is that the rise in the value of these cryptocurrencies is as a result of its increasing acceptance globally.
A close study of the cryptocurrency system reveals that there are bearish and bullish markets at different times. Presently, the cryptocurrency industry is in a bearish condition which has seen Bitcoin move from an ATH of $20,000 to as low as $4,000. Thus, Crypto Genius is only out with misleading information about how to earn in the cryptocurrency space.
The Signup, deposit, and trade process on Crypto Genius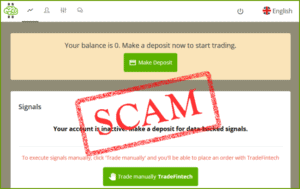 Crypto Genius is a platform that claims its software is free for all its registered users but requires $250 to activate trading. From here, one can easily get the trick being used. After registration on the website, the trading platform connects the registered user to a broker website to deposit funds for live trading. This platform has connections with different unlicensed crypto brokers i.e. STOX Market etc. such that when there is a deposit, the platform shares the money between them.
After all of this, the system supposedly deposits the funds into the account and the money is seen in the account. With trading, the money would be increasing by the day showing profits are coming in. However, this is where the problem lies, upon sending a withdrawal request, the request would not be accepted nor attended to. Contacting support is also a dead end as there would be no response. At this point, it is clear the whole process was a scam.
Have people made money with the Crypto Genius?
In the course of the research of this software, all testimonies shared on other platforms asides from the software's web platform were negative reviews. This goes to further assert that there is no one, not one that has earned money on this trading platform.
Recommended robots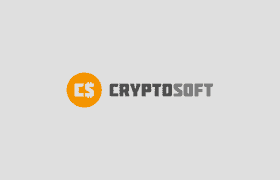 The presence of fake and scam robots doesn't mean that there are no good robots in the automated trading industry. There are quite a number of them, however, one of the best which we recommend greatly is Cryptosoft.
Cryptosoft: Rated as of the most promising Crypto robots of 2019, Cryptosoft is a trading software that allows its users to trade cryptocurrencies using accurate trading signals. Cryptosoft is the best Crypto robot to use in 2018. Its services are transparent and valid. We have testimonies of users using this software. Click the link below to sign up.
Crypto Genius Review: The Verdict!
Having brought to light the status of Crypto Genius as a scam. It is important for you to know that the software is not trustworthy. They are only out to manipulate you with sweet information. Only gullible people would trust such systems where you would just earn a lot of money doing nothing. Asides from the fact that this system deceives with the data showing profits, this system also lies with its bogus claims of making thousands of dollars daily. So, once again, we do not recommend this software and it is a TOTAL SCAM!
FAQs