In this article, we present an honest review about a trading software identified as Calloway Software. Named after its founder, Brett Calloway, this software claims a trading signals accuracy of over 96% and boasts in making hundreds of people rich. With a minimum deposit of $250, this software claims its users can make $3,000+ trading on its platform daily. We have carried out an investigation about this software and found it to be a scam. However, in place of this, we recommend Cryptosoft, a 100% legit, working, and profitable trading software.
Is the Calloway Software a Scam? YES!
Having studied this software carefully, here are our observations:
The software claims it has a trading accuracy of 96%.
The software claims it can earn more than $3,000 trading cryptocurrencies daily.
Calloway Software claims to have educational materials on its platform with which traders can learn the art of trading but there are no such materials on its website.
All the testimonials found on its website are fabricated and untrue.
In place of Calloway Software, we recommend our readers to sign up with Cryptosoft for trading and investment.
If you are looking about for a working trading software on the internet, Calloway Software is not an option. This software is a fraudulent software that claims to make tens of thousands for its members monthly. However, our investigation so far proves otherwise. Similar to many other trading software scams that have graced the Cryptocurrency Industry, this software is one that should not be trusted. This software claims to generate accurate trading signals for investment traders, however, there is no concrete information to conclude that this is true. Trading with these signals would most likely result in you losing your funds.

Being promoted heavily on the internet through the use of Sponsored adverts on search engines & E-mails, these adverts look so good to be true as it encourages people to sign up. However, on accessing the website at www.thecallowaysoftware.com, one would find nothing correlating as implied with the adverts. On the homepage of the website, a video is played and the characters in the video explain that the software work via an inbuilt algorithm which allows it to analyze the financial market and search for profitable trades by checking undervalued assets, its RSI value, stochastic levels etc. and checking for good market entry. With this explanation, it claims a 96% accuracy using the algorithm. However, it isn't true.
As a platform that has experience with different types of cryptocurrency exchanges such as Bittrex, Binance, and Bitmex, we can authoritatively say that the claims by this software are very outrageous. In the real financial market, a profit of 5% ROI weekly is a good trade. Market volatility plays a huge role in this price shift and this is a major reason not to trust the Calloway Software. From our research, we discovered that this trading system works in collaboration with unlicensed offshore brokers through which they trap registered users' funds.
What is Calloway Software, and is it a Scam?
After thorough research, we conclude that Calloway Software is a scam. Promising to give its users a lot of trading signals every day with an accuracy of 96%, one would naturally expect that at least 9 out of any ten trades entered into would become successful. But, searching through the internet for testimonies of people outside the web platform, we couldn't find any. In fact, most of the reviews found on the internet about this software were all negative. This goes to justify that the software is nothing short of a scam.
So, the Calloway Software, its affiliate brokers are all stakeholders in this scam. We found out that for every user who has registered and traded on the platform, when they initiate withdrawal requests, they are either blocked by the traders or refused payments. There has never been one occasion where withdrawal requests are accepted by these platforms. These scary and unpleasant experiences make one conclude this system is a scam.
Also, unlike some other scams such as Bitcoin University, Crypto GPS, Calloway Software is not an automated trading app as its users initiate and close their trades on their own. The only responsibility of the software is to provide trading signals. They do not also offer any educational material that the user might need for trading even though they claim to on their website.
Calloway Software is a software that lacks transparency. Everything about the website is either fake or undefined from the domain name details to the founder's details. There is not one piece of evidence about Brett Calloway anywhere. We do not know anything about his expertise, his experience and unique characteristic which qualifies him to startup such a profitable project. With this lack of transparency, it makes us wary of the truthfulness of the system and all it has to offer. With nothing to back any of the claims of this software, we conclude that CALLOWAY SOFTWARE IS A SCAM!
Who founded Calloway Software?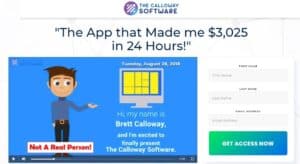 This software was supposedly founded by one man called Brett Calloway. The surprising thing here is that this founder cannot be traced to any former project, firm or social media profile. This is a common characteristic of most fake trading software. There would no description about them no forum where its members converse. In a bid to see if we could find more information about the founder, we checked for the details of the domain name www.thecallowaysoftware.com and alas, nothing was found. This is another reason to conclude that this software is a scam.
Why the Calloway Software is a Scam
In a bid to make adequate information about Calloway Software available in a well-arranged format, we have summarized our points to justify that this software is a scam in the subsections below:
False claims about how much you can make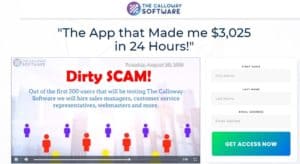 One of the more pronounced reasons to conclude that Calloway Software is a scam is due to the claims that it can help the trader earn over $3,000 per day trading different assets. As funny as it sounds, this is far from the truth. No system whatsoever in the world would promise such a feat except it is a scam. If this were to be true, that means the average trader would earn at least $90,000 in a month and over $1,200,000 in a year. Wow! Assuming this is true, why isn't everyone involved in this big financial opportunity? Why are there no positive reviews by its members scattered all over the internet? Where is all the money coming from? All these points to the fact that this software is a scam.
Trading, as it were, is an adventure. There is no how a system would claim an algorithm has 96% accuracy and it would be true. In the trading world, as the value of an asset goes up, the other goes down. But, however, in this case, Calloway Software claims assets value are always going up. This is not true. All these are just marketing gimmicks used by scammers to defraud people.
Fake Videos
On accessing the Calloway Software's website, the first thing that would be seen is a video playing talking about the software and how it can be used to make money. Funnily, we researched and found out that all the characters used in the video are all internet actors. Wow! Now, it makes a lot of sense. The information shared in the video about how the software works are untrue, the characters, therefore, would also have to be accomplices in sharing this fake information. This is another method notably used by scammers to deceiving people into buying the lie.
Fake Testimonials

Checking through the website, one would see a lot of testimonials by several people talking about how Calloway Software has influenced and change their financial life. Some even said they have made millions in just two months. In contrast, to check if these claims were true, we ran a check on various search engines on this software only to discover that there are no positive testimonials on the software. It appears that the only positive testimonials about this software can only be found on the website. Why is this so? It is because it is all pre-planned by the software's team. This further goes to corroborate that Calloway Software is another scam.
Fake rumors and TV claims
Across the internet, there are a lot of adverts and articles suggesting that Calloway Software is being endorsed by different celebrities and TV shows. One of such prominent ones is about Dragons Den of which it was claimed that the software was promoted on one of the episodes of the TV show. At another time, it was reported that Bill Gates was promoting trading robots but none of these is true. Fake trading robots are fond of promoting rumors of partnerships with top brands to promote their illegal adventure so it is careful to be on the watch out when you have such information.
Misleading Information

Calloway Software, in a great way, promotes a distorted understanding of how the trading of stocks works. Usually, to trade a particular asset/stock, one would have to sign up with a broker to help carry out the trade action. All broker sites are registered with an operating license under the Securities Commission of the U.S.A. However, as a registered user on Calloway Software's web platform, all the broker site connected to after registration are all unlicensed sites. This is an illegal practice and it suffices to prove that Calloway Software is a scam.
The Signup, deposit, and trade process on Calloway Software
Registering on the Calloway Software's website. The following information is needed i.e. First Name, Last Name, Email address, Password, and Phone Number. After registration, the registrant would be redirected to a broker site to fund his/her account. On this platform, there are different methods of payment which include Credit/Debit card transaction. Using Credit/Debit card to pay on this platform is very risky as the platform would have access to the card details which can then be used thereafter to make transactions not initiated by the Card's owner. To trade using this software, a minimum of $250 is required to be deposited onto your account and after this, you can go to the trade room to start room. For a start, the software would be working perfectly with the trading signals with profits coming in. However, when the user initiates a withdrawal request, this is where the problem comes in as the request would be either unattended to or canceled. This is a general overview of the trade process common to several persons who have used this software. Thus, Calloway Software is a scam.
Have people made money with Calloway Software?
From several reviews by users of this software, we have not found anyone with a positive testimony about this software. Thus, no one has made money with the software. This software is simply a scam filled with empty and can in no way make any money for anyone.
Recommended robots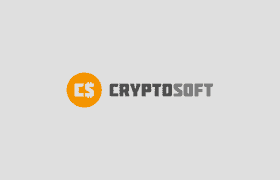 Although there are a lot of scam trading out there such as Calloway Software, there are other trading software that are legit and profitable. We recommend Cryptosoft to every investor to invest in. To use this software, kindly click the link below.
Calloway Software Review: The Verdict!
All indications show that this software is a scam and our verdict is that no one should invest in it. As a disclaimer, anyone who registers with the Calloway Software does so at his/her own risk. We have researched and found out that the claims of the software to earn $3,000 for each member with an investment of $250 is false. Also, in the search for the identity behind the creation of the software, we only found out that the founder had a name but no face. Also, every content on the website is false and unverified. This is the same as the videos, testimonials and broker sites used for trades. We advise everyone to stay away from this software and register with Bitcoin Code and Cryptosoft.
FAQs