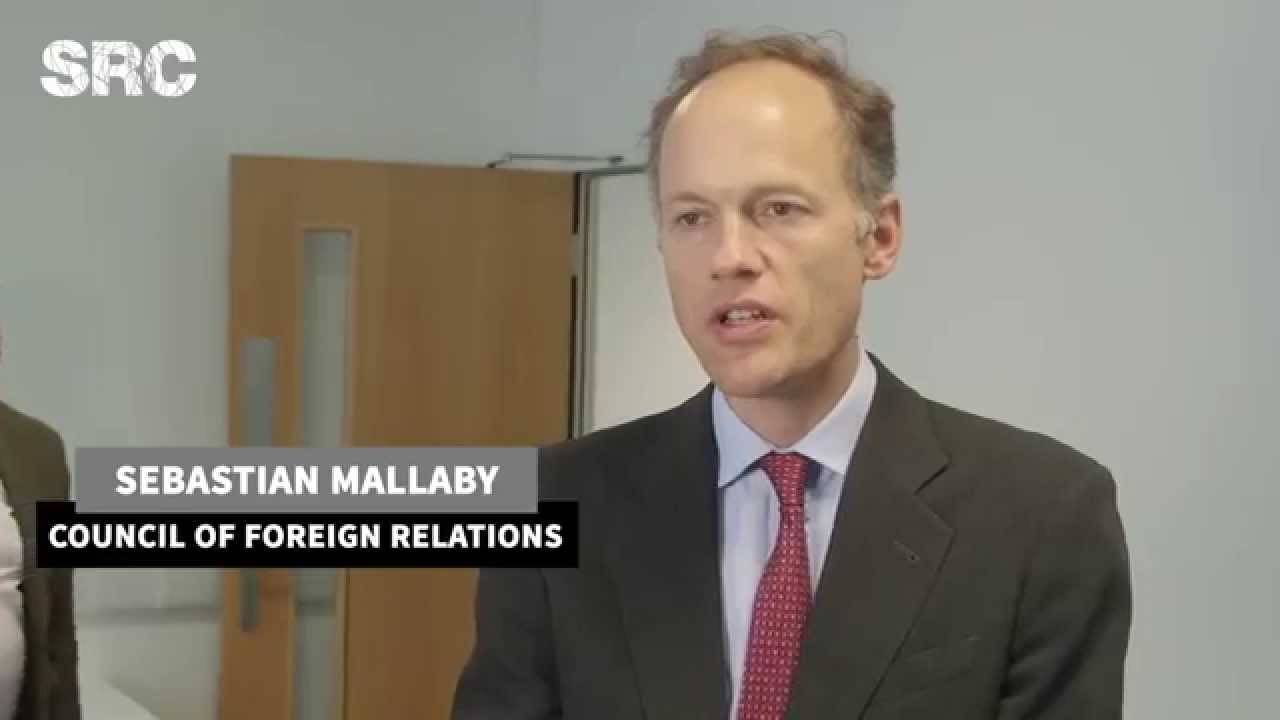 Although they've become less frequent over the course of the last year, there are still plenty of individuals who are willing to go on television and offer an opinion on bitcoin without having done much research on the subject. Sebastian Mallaby is a contributing editor at FT and the Paul A. Volcker senior fellow for international economics at the Council on Foreign Relations. He also spent thirteen years at The Economist. In other words, Mallaby isn't a dumb guy — at least when he's not talking about bitcoin. Having said that, it was clear that he was dismissing a technology of which he knows nothing about in a recent appearance on Bloomberg.
[Read More: How Bitcoin Could Become Money in the Next 10 to 15 Years]
Placing trust in an anonymous hacker?
One of the key points Mallaby made during his interview was that the digital currency requires trust in an "anonymous hacker" (likely a reference to Satoshi Nakamoto). Anyone familiar with how bitcoin and other forms of open-source software work understands that no one needs to trust Satoshi himself. The code is freely available for anyone to review. In fact, a majority of the original bitcoin code has been rewritten since Satoshi left the project in 2011. The reality is that Satoshi's identity doesn't really matter. Here is Mallaby's explanation of the craziness of bitcoin in his own words:
"If you were to invent the craziest scenario for money, you would say that some anonymous hacker, someplace abroad, creates some code on the Internet and says, 'Hey, trust me. This is money. You should use it. You should believe [in] it.' I mean — last time I got an email from a Nigerian scamster, I ignored it."
Bitcoin vs the free banking era
It appears that Mallaby believes Satoshi Nakamoto is issuing bitcoins on his own, and everyone has to trust that he'll be a benevolent banker until the end of history. This is a common concern that I've also heard from family members and friends who have not looked into how bitcoin works. Belief in this argument is later articulated by Mallaby as he describes the problems with 19th century private banking:
"I do know history — maybe more than [the bitcoin faithful] do — and the point is that we've run the experiment of private individuals issuing money. That was the 19th century banking system in the US. It was the so-called 'free banking.' And they issued claims to people. They said, 'Hey, this is money.' And guess what? There was a financial crisis every five minutes. It was not a stable system, which is why we created a central bank. We unified the currency, we had one currency nation-wide, and we got rid of that stupid system. And now a hundred and something years later, these guys have forgotten."
Of course, the entire point with bitcoin is that everyone is supposed to operate as their own bank. There have been plenty of situations where bitcoin users have been fooled into letting others protect their private keys for them, but the underlying bitcoin technology does not require someone to use a bitcoin bank. Gem CEO Micah Winkelspecht recently told Inside Bitcoins about his own ideas on how bitcoin can provide the benefits of a bank without actually turning over your bitcoins to someone else.
[Read More: The Dangers of Bitcoin Exchanges and Bitcoin Banks]
Mallaby later expanded on his point of how trusting private individuals to issue their own currency is a bad idea:
"This reflects the frustration with fiat currencies, which are backed, apparently, by nothing more than the credibility of the central bank. The new idea is: 'I know what, we'll have something backed by nothing more than the credibility of an anonymous hacker.' In other words, I get why people are frustrated with the status quo. I don't get why they think this other thing is any better."
The ultimate irony
Perhaps the most interesting parts of the interview were when Mallaby began admitting that there were certain valuable attributes of bitcoin. First, he explained that he liked the low-cost payment system created by that "anonymous hacker":
"The one good thing about bitcoin and this type of idea is the electronic payment system could be more efficient for consumers — could be cheaper. If you had more competition [for] Visa, Mastercard, [and] American Express — those guys are probably too powerful. So, I'm in favor of competition. I just don't think that creating a new money — creating a new payment system is cool, that's fine — but I don't think that originating this new money or this digital money [is a good idea]. I'm a bit skeptical of that."
[Read More: How Can Exchanges Compete with a Bitcoin ETF?]
Of course, the problem with that argument is that the bitcoin token is required for the payment system to work. The bitcoin commodity, currency, or whatever you want to call it is what creates the incentives for the bitcoin payment network to be secure; therefore, bitcoins should have some market value as long as the network is useful. During the final part of his interview, Mallaby was also asked about bitcoin's success in Asia. In a rather ironic turn of events, this is when he ended up admitting that there are reasons certain people may want to use bitcoin. He stated:
"I think there is also an angle with bitcoin which is all about, kind of, moving money illicitly. If you're in a country like China, which has capital controls, and you want to be able to get money without the government being able to stop you, then obviously bitcoin has attractions."
Perhaps it would have been better if Mallaby took the Jim Rogers approach to bitcoin and simply stated that he doesn't know enough about the technology to make a comment on it.
Featured image via London School of Economics and Political Science.
You can follow @kyletorpey on Twitter.