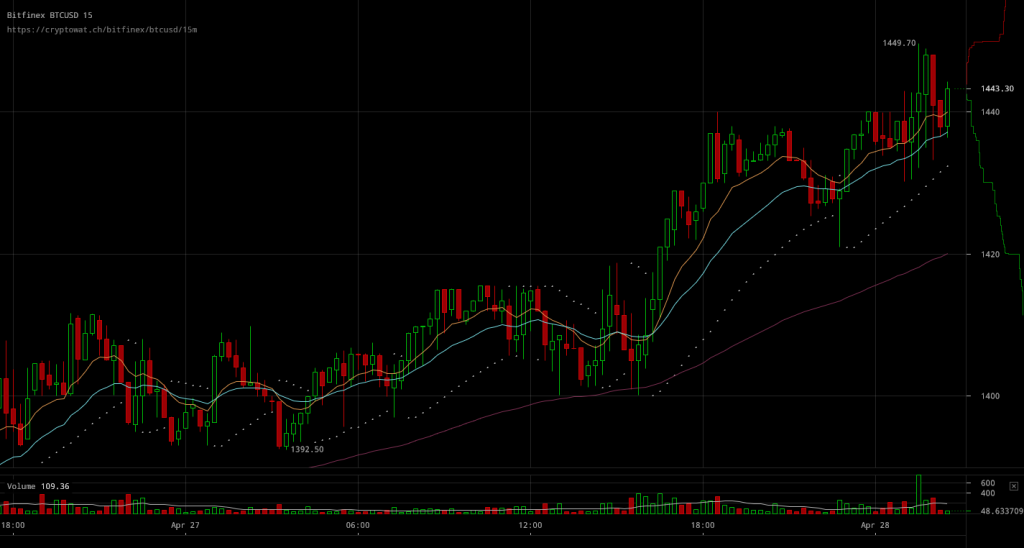 This
story
was shared from
this site
Bitcoin markets appear to be quite bullish through the last trading session with daily trading volumes rising notably. In so far, the rise in trading volumes has brought quite a bit of buying pressure with it, flooding markets with large buy orders and weakening resistance consistently through the course of the day.
Major Signals Whilst some selling pressure certainly affected markets through the last trading session, it was ultimately unable to prevent bitcoin's price from rising. BTC/USD rates reached above $1340 at their peak point a few hours ago, but yet another way of selling pressure has had prices around 1330 levels for the time being. The market continues to be bullish as the spread between healthy exchanges and Bitfinex BTC/USD markets remained above $100.
Bitstamp BTC/USD charts showcase how large buy orders have kept the price rising with no signs of return. What's noteworthy, is that in spite of some large sell orders being filled through the day support still outweighs resistance. The sizeable sum of bitcoins spilled onto putting selling pressure on BTC/USD markets through the course of the preceding trading session is surely helping the market acquire a more bullish sentiment while at the same time causing trading volumes to skyrocket.
OKCoin BTC/USD weekly future charts actually seem to be following through Bistamp's price movements, yet the optimism doesn't seem to be shared among the two markets. Futures traders have remained irreversibly conservative through the course of the ongoing rising pattern observed in the last days.
All in all, what's worth mentioning amid such a market sentiment is that measured optimism certainly not a bad option. Traders might be uncertain what'd be the outlook for bitcoin's price after trading volumes go back to normal levels. The market might be rallying due to an otherwise unexplained